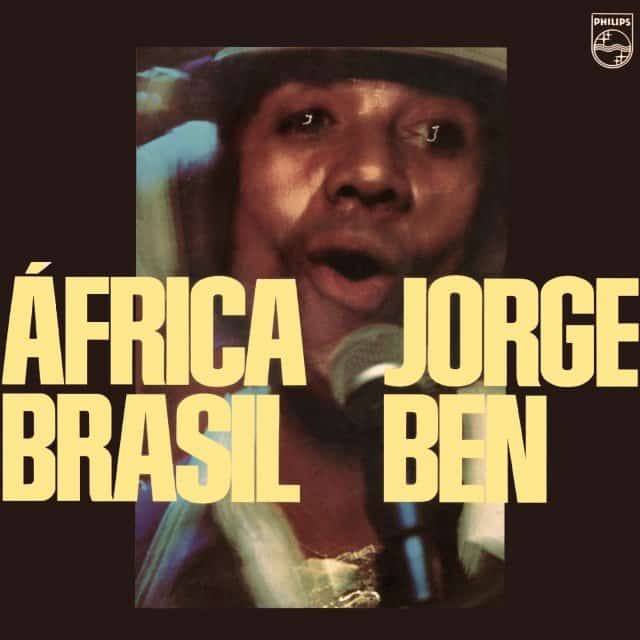 I'm no expert when it comes to world music. In fact, I only tend to learn about world music before a vacation. If I know I'm going to travel to Argentina, for example, then I'll spend the months leading up to the trip researching music from that country. From Argentina, I return with a sack full of records by Astor Piazzolla and Atahualpa Yupanqui. After visiting Colombia, I returned with several Cumbia LPs. With that said, I've never been to Brazil. But despite that fact, 70's Brazilian music certainly has captured my imagination for the past year and the half and there is no question that it was the discovery of Jorge Ben (a.k.a. Jorge Benjor) that lit the fire for me.
Of all of Benjor's records, the 1976-released Africa Brasil is perhaps his most well known. Indeed, it's often (deservedly) considered one of the greatest Brazilian records of all time. As usual, Jorge fuses together an eclectic mix of inspiration that here includes samba, funk, rock and bossa nova. The album spills open, like a stone rolling down hill, with a tumbling bassline and a funky, shuffling, syncopated rhythm on the football-themed opener "Ponta De Lança Africano (Umbabarauma)." It's followed by the rubbery, groove-heavy jam "Hermes Trismegisto."
Africa Brasil also includes Benjor's popular tune "Taj Mahal" which was not so discretely ripped off by Rod Stewart on "Do You Think I'm Sexy?" The track features a squeaking, energetic melody and hook-heavy chorus. Perhaps in part because of Stewart's theft, the tune is one of the most widely recognized melodies by Benjor. Still, for me anyways, the album's highlight is the pebble smooth jam "Xica Da Silva." The tune is about a Brazilian woman of the same name, often referred to as "the slave who became a queen," because, as you might have guessed, she was born into slavery and yet earned power and notoriety. Benjor's track sways slowly with a steady taught rhythm and smokey groove. It's entrancing.
The album pairs well with Kasey's recipe for Maple-Olive Oil Granola with Cocoa Nibs, Hazelnuts and Cherries. After all, the recipe blends a ridiculous number of delicious ingredients together for a bowlful of tastiness that highlights a myriad of interesting textures ranging from crunchy to chewy. Similarly, Africa Brasil is simply bubbling over with sonic textures that will pique your every musical interest. It's funky, it's smooth, it's catchy, and it's complex. It's got it all and it's one of those few albums that truly deserve to be called a "masterpiece."
Jorge Ben – Ponta De Lança Africano (Umbabarauma)
Head to the Kitchen to read Kasey's recipe for Maple-Olive Oil Granola with Cocoa Nibs, Hazelnuts and Cherries. I wish I could tell you where you could buy Africa Brazil on vinyl, but I can't. In fact, if you can point me in the direction of a reasonably priced copy you'd have a new fan.