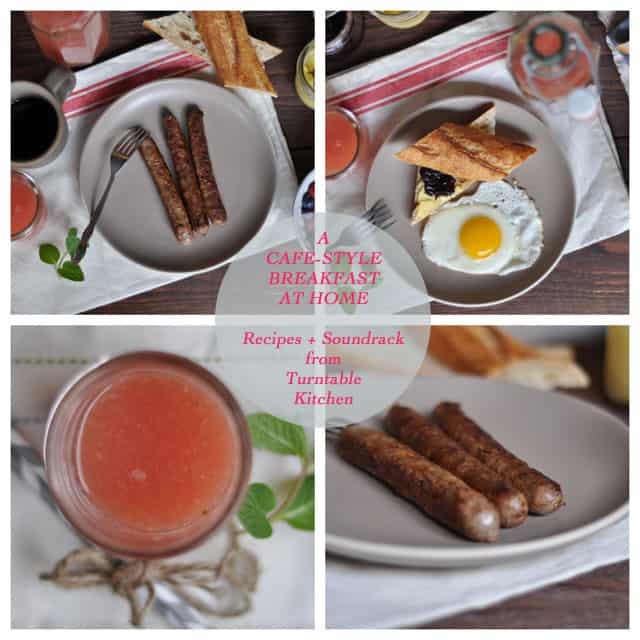 There are few things I love more on a Saturday or Sunday morning than breakfast. Would I sound ridiculous if I told you it's probably the number one thing I look forward to all week? Waking up without an alarm clock, lazily crawling out of bed, listening to some records while drinking coffee and cracking open a few eggs in the kitchen.
The difference between having a cafe-style breakfast at a cafe and at home is that, at home, you can eat unshowered and in your underwear which, in my opinion, may be the greatest thing ever. Not to mention, you can enjoy all the cute, customizable aspects of cafe breakfasts by choosing a spread of items you love and a playlist that's perfect for conversation or the morning paper/ your favorite magazine. I tend to create a menagerie on my kitchen table: jars of my favorite jams and honeys, Nutella (if I'm feeling nostalgic), and small nibbles like cheese and berries. The beauty of a cafe-style breakfast at home is that you can make it for one, two, four, or ten (though making eggs to order for ten may be a challenge!).
It's Monday, and we all need something to make it through the week. Here's a game plan for next weekend: a selection of recipes, sides, and other entertaining tips for making a cafe-style breakfast at home. Enjoy!
Sunny Side Up Eggs
*serves 2-4
4-8 eggs
2-4 tablespoons of butter
coarse sea salt and freshly ground black pepper
1. Add 1-2 tablespoons of butter to a large, non-stick skillet and heat over medium-high. Spread the butter until it covers the pan.
2. Gently break each egg over the skillet. Only cook as many eggs as can fit in your pan, without crowding (I usually make two at a time). You don't want the whites to touch.
3. Adjust the heat, as needed; I find my eggs cook best over medium-low heat. Cook eggs for several minutes, until the whites are completely set. There should be no clear film around the yolks. Don't worry if the edges of your whites crisp a little — I think crispy edges are delicious. To make eggs over-easy, simply use a spatula to flip eggs to the yolk side, and allow to cook for another 30 seconds – 1 minute, depending on how well you like your yolks done. Add more butter to the skillet, as needed, to cover the bottom of the pan, as you make more eggs. Eggs are best made to order (I stick mine in the oven or microwave to keep them warm as I make more). Season with sea salt and freshly ground pepper.
Minted Pink Grapefruit Juice
adapted from With Style & Grace
*serves 2-4
2-4 large pink grapefruits
handful of mint leaves
1. Peel the grapefruits and divide them into sections. Feed the grapefruit sections and mint through a juicer. Alternatively, if you do not have a juicer, you may combine pre-squeezed grapefruit juice and mint leaves in a pitcher. I haven't tried this, but imagine a few splashes of sparking water could be refreshing. Serve chilled.
Side Choices:
Fresh baguette. Cut into 4-5 inch pieces along the diagonal, then sliced in half.
Selection of spreads and jams. I love chunky fruit jams, Nutella (store-bought or homemade), citrus curd, honey, and good butter.
Sausages. Bacon is the traditional breakfast side, but sausages are a great alternative. You can find so many different types in specialty stores and they're a lot less messy.
Coffee. This is a must, if you're trying to recreate a cafe-style atmosphere. French press, brewed in a Chemex, or espresso. Our favorite brews include Sightglass, Four Barrel, Blue Bottle, and Barefoot Coffee Roasters.
Fruit. Whatever's in season — berries, watermelon, grapes, figs. I love to slice some up and serve in pretty bowls.
Cheese. A breakfast cheese spread is a great addition to your table. Try a mix of hard and soft cheeses. I'm loving aged gouda and cheddar, as well as Mt.Tam from Cowgirl Creamery.
Cafe Accessories
Serve juice in fun glass bottles.
Stock up on bright cloth napkins; they're much more fun (and eco-friendly) than paper.
One of the things I love about eating at cafes is the great selection of magazines I can usually peruse while eating. Use this as an excuse to get some beautiful reading material. I'm loving Anthology Magazine, Gather Journal, and UPPERCASE, among others.
Drinking juice feels like a party when you've got striped paper straws on hand.
I can't think of better cafe-style table settings than the ones you'll find at Heath Ceramics.
Musical Pairings: September 2012 Breakfast Mix


  Get the Turntable Kitchen breakfast playlist!