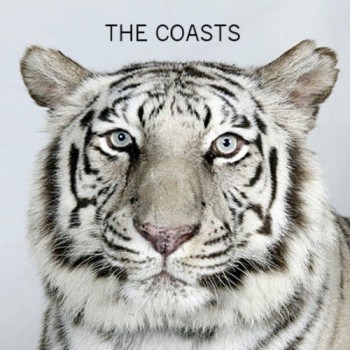 I've always suspected that our readers have great taste in music, but that suspicion was again reaffirmed this week when one of our readers clued me into the crispy garage-pop jams of the Little Rock, Arkansas / Lebanon, Ohio-based band The Coasts. The duo, Eric Mount (drummer) and Ike Peters (guitars/vocals), met as freshmen in college, and after discovering a shared love for Radiohead decided that they wanted to lay down a collection of garage-roughened rockers together. Although that might sound straight-forward enough, despite having met in college, the duo did not record their debut while living in the same city. Instead, the tracks came together only after they'd graduated, married, and move apart. Instead, Eric traveled down from Ohio to Ike's home in Little Rock for a long weekend to lay the groundwork for a dozen tunes. The tracks were then finished by Ike and the band's producer with Eric providing feedback from Ohio.
The somewhat hurried process, although limiting at times, proved to be a great recipe for the band. Because of their distance from one another they didn't have the luxury of over-thinking the recordings. Instead, they had to work with what they were able to get down in that short time. The result was a raw, rough-and-ready approach that befits the material they'd written for the album which blends bluesy, The Black Keys-styled garage rock riffs with clean, Dr. Dog-esque melodies, Kinks-like upbeat pop grooves, and occasional hints of Exiles On Main Street-era Stones (especially the organ on tracks like "Hard-Working Man" or the skanky boogie-woogie on "Handshakers").
The Coasts explodes open with the concise, toasty, and uptempo "Poltergeist". At a clean minute-and-a-half in length, the friendly, haunted jam is over before it's had time to even settle in. It's a smart, restrained pop rock jam. Next, "Stranger/Danger" is a more casually meandering tune with ballad-like verses balanced neatly against bouncing, grinning choruses. It's constructed with a tight piano-led melody buttressed against crashing percussion and a guitar line that swings between sluggishly lackadaisical and brightly howling. Meanwhile tracks like the clean, rolling "John Lennon" and the brassy, horn-tinged "I Only Want You" showcase the band at a more steady-grooving clip while finding fun, new combinations and structures for the pieces they'd worked out before. There are plenty of highlights throughout including the shuffling and rubbery "Hard-Working Man," the blistering and gregarious "RIOT!!," and the harmony-washed and tightly-wound "Handshakers."
The album pairs well with Kasey's Yogurt with Toasted Quinoa, Dates & Nuts which features a raw, sweet foundation that blends intriguing textures with a toasted and crispy coating. They're also both great ways to start your day.
The Coasts – Hard-Working Man
The Coasts – Oo De Lally (Cover from Disney's Robin Hood)
Support a great band and buy their album from their Bandcamp page. If you do a little sleuthing you can probably even find the collection of covers they recorded from Disney's Robin Hood for charity. Afterwards head to the Kitchen to read Kasey's recipe for Yogurt with Toasted Quinoa, Dates & Nuts.