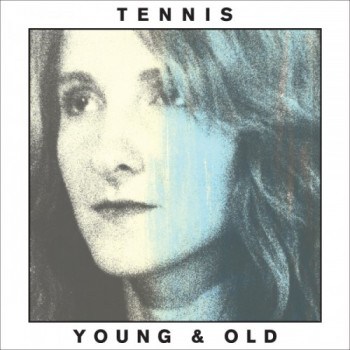 Having an cute backstory can cut both ways, as Denver, Colorado-based husband and wife duo Patrick Riley and Alaina Moore have learned. For example, it's well reported that Riley & Moore wrote their debut record while on a seven-month long sailing expedition around the Eastern Atlantic Seaboard. Inevitably the story became "reiterated to the point of being obnoxious" (as Moore described) and began to feel like a burden. It's easy to see how this played out. The romantic image of a husband and wife duo sailing along the coast, penning infectious, melodically sunny, indie-pop songs is a good pitch. Indeed, the story has value because it is cute. The problem with "cute" if you are a songwriter, is that you risk not being taken seriously. At the same time, you don't want to stray too far from the music that earned you fans in the first place. This is the predicament Tennis found themselves in when writing and recording the follow up to Cape Dory.
It was for this reason that the duo enlisted The Black Keys' Patrick Carney to produce their second album. In fact, Moore explained that Carney was brought it to save them from their "intolerable cuteness." At the same time, they (wisely) don't attempt to radically reinvent themselves on Young & Old. Indeed, the changes to the songwriting and production are subtle, but effective. First, they leave their nautical memories behind them, moving on to more diverse subject matter. Next, they clean up their production. While Cape Dory and their early singles were naturally lo-fi, Carney injects Tennis with the signature "medium-fi" sound from early albums by The Black Keys. It's altogether a more spacious stage for the band's music. The instruments are given room to breathe, but, more importantly, Moore's vocals are given a chance to shine.
Tennis has always excelled at catchy, rhythmic songwriting, a fact that remains clear on their sophomore release. Album opener "It All Feels The Same" effortlessly glides open on Moore's vocals while building intensity in its final third. It's just honestly good stuff. The album's first single, "Origins," is another songwriter's showcase, but is also the greatest demonstration of Carney's impact on the album. Sure, I can only speculate as to the impact Carney had on the track, but if you removed Moore's vocals and harmonies entirely you could almost imagine the track on an early record by the Black Keys. Which isn't to suggest that I think Carney is responsible for the tracks effectiveness. Indeed, this song is gold because of those catchy harmonies and Moore's anxious, insistent vocals. But Carney clearly knows how to best showcase Tennis' talents while adding the perfect amount of fuzz.
A final, subtle change that takes place on Young & Old is that the band's influences move a little more definitively away from the 50's/60's vocal surf influences that had filled out their early singles. Instead, there are hints of early-psychedelica and soul. The beautifully clean track "Petition" is a perfect example. It's rhythmic, spacious and just ever so slightly psych-tinged. It's also one of the album's many highlights.
The album pairs well with Kasey's Pan Fried Baby Artichokes with Mint and Lemon recipe. The dish is crisp, clean, flavorful, meaty and uncomplicated. In other words, this recipe is good for the same reason that Young & Old succeeds as an exciting follow-up to Tennis' debut.
Head back to the Kitchen to read Kasey's recipe for Pan Fried Baby Artichokes with Mint and Lemon. Head to Insound to buy Young & Old on vinyl.