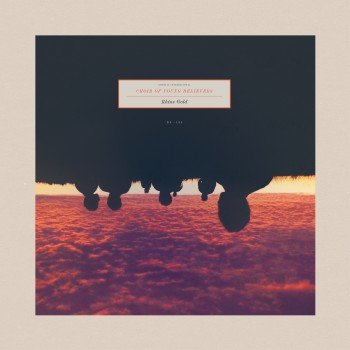 Like many others before him, Danish-born Jannis Noya Makrigiannis decided that a break up was as good an excuse as any to make some life changes. Following the dissolution of Makrigiannis' prior band, Lake Placid, in 2006, the songwriter packed his bags and relocated to the Greek island of Samos. Life on the island was apparently good for his creative muse as he used the sabbatical as an opportunity to pen some solo material.  With the new material in hand, Makrigiannis returned to his home in Copenhagen where he formed Choir of Young Believers to perform and record the new material. Indeed, the change of scenery would appear to be just what he needed to get the creative juices flowing, as the first COYB's album, This Is For The White In Your Eyes, was a succes having been awarded Best New Act by the 6 Danish Music Awards in 2008. Since that time, Choir of Young Believers developed into a proper band and are poised to release their follow up, Rhine Gold.
Although stylistically similar, Rhine Gold, COYB's sophomore album, comes from a different place than the band's debut. For one thing, Choir of Young Believers is now a proper band and the new material was prepared through a more collaborative process. It's apparent too, as Rhine Gold, sounds, in many ways, deeper and richer than its predecessor. Nonetheless, the new album is still a rich mélange of influences based in orchestral pop with folk-imbued underpinnings. But now their compositions include significant psychedelic deviations and, occasionally, the soaring grooves and neon-lit panache of 80's synth-pop.
Rhine Gold initially unfolds with a droning cathedral-like ambiance and Makrigiannis' solemn voice, filled with trembling melancholy and thoughtful conviction as he sings "bite your lip and forget all the things I said… just bite your lip and forget" on lead track "The Third Time." Tense strings and a lurking bass line break the ambiance before the melody blooms into a steadily rising groove. COYB waste no time demonstrating their flexibility as a band on "Patricia's Thirst" which features a shimmering, synth-heavy tune built on a rockbed of New Wave incandescence. Indeed, whether they are tumbling through lush, shifting psychedelic rhythms (such as on "Paralyse") or blowing across lonely, desolate soundscapes (such as on "Have I Ever Truly Been Here") – they make flexibility and craftsmanship seem effortless. And although the lyrics and arrangements aren't always exactly "upbeat" they are always warm and comforting.
It's this warmth, flexibility and wonderful textures that make Rhine Gold a great pairing for Kasey's Roasted Beet and Fennel Soup. The album's comforting and complex melodies beautifully compliment this satisfying and belly-warming soup. I think you'd discover that both could pari well with your next rainy evening at home.
Choir of Young Believers – Patricia's Thirst
Choir of Young Believers – Nye Nummer Et
Head back to the Kitchen to read Kasey's recipe for Roasted Beet and Fennel Soup. You can preorder the album from Amazon before it's April 10th release date.