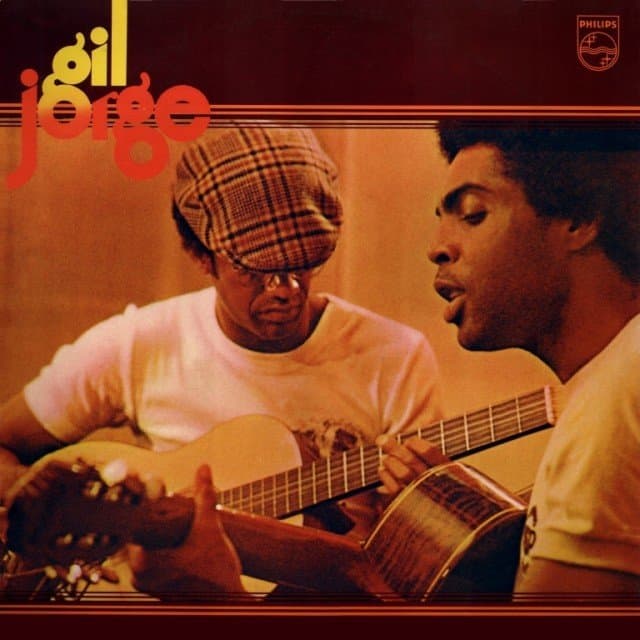 Gilberto Gil & Jorge Ben are easily two of the most accomplished Brazilian musicians of all time. Indeed, when Rolling Stones asked a group composed of 60 journalists, scholars and producers to compile a list of the 100 greatest Brazilian albums of all time, no artist received more nods than Gil with 7 LPs on the list.Meanwhile, no less than 5 of Ben's albums appeared on that same list.
Both artists' original material have been widely covered by artists of all genres, and Jorge Ben's "Mas Que Nada" is the most played tune sung entirely in Portuguese in the United States. Both artists were long known for writing powerful riffs; for excelling as vocalists; and surprising audiences with fantastically improvisational performances. So it should come as no surprise that the results of a collaboration that occurred while the artists were in their respective primes, Gil e Jorge, is nothing less than spectacular.
Gil e Jorge was the result of an acoustic jam session recorded following very little rehearsal. It was a pretty minimal set up as the duo recorded the album's nine cuts (originally released as a double album) with no more than a pair of acoustic guitars and the assistance of percussionist Djalma Corrèa. It was truly a showcase of their talents and the power of creative collaboration. Songwriting of four of the tracks are credited to Ben, four are credited to Gil and the album's closer is credited as a collaboration between the two songwriters.
Opener, "Meu Glorioso Sao Cristovao," is a track penned by Ben. It is a mellow, psychedelic and free-wheeling acoustic Brazilian tropicalia jazz-pop jam that exudes warmth and summery cheer. It's followed by Gil's "Nêga" which had originally appeared on Gil's 1971 album GIlberto Gil. It's another laid-back, sprawling groove that is unique for its listless, mostly nonsensical English-language lyrics. Gil's kinetically energetic, acoustic rocker "Jurubeba" is another personal favorite.
The track, "Taj Majal," has appeared on several of Ben's other albums having originally appeared on his 1972 album Ben. The version by Gil and Ben featured here is a smoking hot, meandering, over fourteen-minute long groove with little in the way of lyrics (consisting primarily of little more than the title itself repeated in throaty chant-like succession through portions of the song). Even casual listeners will probably recognize that the melody of the tune has an uncanny resemblance to Rod Stewart's later released hit "D'ya Think I'm Sexy." In fact, the similarity led to Ben filing a lawsuit against Stewart which ended when Stewart agreed to donate the profits from his version of the song to UNICEF.
I'm aware that some could take issue with this choice of musical pairings since empanadas are popular in nearly every country in South America except Brazil. Nonetheless, our non-traditional take on the empanada, which is baked and not fried, is pretty similar in many respects to the Brazilian empada. More importantly, for me anyways, the album captures the magic I experienced on many of my South American adventures to countries like Argentina, Peru and Colombia. Read the recipe for Kasey's Argentinian Beef Empanadas.
Good luck scoring this album on vinyl (you can get it from iTunes though). For now, you can still score a copy of Jorge Ben's phenomenal Forca Brute at Insound.