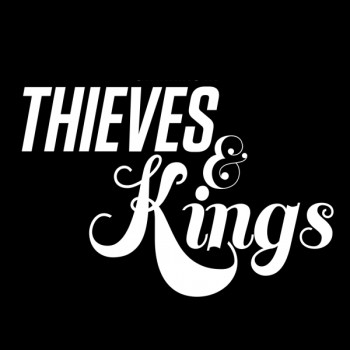 Please give a warm welcome to our good friend Hannah who is taking over the Turntable today. Kasey and I met Hannah and her boyfriend Jeff a few months ago when we realized that we shared a ridiculously large number of similar interests. Hannah is the managing editor at Indie Shuffle – so, yeah, like me she is obsessed with music. She is also an insatiable foodie (something we can clearly relate to). Jeff is one half of the awesome Bread & Gin (alongside co-founder and video-guru Ji). Jeff and I have bonded over a shared love of brown liquor, soul music, etc. After Kasey and I developed a bit of a couple crush on them, we decided it'd be fun to hand over the keys to our kingdom for a day to let them do a takeover Turntable Kitchen. What they've come up with has exceeded our expectations, and we think you're going to love it too! Without further ado, read on for Hannah's guest post featuring Thieves & Kings. ~ Matthew
As we enter the new year, a lot of people are talking about achieving balance. It all comes down to the yin and yang – balancing work and social time, knowing when to be serious or fun, finding someone (or something) that makes you feel whole.
There are two sides to everything, and lately I've been drawn to music that delivers that sense of balance. Over at Indie Shuffle (I'm the managing editor), we've become big fans of The Peach Kings — they're one of the best new bands I've come across, and I'm thrilled to share this discovery as today's Musical Pairing.
L.A. natives Paige Wood and Steven Trezevant are each one half of The Peach Kings — a gypsydelic duo that knows when to rock out and when to slow it down.  Drawing influences from blues, folk, and soul, The Peach Kings have released an EP called Trip Wop and, more recently, a single called "Thieves and Kings," which we're featuring alongside "The Heist," today's cocktail recipe from Bread&Gin.
Much like the deliciously smooth cocktail, "Thieves and Kings" achieves the perfect male-to-female ratio. As The Heist pairs sweet honey syrup with the muscular Bulleit bourbon, "Thieves and Kings" sets Wood's sultry female vocals against the backdrop of Trezevant's raw, blazing guitar. No doubt about it, this track elicits some very Bonnie and Clyde-esque imagery.
The Peach Kings are making the kind of music that should please fans of Black Keys, The Kills, and The Raveonettes, and are definitely a band to watch in 2012. Head over to Bandcamp to grab "Thieves and Kings," check out their website for some free .mp3 goodies, open up your bottle of bourbon, and press play.
Thieves and Kings (Single) by thepeachkings
About Indie Shuffle
Indie Shuffle is a San Francisco-based indie music blog. We shuffle through piles of indie music — old and new — so you don't have to.
Musical Pairings: Don't forget to stop by the Kitchen to check out Jeff's cocktail pairing & accompanying how-to-video for The Heist to complete this Turntable Kitchen takeover.