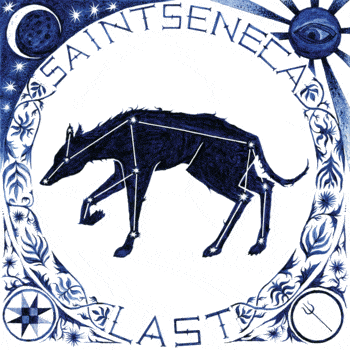 I moved to San Francisco from Ohio about ten years ago, and I fell in love with The Bay Area almost as soon as I arrived. Everything about the city felt special to me. On my walk to class I'd just soak in the vibe and ponder at how I had ended up here, so far from where I was born and raised. Ten years later, I still love it here. Nonetheless, I do find myself missing Ohio sometimes: family, friends and some of the rustic areas outside of the cities. Especially during the Fall months. For example, one of my favorite places to visit when I'm home is the tiny village of Yellow Springs where we'd go for hikes through John Bryan state park, canoe on the Little Miami River, get pumpkin ice cream from Young's Jersey Dairy, and watch fireflies light up the night near the old covered bridge. Happily, both today's Musical Pairing, the album Last by Saintseneca, and Kasey's featured recipe, Egg-In-A-Hole Lemon Ricotta Toast, call to mind all the qualities I loved about that place.
Saintseneca's album is crisp and folksy with the warm, organic ambiance of boots stomping dusty, unfinished oak floorboards and acoustic instruments reverberating off of tin siding. Their melodies are clean and catchy, but also thoughtfully constructed. It's an album that, for me, calls to mind the colors of autumn leaves, the mustiness of old covered bridges and warm nights with clear skies littered with stars. And, yes, for this Ohio boy, it calls to mind home. So it probably should come as no surprise that Saintseneca hail from my home state. But even if you have never visited Ohio, I think you'll find the album as evocative and irresistible as I do.
Similarly, today's recipe is rustic, people-pleasing and great Fall breakfast fare. We enjoyed it with our friends Kimberly and Jeff who had stopped over this past weekend to help us package and finalize the elements of our first Pairings Box which we'll be hoping to ship out soon. If you want to get in on that first Pairings Box before it's gone, it's not too late to sign up.
Saintseneca – Acid Rain
Saintseneca – Blood Drawing
Get the album from Bandcamp.  Get the recipe for the Egg-In-A-Hole with Lemon Ricotta from Kasey in the Kitchen.