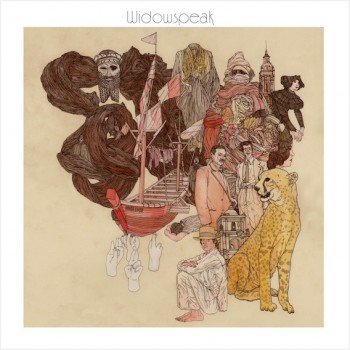 Sweet, dark, minty, clean, cool: these are some of the words that describe both the Blueberry Mint Jam that Kasey is featuring in the Kitchen today, and the self-titled debut album by Brooklyn-based trio Widowspeak. I could also throw in the word 'excellent' because both are just that. The Widowspeak LP was just released this month and I've been spinning the record nonstop since it arrived. So what's got me hooked?  Well, it simply overflows with all sorts of goodness including dark, smoky pop melodies that tantalizingly progress at a carefully restrained soft simmer while blending the colorful elements of 50's pop and 70's psych rock. But also it's also another great example of the "less is more" aesthetic featuring understated vocals and sparse, minimalist instrumentation. The result is an album that can sound alternatively soothing, menacing or devastating — depending entirely on the volume and your mood.
And like any album worth immersing yourself in for a solid period of time, it's solid and well-refined to the point where it is almost impossible to pinpoint the highlight. In fact, there are no tracks that I don't like, and many that I could list as possible favorites. Opening track "Puritan" is tensely rhythmic springing to a satisfyingly lively melody a minute in. Similarly, "Harsh Realm" has a echoing, warm groove that is both sexy and ambient. Meanwhile, "Nightcrawlers" is a lovely riff of clattering psychedelic ambiance showcasing the band at their noisiest. And the flushed, hypnotic "In The Pines" is warm and comforting like a wool blanket.  However, the album's most upbeat moments come in the form of the clean, shining "Gun Shy" and the almost uncharacteristically lit-up "Fir Coat."  It's an album that will almost certainly grace my Top Albums of the Year list.  Oh, and if you missed it, check out our 5 Questions With… Molly Hamilton.

Widowspeak – In the Pines  (stream via alteredzones)
Head back to the Kitchen to read Kasey's recipe for Blueberry Mint Jam.  Then head to Insound to buy Widowspeak.