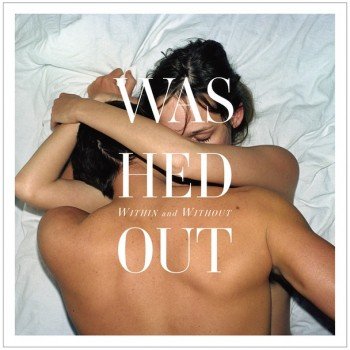 Do you remember how Sufjan Stevens once claimed that he would record an album of songs based around each of the 50 states? Well, he's since admitted the concept was merely a "promotional gimmick" that he has since moved on from.  Strangely, I think of that when I try to figure out exactly what has happened with chillwave in the past year.  Most of the genre's top artists have released, or will soon release, their sophomore albums, and I'm struck but how different these albums are from one another.  Sure there are still many similarities, but there are some pretty significant differences here too.  And what is fascinating about the direction these artists, including Washed Out, have taken with these albums is how that they blur the edges of "chillwave" as a genre.  Sure, a number of tracks on Washed Out's Within And Without aren't that different from his debut EP, but some of it doesn't feel like chillwave to me at all.
And I think it's great to see chillwave's top names refreshingly moving away from the confines of the genre.  And that shouldn't be read as a swipe at chillwave, but I love discovering Washed Out's other influences and seeing him demonstrate a little bit of artistic flexibility.  On Within and Without, for example, the tracks "Far Away" and "Within And Without" have far more in common with The Cure's early-80's output (especially side-2 of Wish) than they do with anything by Neon Indian, Memory Tapes or Toro y Moi.  Similarly, the track "Amor Fati" – although very much a "chillwave" track – nonetheless calls to mind classic New Order.  And the hauntingly lovely piano-spined melody on "A Dedication" is only nudged in the direction of shimmery nostalgia with that sparse electronic rhythm and some echo-y ambiance.  Unsurprisingly, the most hypnotic, shimmery synth-based track is "You And I" which was also released a long time ago for the Adult Swim singles project.  But other tracks here will still nostalgically call to the mind the good old days of last summer including the opening track "Eyes Be Closed" and the hypnotic "Echoes."  In all, Washed Out hasn't abandoned the elements that made his last album, but he has moved into areas he hasn't previously explored.  And for me, the result is one of the best albums I've heard so far this year.
Within And Without is still a pretty laid back (read: "chill") album, but it's definitely a move forward for Washed Out.  His production and songwriting are varied from track to track, but the album nonetheless feels completely cohesive.  And like his Life of Leisure EP, Washed Out's melodies are warming, entrancing and beautifully well thought out.  It's complex without feeling overdone.  And for that reason it is a great pairing with the Sunchoke Soup with Caramelized Onions that Kasey is featuring in the Kitchen.
Washed Out – Eyes Be Closed
Washed Out – You And I
Head back to the Kitchen to get Kasey's recipe for Sunchoke Soup with Caramelized Onions.  After that I'd suggest you go preorder Within And Without from Insound.