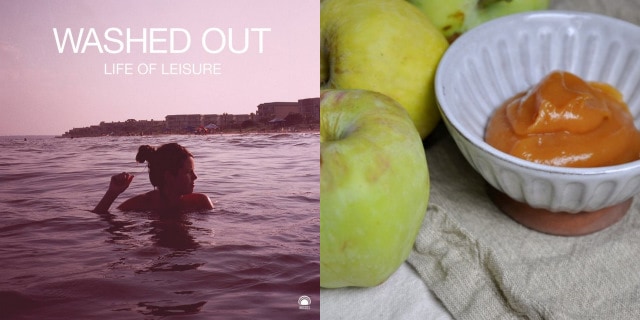 Smooth.  Luscious.  Sweet, but not sugary.  Kasey's apple butter recipe is strides beyond store bought products.  It features hints of cinnamon and subtle spice.  It is a great way to hold onto the memories of summer for a little longer into the Fall and coming Winter.  And in that way, it pairs perfectly with one of my favorite EPs from this year: Washed Out's Life of Leisure.
For the benefit of folks who haven't had the opportunity to make his acquaintance, Washed Out is the project of Georgia by way of South Carolina musician Ernest Greene.  Greene's debut EP, Life of Leisure, consists of six servings of blurry-eyed synth pop that swirl in a deliciously trance-inducing and warmly-reverberating sonic stew that can only be summarized as smooth, luscious and sweet.  Opening cut, "Get Up", lazily wafts smoke-like through a spacey atmosphere as if intentionally pulsing several beats-per-minute behind its anticipated trajectory.  Greene knows exactly where he wants this melody to be, but clearly sees no rush in reaching the destination.  Similarly, the soothing melody on "New Theory" shimmers brightly, but with hazy, blurred synths, fuzzy beats and a repetitive ghostly purr echoing alongside Greene's relatively indistinct, but comforting lyrics: "your choice was right / no chance to leave here now".  Batting in the clean-up spot is the texturally viscous and static-infused single "Feel It All Around," which is less flashy than its sonically upbeat neighbors "Hold Out" and "Lately,"  but is every bit as effective, and is built upon my favorite rhythm Greene cultivated for this EP.  The vinyl is limited to a 100o copies.  Get it from Insound.
Washed Out – Feel It All Around
(Bonus) Teen Daze – New Theory (Washed Out Cover)
Head back to the Kitchen to read the recipe for Kasey's apple butter featured on eating/sf.