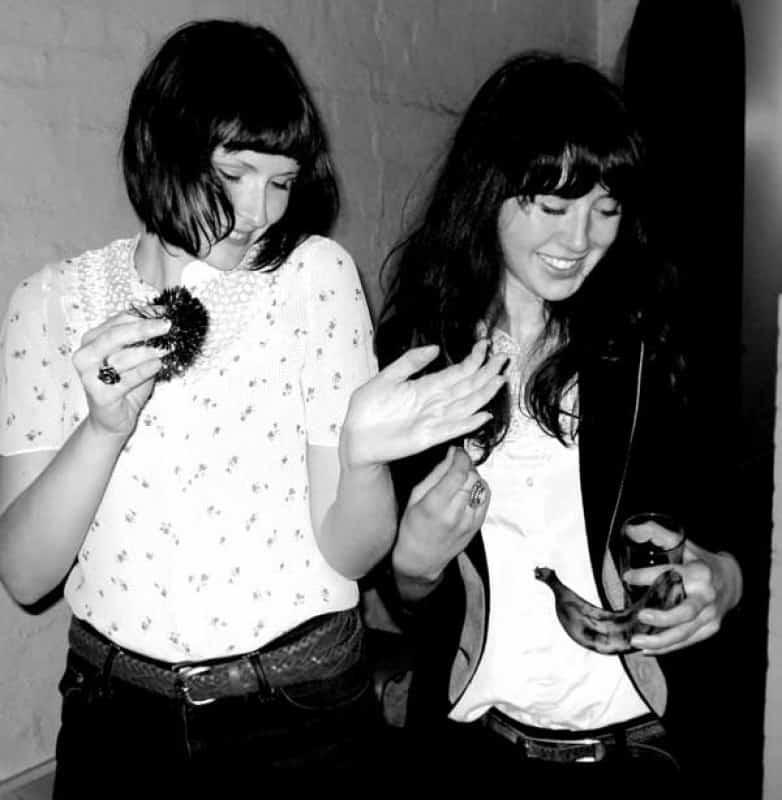 When we first started doing our Musical Pairings the connection between food and music seemed obvious enough to us.  After all, in my opinion, there is a lot of rock n' roll packed into most of my favorite foods.  In food, as in music, an individual's style is deeply part of what they produce.  Some recipes are slick and contemporary, others rustic and homey, and others yet can be loose and improvisational – just like a  songwriter's music.  And at Sticky Fingers Bakery in Melbourne, Australia that is true in more ways that one.  Sticky Fingers is the child of Hayley McKee, who is probably better known to our readers as one-half of Australian garage-rock duo Super Wild Horses (who rated very highly in our Top Albums of 2011 list).  Unsurprisingly, she believes in incorporating a heaping spoonful of rock into everything she bakes.  Hayley was kind enough to chat with us about food, music, childhood favorites, and what we can expect from Super Wild Horses in the months to come.  Read the interview after the MP3.
Super Wild Horses – Black Book
TK: I understand that you have a bakery that thrives with the help of a little rock 'n roll.  What is the name of the bakery and what kinds of stuff do you make?
H: Yep Sticky Fingers Bakery is my little cake business. It's been open for about 6 months now. Eventually I'd like my own shop front, but for now you order online to get a 6 Pack or 12 Pack of Cupcakes delivered. I also do big, boozy cakes for delivery.
The cakes are served on second hand LPs and the Cupcakes come with a little swing tag to let you know what they were listening to whilst they were being baked. I totally believe in music being blared out in the kitchen.
TK: I understand you carefully pair the food you bake with music.  How do you select the music you are pairing the food with?  Can you give us a few examples of pairings that have really worked out well?
I encourage song requests from customers. If someone is getting hitched they often send through some of their favourite songs to be played whilst the batter is getting poured into the cake tins etc. Otherwise I tend to fall back on classic soul, motown crooners or a wallop of garage rock.
H: How does listening to the right music affect the food you prepare in the kitchen?
Did you ever read the tale about Prince Charles playing classical music to his vegetables? He's a mad horticulturalist and believed that playing music to his crops resulted in healthy, happy produce. Only recently have his theories actually been proven correct by the Royal Botanical Society.
Setting up a positive mood in the kitchen is crucial for creating something homely and filled with life. It feels a little bit superstitious I guess, but I just think I'd rather bite into something that's been made with love and music than something that's made in a clinical kitchen environment.
TK: Do you see a natural connection between food and music?
H:Not really … Personally I find drumming and making cakes to be quite similar though, because both are quite calming and meditative in their repetition and focus. When I drum and when I bake I don't think of anything else apart from the task at hand. All other thoughts disappear which is very therapeutic.
TK: What foods would you pair Fifteen with?
H: Wow good question! "I Want You" would have to be some sort of naughty chocolate éclair. "Lock + Key" is a little bit about revenge so I'd pair it's spiky melody to some Mexican flavours. "Fifteen", "Adrian" and "Mess Around" have a bit of a 50's gang feel to them so they're best served with hot dogs and cherry sundaes.
TK: Have you had any unusual food-related experiences while on tour?
H: We ate our way across America! Memphis fried chicken, Texan ribs, loads of Mexican … We weren't too keen on Biscuits and Gravy. And I thought it was strange to see jars of pickled eggs for sale.
TK: Is there are any food that you just won't eat?
H: I reckon I'd try pretty much anything (except tripe etc). I don't dig capsicums though. And grated carrot is annoying in sandwiches.
TK:  I understand you are working on some new material including a split 7″ with Reading Rainbow.  Are you also recording material for a new album, or for a collection of singles?  If you are working on a new album, what stage is the new album at?
H: We just released a split 7" with a great Australian band called Boomgates. There's only 100 available in the states at places like Permanent Records, Goner etc. Next up is a split with Reading Rainbow from Philadelphia. We played a show with these guys on our tour last September and they're the best people. That's coming out through Hozac later in the year.
As for our next record we're demoing a few more songs in 2 weeks with a guy called Jack Farley who's an ace engineer. He's worked with a bunch of great Australian bands and we're pretty excited to see how this new pairing works out. It's also the first time we've demoed stuff so it feels very luxurious to us!
We have about ten new songs ready to go but we're trying to write as many as we can so we can pick and choose at the end of it. At this stage we're still on track for a 2011 release.
TK: There are certain recipes that remind me of my childhood (for example my grandmother's chicken noodle soup).  Do you have recipes that remind you of being a kid?
H: Hot bacon sandwiches in the back of the car as we drove up to Scotland. Stealing marzipan from my mum as she tried to make the Christmas cakes. The Millionaire cake (another family recipe that I sell through Sticky Fingers Bakery). My dad's awful 'Chicken Tonight' concoctions. Vegemite buns and Lamingtons from the school canteen.
TK: Are there albums that remind you of your childhood?
H: My folks were big music fans and growing up we always had music playing in the house. Mum loved Motown greats like Marvin Gaye, The Temptations and Smoky Robinson. Whilst dad would crank The Crazy World of Arthur Brown (pretty scary for a kid), Bowie, Steve Harley and the Cockney Rebels, The Lovin' Spoonful, The Turtles and pretty much everything from Island Records.
TK: What has been your favorite musical discovery in the last year?
H: Hmm that's a hard one. I guess in the past year it would be latching onto American labels and exploring their back catalogues. Norton records and Woodsist have received a lot of my $$$ this past year.
TK: What has been your favorite food discovery in the last year (a restaurant, a recipe, etc.)?
H: Oh man.  The most inspiring thing I've discovered I can' talk about as I'm planning on launching it over here (stay tuned). But I guess on a more straight up food obsession, I guess I'd count Sezchuan as a new favourite. Hunting for the best Kungpao recipe and trying to increase my tolerance for those crazy little sezchuan peppercorns. It's such a strange citrus heat that make your lips quiver. Addictive.