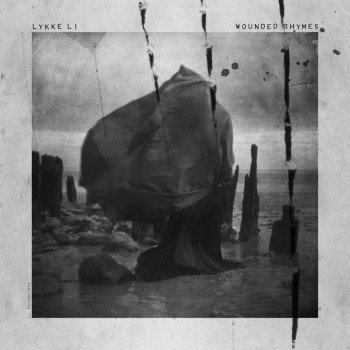 As the title implies, Wounded Rhymes is an album about heartbreak.  But what makes it different from most albums about heartbreak is it's extremely relatable protagonist: Lykke Li. She is tough, sexy, and passionate – and she deals with her bruised emotions like most people do: with a flurry of heartfelt contradictions. On "Youth Knows No Pain" she is tough and defiant: ("c'mon honey give yourself completely, and do it all although you can't believe it"). On "I Follow Rivers" she is loyal to the dark, bitter end: ("I follow, I follow you deep sea baby, I follow you.  I follow, I follow you dark doom honey, I follow you"). She is despairingly desperate on "Love Out of Lust": ("I'd rather die in your arms then die lonesome, rather die high than die hollow"). And she is sexually aggressive on "Get Some": ("like a shotgun needs an outcome, I'm your prostitute, your gon' get some").  In other words, Wounded Rhymes is a convincingly three-dimensional portrait of real emotion.
But Wounded Rhymes doesn't only succeed because of the way Li lyrically approached the subject-matter.  She also proves herself to be a extremely talented and versatile musician on her sophomore LP. On tracks like "Youth Knows No Pain," "I Follow Rivers," and "Get Some" Li relies on seductively slick and upbeat grooves built on tribal rhythms, hand-claps and evocative organ/piano.  Meanwhile, tracks like "Unrequited Love," "Sadness Is a Blessing," and "I Know Places" are soft, thoughtful ballads that highlight warm harmonies, careful phrasing and the enveloping glow of Li's voice.  She doesn't rely on one song-writing technique, and as a result, it is hard to say which tracks are the real highlights on the album.  The more upbeat tracks are very catchy and the ballads are quite moving.
The fact that this album is as good as it is because it relies on clean production, thoughtfully complex arrangements and excellent ingredients makes it an ideal pairing for Kasey's recipe for seared duck breast with white bean ragout and escarole that is featured in the Kitchen today.  The recipe is warming, flavorful and complex.  A truly sensual experience – much like Li's album.  Buy Wounded Rhymes from Insound.
Lykke Li – Get Some
Lykke Li – I Follow Rivers
Head back to the Kitchen to read Kasey's recipe for seared duck breast with white beans ragout and escarole.  Don't forget to "heart" our songs on hypem if you like what you hear!