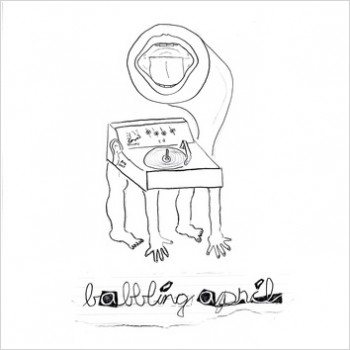 You don't need to make a lot of noise to grab some attention.  Just ask Maryland's Babbling April who follow the gentle, instrumental intro on their debut album with little more than light tapping percussion, softly strummed acoustic guitar, dreamy ambiance and softly cooed female vocals on the aptly named "Sunny Day Records."  Quiet is the new loud? I suspect they think so.  Again and again Babbling April reveal thoughtfully constructed songs that unfold like brightly-colored flowers slowly reaching full bloom.  Still, reluctant to leave the impression that they only have one trick up their sleeve, they flirt with the sleazy side of shoegaze and the grimiest bits of rock on the tumbling  "Girl Ima' Babe" before crashing head first into a softly shimmering, acoustic adaptation of Joan Jett's classic cut "Bad Reputation."  Their self-titled album is available for "name your price" on Bandcamp.
Babbling April – Sunny Day Records
Babbling April – Reputation (Joan Jett Cover / Adaptation)
Don't forget to "heart" our songs on hypem if you like what you hear!