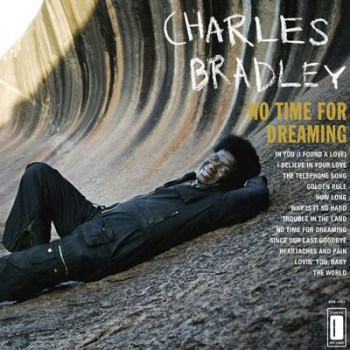 Over in the Kitchen today Kasey is featuring spelt and carrot-ginger cupcakes.  They are so good they are like magic. And those funky, maple cream cheese topped bites deserve an appropriately delicious and funky pairing. And thankfully, I've been sitting on the perfect album for the occasion: Charles Bradley's debut album No Time For Dreaming.  I rarely spend much time discussing an artist's bio (preferring to let the music speak for itself), but Charles Bradley certainly has one of the more interesting background stories that I've read in awhile, and so his story is worth retelling. Charles spent most of his childhood living on the streets of Brooklyn.  But ever since Bradley's sister took him as a kid to see James Brown perform live at the Apollo, Bradley dreamed of becoming a musician just like Brown.  But, of course, he didn't achieve his dream over night.
In order to make something of himself, he signed up for a program that placed people from under-privileged families with careers, where he learned to work as a chef.  He left New York and made his way out West, ultimately spending many years working as a chef in California.  He wasn't making the big bucks, but he could make ends meet and play music on the side.  Tragically, every time he seemed to catch a break, things in his life seemed to spin out of control.  This was true in his career, his personal life and in his second life as a musician.  It wasn't until he was 51 years old that he started connecting with audiences while performing a James Brown routine at clubs in Brooklyn under the name Black Velvet.  He was doing well, but just when things were looking up, his life took another a nasty turn when his nephew shot and killed his brother. Charles was devastated and began to fall into despair reflecting on the cruelties of the world around him.  During this time Gabriel Roth of Daptone records met Bradley and introduced him to fellow musician and songwriter Thomas Brenneck.  Brenneck and Bradley became friends, and when Brenneck heard Bradley's story, he encouraged him to begin writing his own songs based around his life experiences.  No Time For Dreaming was the result of this experience, including the standout single "The World (Is Going Up In Flames)." And that is how at 62-years old, Charley Bradley came to release his debut record.
And while, Bradley's background is compelling, I assure you it is the quality of his music is the reason you want to check this album out.  Personally, I knew nothing about his background when I first heard the album.  I stumbled upon "The World (Is Going Up In Flames)" and just presumed it was some classic soul/funk track from the 60's that I had somehow missed out on.  But it was so good I wanted – I just needed – to hear more.  And as I started to find more music from Bradley, I realized, to my surprise, that this wasn't an old overlooked gem, but a contemporary musician who had just released his refreshing debut album.  And I find it even more refreshing that Bradley isn't just adopting the sound of another era for purely stylistic reasons or because it is en vogue, but because it is the sound of the music Bradley loves and has loved since he was a child.  It is a phenomenal album with soul, funk, rhythm and blues – not to mention that clean, pure analog recording sound that Daptone does so well.  Give it a listen and fall in love.
Charles Bradley – The World (Is Going Up In Flames)
Head over to the Kitchen to read Kasey's recipe for spelt and carrot-ginger cupcakes.  They are delicious!  Don't forget to "heart" our songs on hypem if you like what you hear!