We all have our routines. The ones we're used to. The same route to work, even if it's less convenient. The same hair stylist–the one that you don't have to worry about cutting 4 inches off to 'try something new.' The same cocktail at your favorite restaurant. Every single one of my current and former coworkers has seen me eat this salad at my desk, while (likely) reading The New York Times, or one of the myriad of food blogs in my RSS feed during my lunch break. This is my salad. And I own it.
I'm not sure how I ever came up with the recipe. I think it started as a side salad to a sandwich (just spinach, diced dried figs and a few splashes of balsamic vinegar). It has since evolved into a main-course dish that I usually eat with a pita or a slice of bread.
Quite frankly, I'm shocked that I never told you about this salad before. It's rather simple–I've never been a fan of complex dressings, so the dressing for this salad is no more than balsamic vinegar. I use whatever dried figs I have on hand, usually chopped walnuts (but sometimes other nuts if I don't have walnuts in the house). I always stock up on goat cheese and find that the balsamic vinegar's zing is the perfect complement to the creamy lightness of the cheese. I use whatever berries are in my fridge–blueberries, blackberries, raspberries…sometimes fresh figs (when they're in season) and/or chopped strawberries. I made it pretty for you here, though normally I eat it out of a plastic Tupperware.
Regardless of how many times I've eaten this salad (hundreds, probably), I never grow tired of it. I've never thought of myself as a 'lunch person,' but if there's anything that makes me eagerly anticipate noon–it's this salad. Change is a good thing, no doubt. But when it comes to lunch, I'm perfectly happy with my routine.
My Salad
*serves one, just the way I like it
2 cups of baby spinach, rinsed and dried
2-3 large dried figs, chopped
handful of assorted berries
crumbled goat cheese (I buy logs of goat cheese that I crumble myself)
2 teaspoons of balsamic vinegar
2 tablespoons of walnut pieces
1. Combine all of the ingredients in a large bowl, tossing to coat the salad with the balsamic vinegar.
2. Transfer to a Tupperware container or a bowl.
3. Eat with a hearty slice of toasted bread, or pita.
Musical Pairings: Ratatat – Ratatat + "My Salad"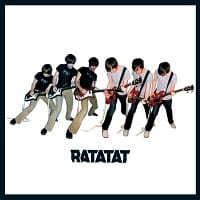 Today on eating/sf, Kasey is sharing the recipe for her "go-to" salad. It's a versatile, flexible recipe that relies on a few simple basics and is accented by whatever fresh, tasty ingredients she has on hand. So for my Musical Pairing, I wanted to pick one of my "go-to" records, an album by a band that is focused on a few basic building blocks, but that features a similar flexibility. This record is the debut album by NYC-based duo Ratatat. Ratatat consists of guitarist Mike Stroud and bassist/synth/producer Evan Mast. Their eponymous debut album is a stunning, rhythm-based instrumental collection that bridges the distance between hip hop and traditional rock n' roll. Head to Musical Pairings to sample a track, and read more. –Matthew