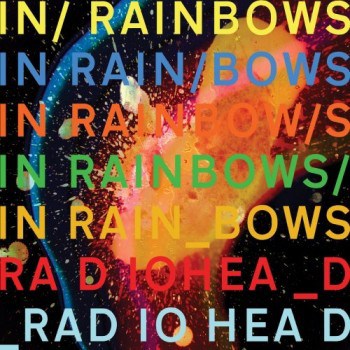 The halibut recipe featured on eating/sf today comes from the fantastic Chanterelle cookbook. This is probably the most accessible recipe in the entire cookbook (in terms of ease of preparation), but the recipe nonetheless lived up to the very high expectations set by our previous culinary adventures with the book such as the grilled dover sole with peas and pancetta recipe and the striped bass with sage & red wine butter sauce. This recipe is subtly complex, sophisticated, clean and modern without being pretentious. As a result, Radiohead's latest album, In Rainbows, is an excellent pairing for this dish. In Rainbows was Radiohead's most easily accessible record of the past decade, but said accessibility didn't result from scaling back the bands creativity and vision. Instead, Thom Yorke & Co. focused on subtly complex melodies, lush arrangements, and clean production to deliver another masterly LP. If Kid A could be viewed as Radiohead's powerful opening argument for why they would remain as one of rock's most relevant, innovative bands during the naughts, In Rainbows was their irrefutable closing argument.
Album opener "15 Steps" features glitchy, fractured rhythms paired with a spacey, electro melody. It represents the album's primary foray into Kid A/Amnesiac-era blending of electronica and rock. Which isn't to say the band take it easy from that point forward. The album's second track is the noisy rocker "Bodysnatchers", a cut which is completely owned by Jonny Greenwood's guitar riffs which alternate between sludgy, screeching, and shimmering. It is followed up by the long-time fan favorite "Nude." For years, like many other Radiohead fans, I had wondered what direction they would take with this song if it was ever recorded in the studio. The band had previously planned to record an album version of the track around the time of the OK Computer sessions, but became frustrated when they couldn't make it work out – ultimately deciding to move on. Luckily, this time around they were clearly able to find the core of the tune and fully flesh it out. It opens with a ghostly, disoriented intro that gives way to a much cleaner, gentler tunefulness that builds alongside Yorke's soulful vocals. On "Weird Fishes/Arpeggi," the combination of Greenwood's arpeggios and drummer Phil Selway's crisp drumming form a solid unit that rises like a bird riding circular wind currents to gain height as the song reaches a stunning crescendo before diving into free fall.
In Rainbows remains universally solid throughout. "All I Need" is full of desperate sexuality. The jamming, laid-back vibe of "House of Cards" is a new turn for the band, and succeeds beautifully. "Faust Arp" is orchestral, concise and lovely. Still, one of the album's most impressive tracks is "Reckoner" – a song was given a complete makeover for this album. The previous incarnation of the song was rocking and guttural, whereas the final version is one of the band's most gorgeous and sonically-rich cuts to date. "Jigsaw Falling Into Place" is a menacing, snarling partially-acoustic rocker and was an early favorite for me. And I'm still personally drawn to the emotional weight of the sparse album closer "Videotape." The song opens with only Yorke's vocals and a simple, ringing piano melody that is met part-way through by panning electronic percussion and eerie harmonies. The result is a beautifully evocative song that gets me a little choked up every time I listen to Yorke sing: "you are my center when I spin away / out of control on videotape" and "this is my way of saying goodbye / cause I can't do it face to face." Buy it on Insound.
Radiohead – Weird Fishes/Arpeggi
Radiohead – Videotape (Xaphoon Jones' Dubstep Remix)
Head back to eating/sf to read the recipe for poached halibut with saffron leek sauce.