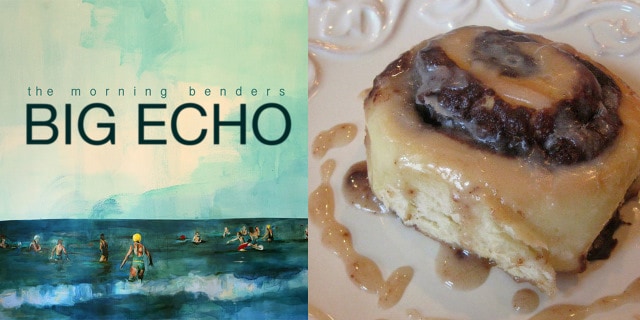 I'm about to drop some knowledge on you dear reader, so listen up. First, the overnight cinnamon roll recipe on eating/sf? "Amazing." Kasey's word, not mine. Personally, I'd probably have gone with "awe-inspiring" or "worthy of intense devotion." These cinnamon rolls will knock your socks off. Literally. Er, actually maybe not literally, but you get the idea. They are sweet, delicious, and that icing with cinnamon combination? In a word: harmonious. This is breakfast food at its best. This is your new morning bender. Er, actually that is today's Musical Pairing. The Morning Benders. And if you ask me, this is a great musical pairing. And it brings me to the second piece of wisdom I want to impart to you. The Morning Bender's forthcoming album, Big Echo, is sweet, harmonious and in a word: "amazing." My new favorite album of 2010.
The Morning Benders have been a longtime favorite here on Musical Pairings (by the way, you can still download their Bedroom Covers album that we posted back in August). So I was pretty excited when I heard that the band was working with Chris Taylor from Grizzly Bear (who recorded one of 2009's best albums) in producing Big Echo. The album was recorded here in San Francisco before the Morning Benders' front-man Chris Chu traveled to New York to meet up with Taylor to produce the album. And the results are fantastic. The album opens with "Excuses," a track that features a vintage-sounding 60's melody and warm vocal harmonies alongside Chu as he sweetly croons: "I put no one else above us / we'll still be best friends / when it all turns to dust." It's a big track that sets big expectations for the rest of the album. And indeed, on Big Echo the band take the sound they had developed on their debut album, Talking Through Tin Cans, and unfurl that sound in a number of directions to make it in some sense "bigger" – and to great results. In fact, Chu and Co. deliver in a on nearly every track. It's an album that is often mellow without being annoying, twee or overly polite. For example, "Cold War (Nice Clean Fight)" works as a great single: it is catchy, buoyant and charming. The worst thing I can say about that track is that it is over much too soon. But as a result, falling in at under two minutes, it's the type of pop song you'll want to listen to again and again. A little further in you find "Hand Me Downs," which is the album's most cacophonous and ragged track. It begins with a couple sharp electric guitar rifts as Chu sings: "Rip it up deep from the ground so nothing grows back in its place. Don't keep it alive when it touches the air let it die cold in the summer day." They are beginning a short tour to promote the album the day after the release (tour begins March 10th). Some dates would appear to be already sold out. They are playing the Independent in San Francisco on March 30th. I'll see you there. Oh, and by the way, Insound is offering an exclusive bonus 7″ including a remix of "Cold War" and a non-album track when you pre-order Big Echo while supplies last.
The Morning Benders – Excuses
The Morning Benders – Pull Up The Roots (Talking Heads Cover)
Head back to eating/sf to learn how to make some amazing overnight cinnamon rolls for your Big Echo listening party.