I think about this blog often–as in the BB (before blog) time, when I wasn't obsessively taking pictures of everything I ate, dreaming up dishes in my sleep, and bringing my friends along for the ride. One of the best parts of the blog for me is being able to go back to specific times in my life and remembering their tastes and smells. It's like having a little time capsule. And while I invite everyone to look at it and share it with me, at the core, it serves as a scrapbook of my memories of food and helps me find cooking inspiration almost every night.
When Matt and I were in Mazatlan , we feasted on lots of fish baked with onions and tomatoes. It would come out of the kitchen laid out on foil (in which it was baked), still steaming hot, with a side of corn tortillas. I often lean towards this way of cooking fish, but a can of diced tomatoes and a jalapeno pepper made me rethink things. While searching the Internet, I came across this recipe in Bon Appetit for a Veracruz-style fish with a whole lot of ingredients (capers, olives, raisins??) I was a little skeptical at first, but I thought we could make it work.
Matt is not a fan of olives, so I knew we'd be omitting those from the recipe. We had some golden raisins on hand, plenty of capers, and fresh multi-colored cherry tomatoes in addition to the jalapeno pepper I mentioned. I could tell from the sauce that it could be made as simple or complex as the ingredients your pantry is stocked with. I liked the idea of cooking and simmering the sauce, and then baking the lightly-seasoned fish inside of it. Not even twenty minutes in the oven, and we were already sitting down to the table to enjoy our little creation. The sauce was definitely the highlight–slightly spicy, slightly sweet, slightly salty. The fish, of course, came out tender and flaky enveloped in the chunky tomatoes. I plan on experimenting more with these ingredients, and think you should, too. Come back and tell me how it goes!
Veracruz-Style Snapper
* serves 2
adapted from this recipe in Bon Appetit
1 14-ounce can of diced tomatoes, plus a few handfuls of cherry tomatoes, sliced in half
olive oil
1/4 cup finely chopped onion
3 garlic cloves, chopped
3 small bay leaves
2 tablespoons of chopped fresh parsley
1 teaspoon of dried oregano
2 tablespoons of golden raisins (regular is fine)
2 tablespoons of capers, drained
2 large red snapper fillets
1 jalapeno pepper, chopped finely
hot sauce (optional)
1. Preheat the oven to 435 degrees F and get a large glass baking dish ready.
2. Heat oil in a large skillet over medium-high heat. Add the onion and garlic, stirring for about 30-45 seconds, then add the tomatoes (diced and fresh), cooking for about a minute.
3. Add the bay leaves and herbs and cook for a couple of minutes until the sauce thickens a bit. Then add the capers, raisins, jalapeno and season with salt and pepper. Throw in a few dashes of hot sauce if you want to add a little heat. Simmer for about 6-8 minutes.
4. Season the fish fillets with salt and pepper. Spread about 4 tablespoons of sauce on the bottom of the baking dish, setting the fish atop. Spoon the remaining sauce on top.
5. Bake, uncovered for about 18 minutes, until the fish is white and flaky.
Musical Pairings: El Guincho – Alegranza + Veracruz-Style Snapper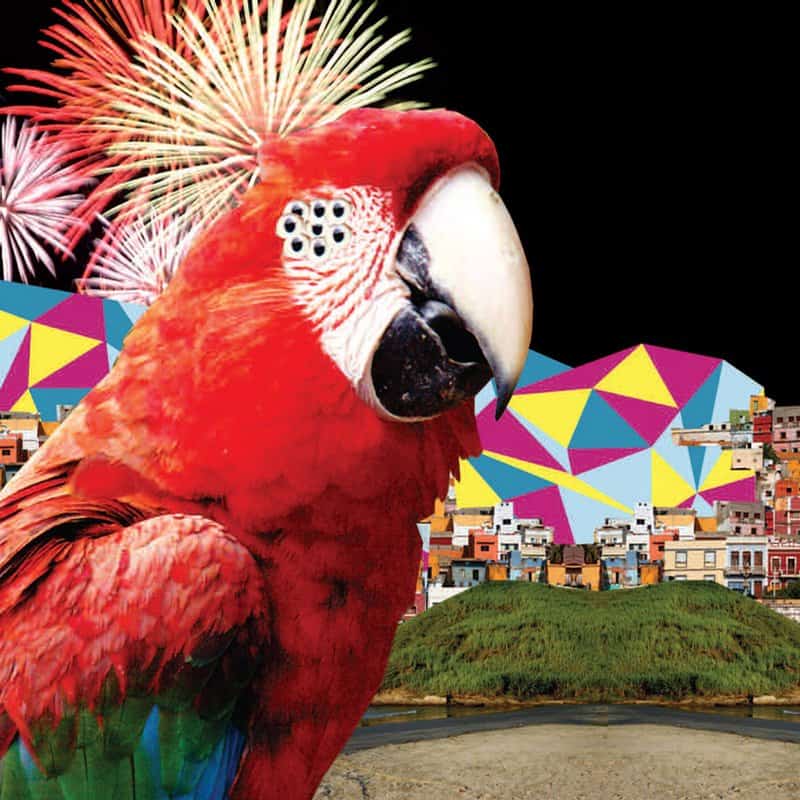 Pablo Diaz-Reixa is a Spanish producer/musician who hails from Barcelona and records music under the alias El Guincho. His 2008 album Alegranza (named after a small island off of South Africa) is one of those albums that just sounds like taking all of your memories of a tropical vacation – spicy seafood, fruity drinks with little umbrellas, light beer, laying on a beach chair and listening to the ocean, snorkeling, long walks on the beach, etc. – and sticking those memories into a blender. And this makes sense since El Guincho is frequently quoted as explaining that he "just wanted Alegranza to be a space age-exotica kind of record. . . . The kind of record you play and it makes you feel like traveling to all these places but never stopping at one and then finding an empty space in the middle for you to get into it." And this Veracruz-style snapper recipe is similar in many ways. That is to say it will make you feel like traveling to tropical places where you can drink Pacificos in a little hut on the beach while watching the sunset. And Alegranza should be the soundtrack to that setting. And although experimental in ways that make Animal Collective a notable comparison, it is also just an upbeat record that will make you feel good. Head over to Musical Pairings for the rest of the review. –Matthew