Hi friends! Hope that you all had a wonderful, relaxing and delicious Thanksgiving. I sure did, and have plenty of pictures and recipes to share with you in the coming weeks. In the meantime, I'll share a dish with you that may just be the perfect post-Thanksgiving meal.
Because I actually eat what I cook (most often, soon after I cook it, and sometimes when I have friends over for dinner), I don't always get that perfectly staged picture. I realize that there are food blogs out there that are written by professional food photographers and stylists, who wait until the steam is no longer coming off of the plate to take their shots. But my blog is about real people, eating real food. So sometimes, I don't get the best picture. I try not to subject you, my lovely readers, to pictures with steam, dark and unfocused shots. But sometimes I just want to share with you the delicious dish that I made anyway. I hope you don't mind. Want to hear something great, though? I've discovered a perfect little spot in my dining room to take my food shots at night. I still get a little bit of a shadow there, but I find that my night pictures are getting better. I'm pushing forward!
I made this butternut squash tagine for the first time two weekends ago, when my friend Steph came over for dinner. It was a group effort, and turned out absolutely delicious. I was all ready to write about it when I uploaded the pictures and realized that every single one of them was completely out of focus. I could still smell the warm cinnamony aroma of the leftovers, but I just couldn't bring myself to post about it until I had some better pictures. So I set the recipe aside and told myself that I'd make it again. Most of the time I tell myself I'll make a recipe again, I rarely do, but this dish just called to me.
Its simple combination of ingredients, minimal prep work, and short cooking time is alluring for a long weeknight. I had originally planned to follow Deb's recipe exactly, but ended up making some adaptations based on a few other recipes that I had made before, and still more that I found online. I'm ok with olives, and realize they're a staple in Moroccan food, but I knew that I didn't want the salty flavor in this dish. Rather, I wanted to drop in a few sweet notes (in the form of dried currents) and a lighter citrus. So I omitted the preserved lemons, took out the olives, kept the saffron and tossed in some currents.
This take on a traditional Morrocan dish is really the sum of its parts–the balancing yogurt, Sriracha sauce, toasted almonds, spice notes and cilantro all make it a one stop meal. If you have leftovers, they're great served atop a big piece of lavash, or just accompanied by some crusty bread. I prefer to cook it a little bit longer to allow the squash to really get tender and almost begin to fall apart, and give the currents a chance to plump up and round out. If you're having friends over for dinner, start out with a cheese course or a plate of hummus and pita, and a bold, red wine.

Butternut Squash and Chickpea Tagine
adapted from Smitten Kitchen and Chow.com
1 tablespoon of butter
1 tablespoon of olive oil
1 onion, diced finely
4 cloves of garlic, sliced thinly lengthwise
2 teaspoons of ground cumin
1 cinnamon stick
3 cups of large-diced uncooked butternut squash
3/4 pound of small red potatoes, quartered
2 cups of chicken or vegetable stock
2 cups of chickpeas (cooked or canned)
1 14 ounce can of diced tomatoes, with their juices
pinch of saffron threads
handful of currents (you can swap in raisins if you don't have currents)
juice of 1/4 of a lemon, plus additional lemon wedges to serve
chopped cilantro leaves, for garnish
halved, toasted almonds, for garnish
plain yogurt, for garnish
hot sauce (optional–I used Sriracha)
salt and pepper
Couscous (for serving)
1. Heat the butter and olive oil in a large Dutch oven oven medium heat, until it begins to shimmer.
2. Add in the onion, garlic, cumin, cinnamon stick, salt and pepper (to taste). Stir to coat the onion and garlic with the spices and butter/oil, cooking for about five minutes.
3. Add in the diced squash, potatoes, a bit more salt and pepper and toss around to combine with the other ingredients.
4. Add in the chickpeas, tomatoes, broth, saffron, currents, and a squeeze or two of lemon juice. Stir to combine and bring the mixture to a boil. Lower the heat, cover with a lid and cook for approximately 15-20 minutes, checking on the squash and potatoes. When you can easily pierce both with a fork, you'll know your stew is done.
5. While the stew cooks, prepare your couscous (I always use whole wheat).
6. Scoop a few spoonfuls of couscous into a bowl, and then ladle the stew atop. Top with a spoonful of yogurt, cilantro, a sprinkling of almonds and hot sauce for a kick.
Musical Pairings: Hurricane Bells – Tonight Is The Ghost + Butternut Squash and Chickpea Tagine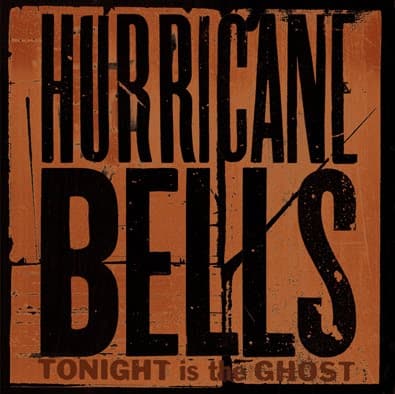 Hurricane Bells is the new project from Steve Schiltz, the singer and guitarist from the band, Longwave. The debut album, Tonight Is the Ghost, is an earthy, understated and sensual album. For this reason it pairs well with Kasey's butternut squash and chickpea tagine. Impressively, Schiltz wrote, played, recorded and mixed the entire album himself. Tonight Is the Ghost is melodically plaintive, but manages to remain confident and optimistic. Indeed, it is one of the most beautiful albums I've heard this year. It is one of those albums that grows on you, burrowing a snug spot in a comfortable part of your soul with each listen. Read more about the album over at Musical Pairings. –Matthew