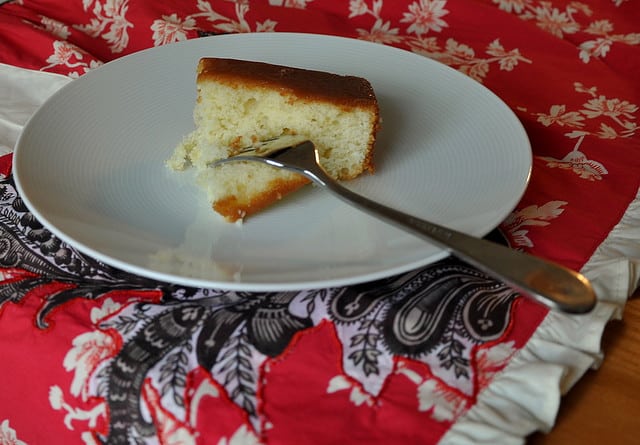 For a while there I was feeling like I was eating a lot of sweets, but I wasn't making a lot of sweets, and I really had to fix that. I go through baking phases largely because when I bake, I find it very hard to resist eating my baked goodies. But, last week, I went on a baking spree. We had friends over for dinner and I made a deliciously humble cake that I will be telling you about soon. And this weekend was Matt's birthday so naturally, I had to a little research.
I originally saw this recipe for Caramel Cake in Gourmet, and then read about it on Lottie + Doof–Tim proclaimed it to be his favorite cake. Because I trust Gourmet and Tim (if you haven't checked out his blog, you really, really should), I knew that this was the cake I would be making to celebrate Matt's birthday this year. He didn't want to make a big deal about it and invited some friends out for beers in our neighborhood, but I had other plans. I took a half day at work and came home to make cake. And I emailed friends to tell them there was a change of plans–we'd be having cake and beer/champagne at our house before going out to one of the neighborhood bars.
I finished up the package of butter in our fridge (I had used half of it for that other cake I was telling you about), and stocked up on buttermilk and cream. If this wasn't going to be an overindulgent cake, I don't know what was.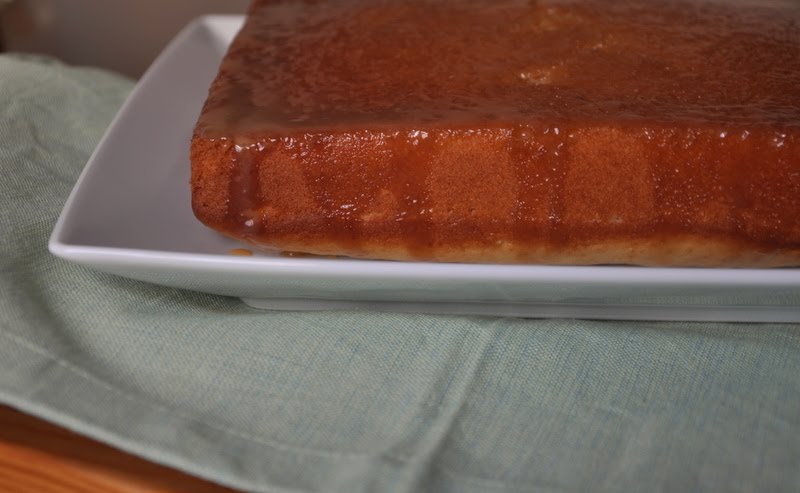 I'm not sure whatI was expecting in terms of the cake, but when I bit into it, I got a mouthful of light, airy pound cake, with an afterlick of caramel. To that end, this is no dulce de leche cake. The caramel is pretty light, and mostly leaves a residual sweetness on your lips after the first couple of bites. The cake itself is what you'd expect a fluffy buttermilk cake to be–only slightly denser and crumbier, but perfect buttery, with a hint of vanilla.
I won't go so far as to say that this is my favorite cake, but it was certainly a crowd pleaser.

Caramel Cake
recipe via Gourmet

2 cups and 2 tablespoons of all purpose flour
1 teaspoon of baking powder
3/4 teaspoon of baking soda
1/2 teaspoon of salt
1 stick of butter, at room temperature
1 cup of sugar
1 teaspoon of vanilla extract
2 eggs brought to room temperature
1 cup of well-shaken buttermilk
For caramel glaze
1 cup of heavy cream
1/2 cup of light brown sugar
1 tablespoon of light corn syrup
1 teaspoon of vanilla extract
pinch of salt
1. Preheat your oven to 350 degrees F and butter a square cake pan (8 or 9 inch).
2. Sift the flour, baking powder, baking soda and salt together into a medium bowl.
3. Using a hand or stand mixer, beat together the butter and sugar until it's pale and fluffy. Beat in the vanilla extract.
4. Add one egg at a time, beating to combine after each addition. Lower the speed of your mixer and beat in the buttermilk until it is just incorporated.
5. Next, beat in the dry ingredients in three additions. Don't over mix as this will make the cake less fluffy.
6. Pour the batter into the cake pan and then tap the pan on the counter a few times to get rid of air bubbles.
7. Bake for 30-40 minutes, or until golden and a set in the middle (test with a toothpick).
8. Cool the cake for about 10 minutes, then run a knife around the edges and invert onto a rack with a pan underneath. Cool for an hour.
9. Make the glaze by bringing the cream, brown sugar, corn syrup and pinch of salt to a boil in a pot over medium heat. Stir to dissolve the sugar and let boil for about 10 minutes, or until a candy thermometer registers 212 degrees F. Stir in the vanilla.
10. Pour the hot glaze over the cake, letting it drip down the sides (make sure you have another pan underneath your cooling rack to catch the excess.
11. Let the glaze cool for about an hour before serving the cake at room temperature.
Musical Pairings: Jeff Buckley – Sketches For My Sweetheart the Drunk + Caramel Cake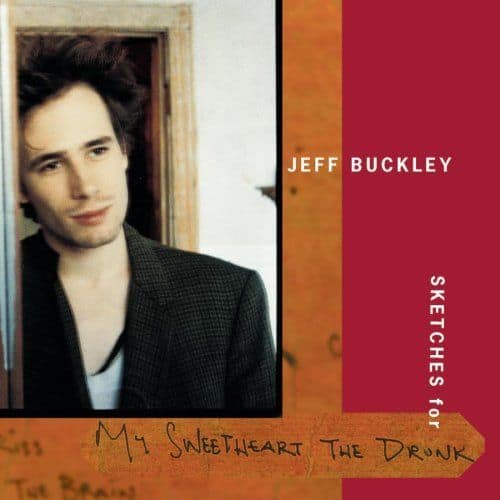 Kasey prepared this caramel cake for my birthday. It is smooth, sexy, buttery and celebratory. For this reason, Jeff Buckley's posthumously released Sketches For My Sweetheart the Drunk is perfect pairing for this recipe. Buckley's songwriting and amazing vocals are a perfect comparison for the way this cake tastes: sweet, smokey and caramel. Sketches For My Sweetheart the Drunk didn't receive the same degree of critical acclaim as Buckley's legendary first album, Grace, but the songs that compose this two disc collection are still stunning, complex and solid. Head over to Musical Pairings to read the rest of the review. –Matthew