I've saved the best for last. We loved Buenos Aires and Mendoza, but we LOVED Salta and the surrounding regions. From the moment we stepped off our double decker AndesMar bus (on which we spent 17 hours watching ridiculous straight-to-DVD movies, slept, played bingo, and drank unnecessarily bad wine), we kind of fell for it. Once I'd had a chance to rub myself down with anti-bug spray (which I really, really did not need at this time of year), I felt so relaxed and at home.
We stayed at Bloomers B&B, which was utterly charming, full of character, and delivered the best breakfasts we'd had over the course of the entire trip. Day one was a selection of pastries, dulce de leche, cayote jam, orange juice and baked mozzarella and tomatoes on English muffins. Day two was the same except with a delicious banana-filled crepe. Not only were the hosts as laid-back as San Diego surfers, they stocked us with a bottle of champagne and let us keep our things in the hotel for the night that we stayed up in Tilcara. More, they hooked us up with David (dalemartinez00 [at] hotmail [dot] com), personal tour guide extraordinaire.
Being one that has often lived in fear of tour groups and guided excursions, I hesitated about hiring a driver that would also be a tour guide, but once we met David, we knew that we would not only get to see a lot more places, but also learn a lot. For example: if you want to sell a car in Salta, all you need to do is put an empty jug/container on the roof of the car — people will know it is for sale. Also, Salinas Grandes are the third largest salt flats in the world. And Fili Helado is the best ice cream place in town (stat!) — more on that later.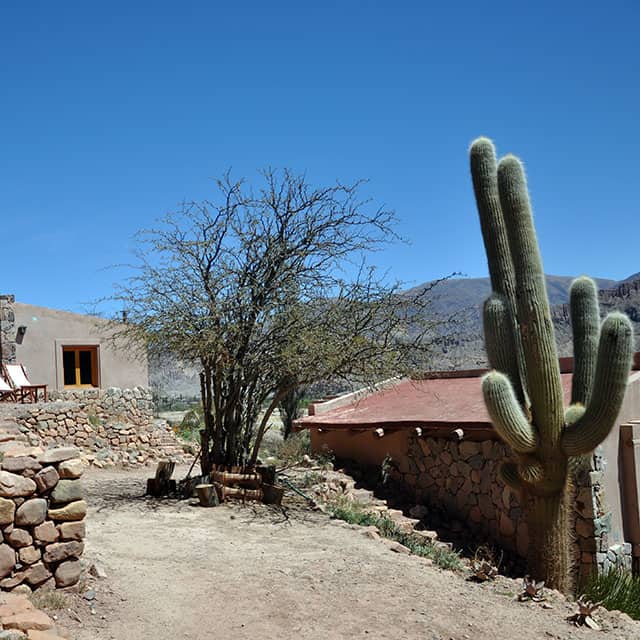 There was a before David–when we strolled the streets and immediately came across Salta's regional sweets —little cracker-like cookies topped with dulce de leche and covered in a sugar glaze. We also went to Doña Salta, a packed restaurant where waiters were elaborately dressed and we had our first tamales. I really, really, really, wanted to try the regional dish of humitas (something similar to tamales, made with corn), but it seemed that no restaurant had them (corn was out of season). I settled for tamales…everywhere we went. Just a short walk from our hotel, we found Miles pizzeria. The tiny little place served not only delicious pizza, but a range of empanadas that were immediately thrown into an oven in a clay bowl. The empanadas in Salta are served with a spicy sauce (we'll call it mild for anyone who likes Mexican food), and that sauce was all I needed to be able to continue eating at least 1 empanada every single day that I was in Argentina.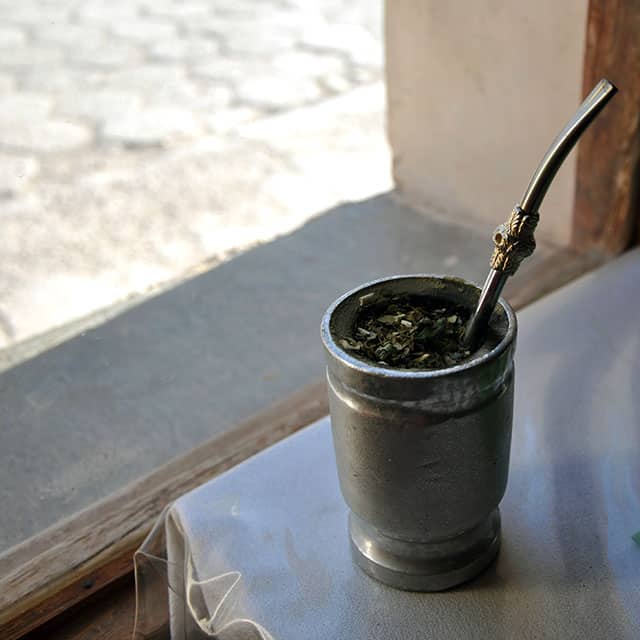 David took us up to Tilcara, as planned, where we stayed at Cerro Chico, in our own little cabin with a view of the endless mountains, the night sky, and a patio with lounge chairs AND a cast iron wood-burning stove that kept us warm through the night. No words could describe the French owner that used to work on an oil rig before moving to Tilcara to build his hotel — you'll just have to go and see for yourself.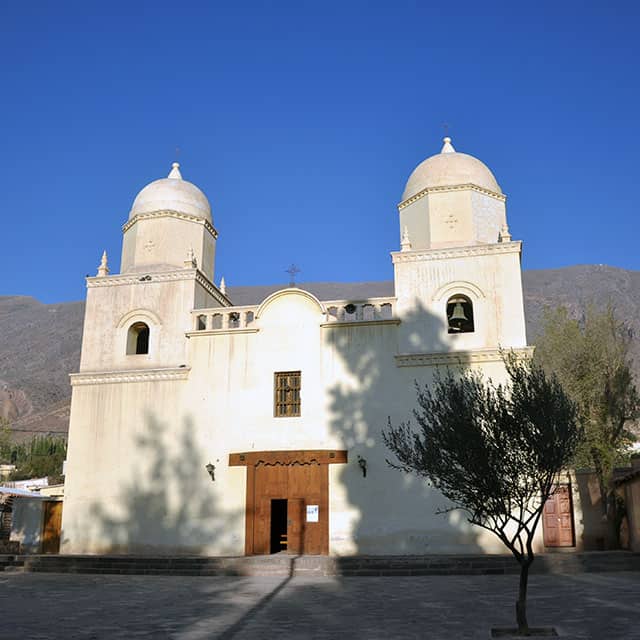 The drive to Tilcara from Salta is well-worth the actual stay — the mountains begin to change colors along the way, displaying all sorts of rainbow shades as a result of mineral deposits in the rock (another little David factoid). We embarked upon an ambitious hike down from our hotel to the center of town, ending in the central square where we guzzled cold Torrontes, and chowed on a quinoia tortilla (an omelet of sorts), more tamales and empanadas filled with cheese and quinoa. I loved how popular quinoa was here and consumed an unfathomable amount of it in one day (I also had quinoa and vegetable soup for dinner at El Patio). I can't for the life of me remember the name of this first restaurant (blame it on heatstroke and my first encounter with a llama), but if you are in the market square, look for the restaurant with the yellow walls (we think the cross is at Rivadavia and Lavalle —maybe A La Payla?).
We spent the evening casually strolling and drinking wine as we watched the stars. The next day, we hit up Purmamarca, where the glorious seven-colored mountain stood before us. We marveled and looked at it from all angles and directions before having quite the fancy lunch at Los Morteros–fancy considering the tiny town of Purmamarca and the exquisitely modern design of the place. The adobe brick homes topped with cardone (cactus) roofs beguiled us everywhere we went.
We drove up the mountains, to the highest point, and further still to a lake of salt (Salinas Grandes) and back down to beautiful Salta. After dinner, we took a cab out to La Casona del Molino, a traditional peña where everyone is invited (should they dare) to join in on playing the guitar, drums, and belt out folksy tunes (you're in for a treat on Musical Pairings). A big black spider fell on Matt, but we didn't care. We were mesmerized by the singing and the atmosphere at this restaurant, which lied on the outskirts of town, in a quiet neighborhood.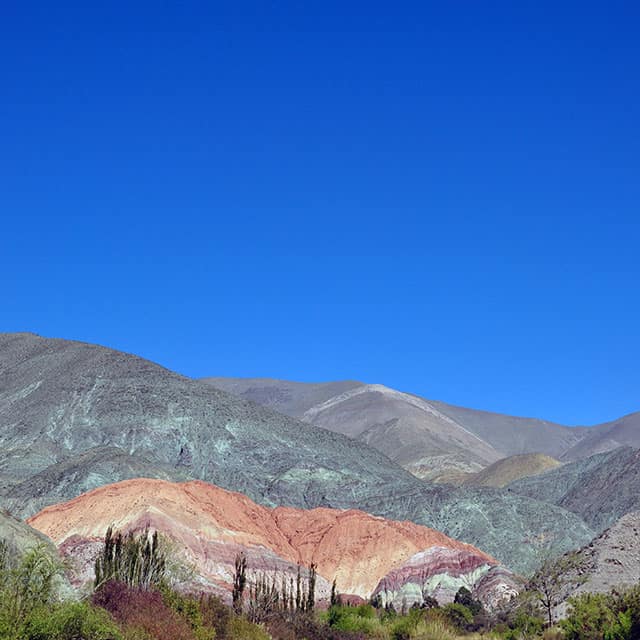 On our last day in Salta, before we had to head back to Buenos Aires, all I kept thinking about was how I never really wanted to get on that plane. We popped into Fili, upon David's recommendation, and the elderly gentleman made us try every flavor of ice cream, kindly insisting on dulce de leche and bombones (truffle). After we finished our cups, he gave us another — 'on the house.' I nearly melted.
When I go to bed at night, I dream of Salta. And I'll probably keep dreaming of it for many weeks and months to come.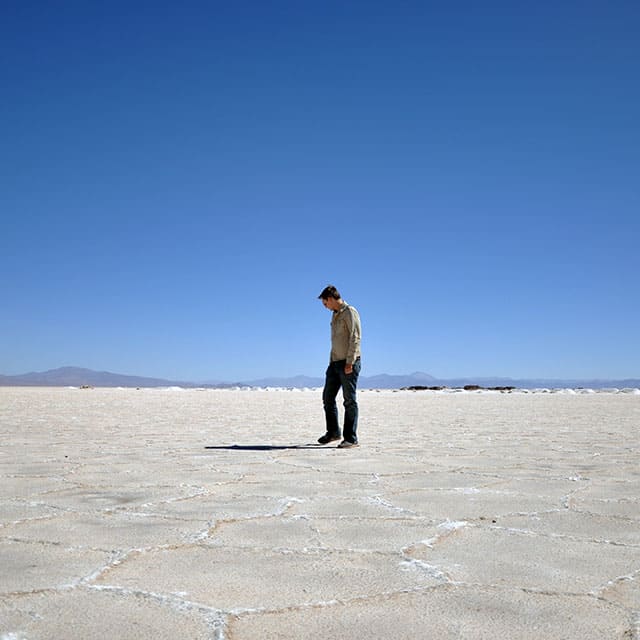 Eat
El Patio: Lavalle 352 (Tilcara)
Doña Salta: Cordoba N 36
Miles Pizza and Empanadas: facing Vicente Lopez 129, walk left 2 blocks and turn left. Miles is an easy-to-miss tiny little joint on your right.
Fili Helados: cross at Sarmiento and Gral. Guemes
Los Morteros (Purmamarca): behind and to the left of the church
La Casona del Molino: Luis Burela 1 (come around 10 for the music)
Stay
Bloomers B&B Vicente Lopez 129
Cerro Chico (Tilcara): follow the road north of the city and follow the signs
Musical Pairings: Atahualpa Yupanqui – Grandes Exitos
Today concludes our Argentina coverage, and we are ending with one of the last and best places we explored during our vacation: Salta. Truly, Salta was amazing, and exceeded our every expectation. The Salta and Jujuy provinces are what you'd get if
you were able to mash Sonoma, Nashville and Death Valley all in to one very safe, beautiful and extremely livable area. You have subtle, crisp and refreshing white wines (torrontes) from Cafayate, Cachi, and Valles Calchaquies. You have the heart of Argentina's famous folklorica and center of easily discoverable music at the many peñas of Salta (such as at La Casona del Molina) where musicians gather and take turns playing guitar and singing traditional music throughout the night over bottles of cheap red wine and beer. And you have cactus, desert, salt flats and the beautiful, multi-colored mountains of the Andes in the northwest in Purmamarca, Tilcara and Salinas Grandes. There is no question in my mind that Salta should be a priority destination for any vacation to Argentina (and I highly recommend our guide David Alejandro Martinez if you are looking for a private driver and guide: dalemartinez00 {at} hotmail {dot} com). And since the Salta region is famous for its folklorica, I can't imagine pairing any other genre with the area. Folklorica is extremely popular and also has a lot of history. I've not even scratched the surface in my experience with the music, but I can say without hesitation that I love the music of Atahualpa Yupanqui. I've already downloaded a few of his albums, and my favorite so far is Grandes Exitos.  –Matthew