I hang out in the Mission district of San Francisco a lot. I don't consider myself a hipster, so I wouldn't say that I belong there or anything. What really draws me to the Mission is the food–and the coffee. Prior to wedding planning madness, I would spend lazy Sunday afternoons walking around, popping into small quirky shops, sitting down to a cappuccino at Ritual Coffee Roasters. Sometimes, I'd come back at night for a nice dinner and a few drinks with friends. Lately, I've been finding myself going out less in the Mission, but I'm turning things around. Case in point: dinner already planned for tonight.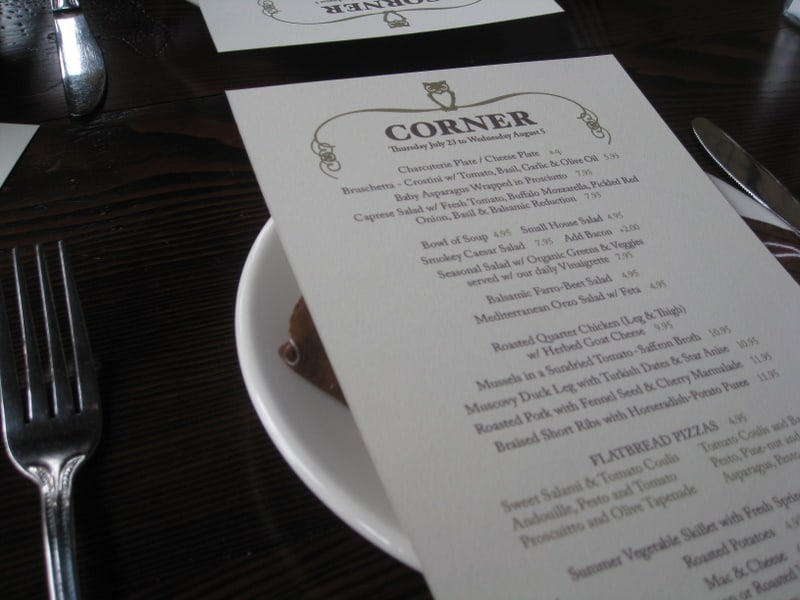 A few weeks ago, I was eagerly anticipating a one on one girls date with one of my soon-to-be married friends. We had a lot to catch up on–particularly around wedding dramas that other people were probably sick of hearing about. Our plan was to meet in the Mission, but we weren't quite settled on a place until a colleague of mine mentioned The Corner…on the corner. I hadn't heard of it, but it sounded just too cute to pass up. I mean, calling your friend to tell her, "I'll meet ya at the Corner on the corner?" Couldn't resist.
We met up around 6 pm, and much to our great surprise, made it just in the nick of time to take advantage of the happy hour menu. The Corner really is the cutest little thing. With walls painted with quirky little birds, owls decorating their menus, and casual brown napkins that made me think of vintage handkerchiefs, it was obvious that the owners paid attention to the details. The interior felt like a modernized tree house. Everything was a mix of casual and cool–including the deli-style counter at the entrance and wide open windows with tables overlooking the street.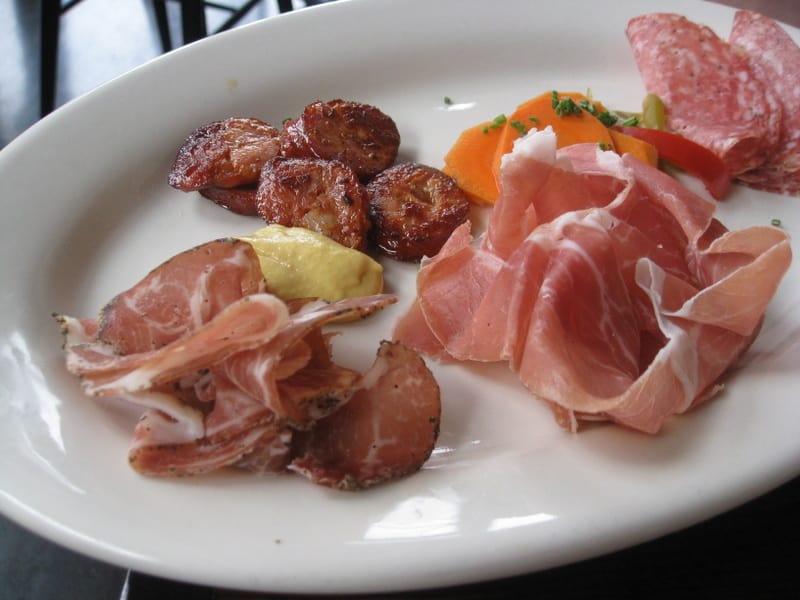 Our eyes got big looking over all of the small plate and nibble options, but in the end, we stuck with a very light dinner: a cheese plate, meat plate, two different kinds of flatbreads, and 2 glasses of wine. At $3/pop, the flatbread happy hour special definitely hit the spot. I didn't quite get the 'flatbread' title, though, as what came out of the kitchen more resembled doughy focaccia topped with sauce, andouille sausage and tomatoes. It was certainly good, but far from what I'd call a flatbread.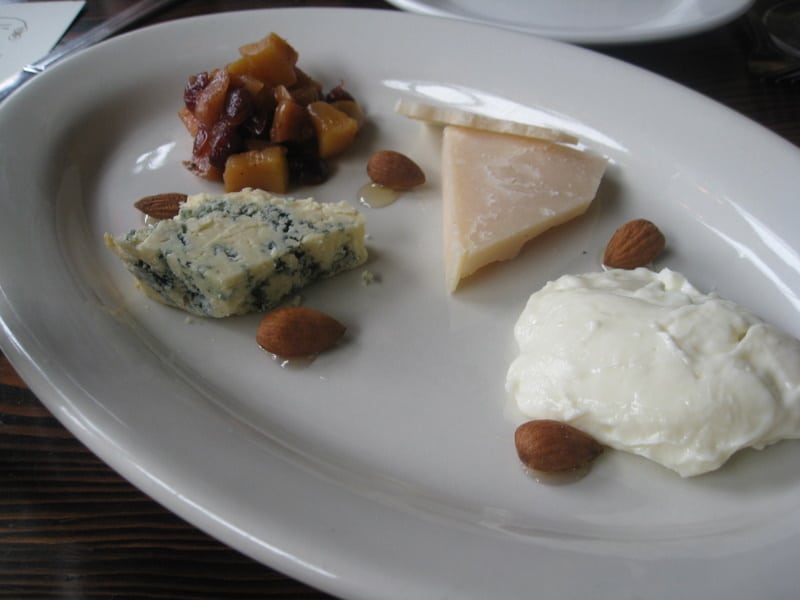 The cheese and meat plates were fantastic–and great deals, also at $5/pop. The cheese plate came with varieties of cheeses–hard and soft, as well as a delectable chutney and crostini. The meat plate was also a good deal–lots of freshly sliced meats–including some andouille sausage, prosciutto and salami–in addition to pickled veggies and mustard. The flow of the food, our cozy table, and laid back service was truly the ideal setting for a girls' night.
I will say that we didn't experiment with some of the Corner's more inventive dishes, but everything that I saw come out of the kitchen looked beautiful, and so many things off of the menu sounded really tasty.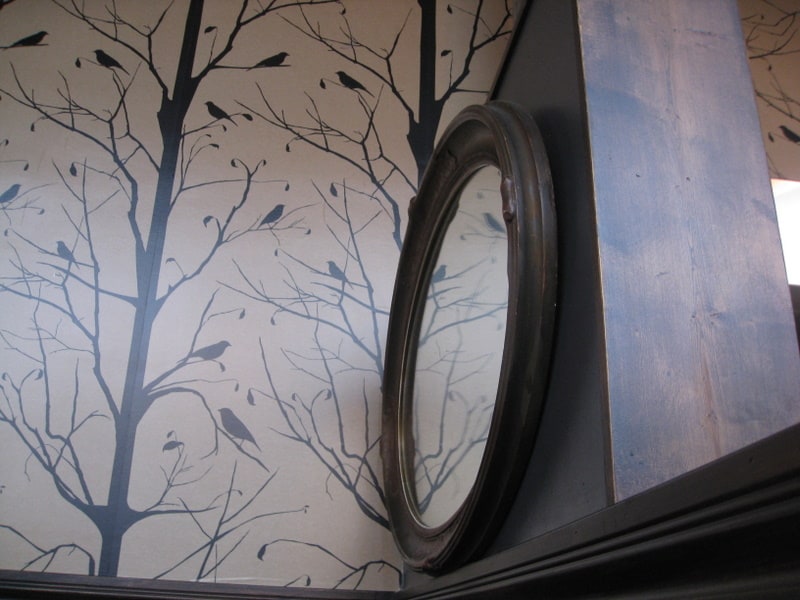 I've had friends ask me how much attention I pay to the atmosphere of the restaurants that I dine in–and how much the atmosphere affects the food and, I must admit–a great atmosphere can really do wonders for the food. And so can a great mascot–I meant, who doesn't like owls? I'd definitely be interested in tasting the other, more extensive dishes on the Corner's menu, but in the meantime, would highly recommend checking out The Corner's happy hour (from 4-7). Check out their Twitter feed, too.
Local Pairings: The Morning Benders – The Bedroom Covers + The Corner


Like many people who follow the local music scene here in San Francisco, I'm eagerly awaiting the sophomore release by San Francisco's The Morning Benders. The Morning Benders are a a buoyant San Francisco band that makes whimsical, Pet Sounds-influenced pop music. The band consists of Chris Chu (vocals/guitar), Joe Ferrell (guitar/Rhodes), Julian Harmon (drums), and Tim Or (bass). They have been working on the new album, which is titled, Big Echo, in the studio with Chris Taylor from Grizzly Bear, but have yet to announce a release date. I had the opportunity to hear a few tracks from Big Echo performed live when they opened for John Vanderslice at the Rickshaw Stop back in May, but since I haven't heard any of the recordings from the new record, I can only speculate how it will turn out. With that said, I think it will be very good. I had been tempted to wait until the new album came out to write about them, but after further consideration thought: why wait? They have already released a full catalog's worth of solid releases. In fact, their collection of covers titled The Bedroom Covers (in part to reflect that the tracks were recorded in a bedroom in their apartment), is a fantastic album of lo-fi covers of various great pop songs and is presently available as a free download from The Morning Benders' website. To read the rest of the review, head over to Musical Pairings @ eating/sf. –Matthew