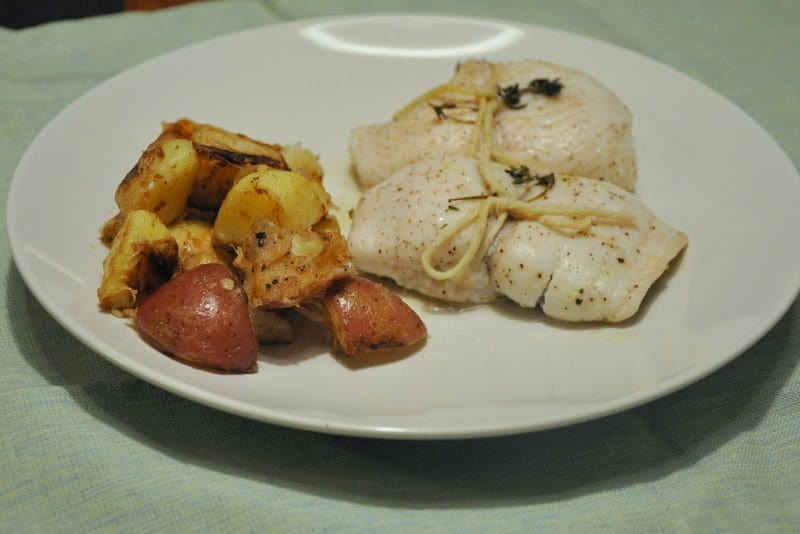 Good things come in small packages–and oh, how true that old adage is. In this particular case, the small package was a rolled up fillet of sole, encasing two thin lemon slices and a delicate pesto sauce. Once baked, this tender white fish not only flaked off the fork, but it was aromatically flavored by the ingredients within.
I have always been a fan of simply prepared food, but I've always been a believer in pretty things. Many of the most delicious and beautiful looking recipes on eating/sf are actually not very time-intensive. Sure, there are the alfajores with the the homemade dulce de leche. And the crispy skin striped bass with sage and red wine butter. But recipes like red snapper ceviche and plum clafoutis are a snap to prepare, and always look impressive.
This, my friends, is my new dinner party recipe. If you haven't yet been to my house for a dinner party, you'll know what to expect next you come over. I paired the delicate roulades, which are packed full of flavor, with a homestyle favorite: crispy pan-fried new potatoes with a selection of sea salts. These potatoes go with everything from fish to chicken and steak, and would be fantastic with a little rosemary and scrambled eggs for breakfast. I highly recommend the cast iron skillet, as it allows the potatoes to nicely brown and get that fantastic crisp on all sides.
Matt was working late last week and I surprised him with this dinner, and a bottle of one of our favorite sauvignon blancs. Needless to say, he's more than reassured that he wants to marry me. 🙂
Tune in on Wednesday for the bistro-inspired dessert that I whipped up after this dinner. Hint: it involves chocolate, and a lot of fear.

Sole Roulades
Adapted from La Tartine Gourmande
* serves 2
2 large or 4 small fillets of sole
2-4 fresh thyme springs
1 lemon, cut into very thin slices (4-8, depending on the number of roulades)
handful of fresh basil
2 tablespoons of toasted pine nuts
2 cloves of garlic
sea salt and pepper, to taste
olive oil
cooking string (you can get this from the folks behind the meat counter)
1. Preheat the oven to 400 degrees F and lightly oil a baking dish.
2. Make the pesto by placing the basil, pine nuts, garlic cloves and 2-3 tablespoons of olive oil into a food processor. Season with sea salt and pepper and process until it's a relatively thin sauce. This isn't the traditional pesto (made with Parmesan cheese), but is a lighter sauce for the fish.
3. If using two large fillets of fish, cut each into long halves and season on both sides with pepper. I recommend making smaller roulades and serving 2 per person, as opposed to making two large ones. They'll cook better, and be more flavorful.
4. Brush one side of each fillet generously with the pesto and place two thin lemon slices in the middle. Roll tightly as you would a package and tie each roulade up with the cooking string.
5. Tuck a thyme spring under the string of each roulade, drizzle each with a bit of olive oil and place them onto the baking dish.
6. Bake for 15 minutes.
7. Serve them as is, and have some kitchen scissors or a knife to cut the strings.
Crispy Pan Fried Potatoes
*serves 2
5-6 small new potatoes (yellow and red, mixed), cut into eighths
sea salt and pepper, to taste
olive oil
1. Bring a medium pot of water to a boil and cook the potatoes over medium-high heat for about fifteen minutes–until you can relatively easily pierce them with a fork, but they're not falling apart.
2. Drain and set aside to cool briefly.
3. Heat a few tablespoons of olive oil in a cast iron skillet over medium high heat.
4. Add the potatoes, season with salt and pepper, and cook for about fifteen minutes, tossing frequently so that they brown evenly.
5. Add a bit more olive oil, if needed and put potatoes in a bowl to serve, seasoning with some additional sea salt and pepper.
My parents recently returned from a trip to Hawaii and brought us back some gorgeous red and black Hawaiian sea salts that I have been using on everything. I tossed a few pinches of each kind into my potatoes–gorgeous!
Musical Pairings: Nouvelle Vague – Nouvelle Vague + Sole Roulades and Crispy Potatoes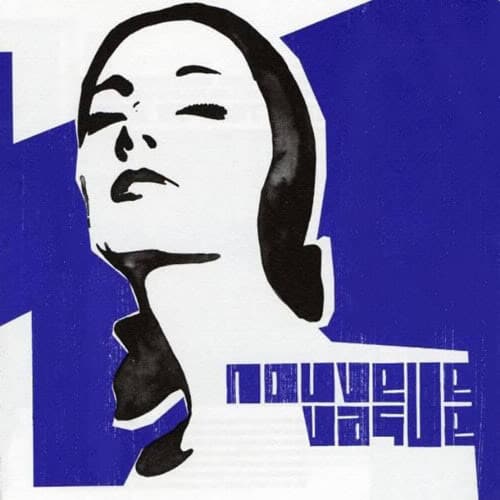 In her latest post, Kasey prepared a delicious meal that she envisioned as a bistro style dinner. She has split her meal into two parts, and so this is likewise part one of a two part playlist for your bistro-themed meal. For the meal, Kasey served sole roulades with a side of crispy potatoes. And the perfect background music for our fictional bistro? Nouvelle Vague's 2004 self-titled release, of course. Nouvelle Vague is a French musical collective led by Marc Collin and Olivier Libaux. Their name translates literally to "new wave" in French which is an intentional reference to: 1) French "new wave" cinema (with the album art paying homage to said cinema), 2) the new wave musical movement from which they select the majority of the songs they've recorded (all of which are covers), and 3) the style in which they perform these cover songs: bossa nova (which is Portuguese for "new wave"). Although this sounds like it could be unbearably artsy and pretentious, rest assured – it is playfully smooth and seductive. A guaranteed hit to complete the atmosphere for your casual but hip bistro (or dinner party)… –Matthew