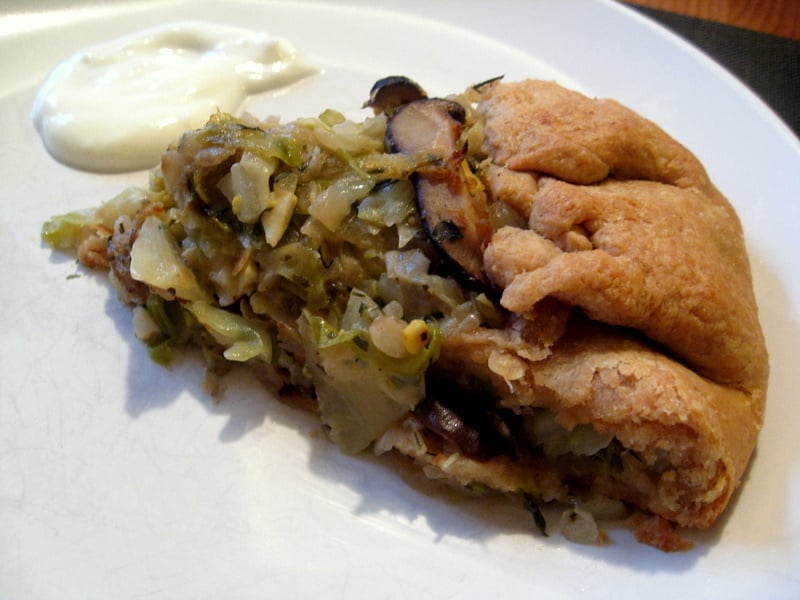 In my last post, I wrote about discoveries. In this one, I think I'll cover stubbornness and changing my mind. You see, up until very recently, I was vehemently opposed to savory pasty of any kind. Perhaps it's my tremendous sweet tooth and its overarching ability to win over any kind of savory craving.
Alas, some things may have changed. I still prefer a sweet crepe over a savory one any day, but I've opened my mind to tarts. I've recently discovered that I like quiche. This is new. Even more recently, I attended a dinner party where I had the most heavenly 'galette' (different from this galette)–a flaky, buttery pastry filled with a mixture of cabbage and mushrooms. It seems I've also recently developed a fondness for cabbage. There was something magical about this galette–it made me think of foraging mushrooms in the forest as little girl, with a little basket. Between the slightly sweet, luxurious pastry and the warming, complex affection between the cabbage and the mushrooms, there simply wasn't room to not like anything about this tart.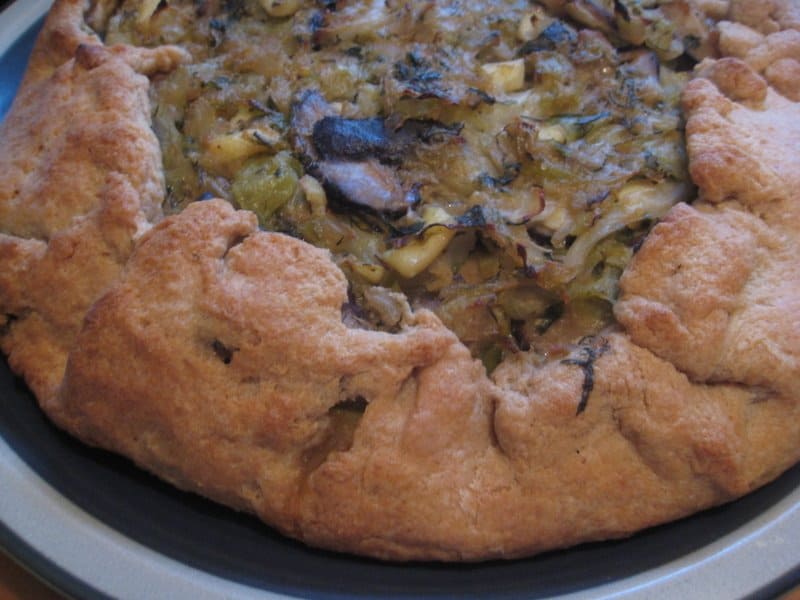 The original recipe called for a horseradish serving sauce, but I took a cue from a friend and scooped dollops of plain yogurt on the side. The only problem? I wanted some yogurt with every bite. Ultimately, I ended up spooning yogurt atop each slice, slathering it thickly. I love the tartness and coolness it added to the warm tart. My friend served this galette as part of a multi-course vegetarian meal, with a cheese platter, Middle Eastern dips, broiled asparagus and marinated eggplant (a dish I've made three times now, and which will likely surface on eating/sf at some point).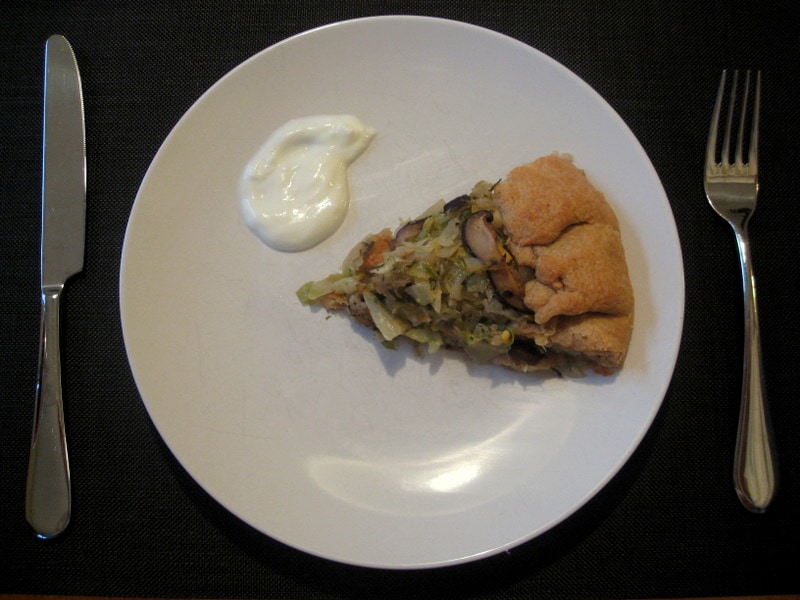 If you're having a small group of people over for dinner, I think this would be a wonderful meal–maybe with a chilled soup and a nice spread of cheeses and sliced meats.
I'm still stubborn…but at least these days, I'm more open to ideas.
Cabbage and Shitake Mushroom Galette with Yogurt
*Adapted from Smitten Kitchen
For the dough:
1 1/4 cups of whole wheat flour
1/4 teaspoon of salt
1 stick of butter, cut into ½ inch cubes
1/4 cup of sour cream
2 teaspoons of fresh squeezed lemon juice
1/4 cup of cold water
For the galette filling:
2 tablespoons of butter
1 yellow onion, chopped finely
10-12 fresh shitake mushrooms
1/2 teaspoon of dried thyme
1 tablespoon of fresh chopped dill
about ½ a head of cabbage (6 cups), sliced thinly
1/4 cup of chopped flat leaf parsley
1 hard boiled egg, diced up
1/4 cup of sour cream
1 teaspoon of red wine vinegar
2 tablespoons of melted butter
salt and pepper, to taste
plain yogurt, for serving
1. Combine the flour and salt in a bowl. Place the chopped butter in a separate bowl and place both in the freezer for about an hour.
2. Remove the flour and butter from the freezer. Pour both into a food processor and pulse until the mixture is the texture of coarse meal.
2. Pour the mixture into a bowl and make a well in the center.
3. In a small bowl, whisk together the sour cream, water and lemon juice. Pour half of this mixture into the dry mixture, using your fingers to combine. Continue adding the liquid, incorporating it into the dry mixture, without overworking the dough. Roll into a ball, cover with plastic wrap and place in the refrigerator while you make the filling.
4. Prepare the mushrooms: remove their stems and slice their caps thinly.
5. Place the mushrooms, onions, parsley, thyme and dill into a bowl.
6. In your largest skillet, heat the butter over medium heat. Add in the all of the above ingredients, and saute, tossing with a wooden spoon, for about 10 minutes (or until they're softened up).
7. Add in the cabbage, about a teaspoon of salt, and half a cup of water (your skillet might be overflowing, but don't worry—the cabbage will cook down). Cover your skillet and cook for approximately 15 minutes, making sure to toss the ingredients a few times to make sure they combine and cook evenly.
8. Uncover, and cook down any excess liquid. Add in the chopped egg, sour cream, vinegar and salt and pepper to taste, stirring to incorporate.
9. Remove the skillet from the heat and preheat the oven to 400 degrees F.
10. Take out your dough and roll it out on a lightly floured surface until it is about ½ to ¼ inch thick (it will likely rip in places).
11. Carefully transfer the dough to the back of a cookie sheet (no need to grease—there's plenty of butter in that dough!). The sides will hang over. Pour the filling into the center of the galette, folding over the dough edges all around, until it creates a parcel with an open center. Brush the edges with the melted butter and pour the rest into the center of the filling. Bake on the middle rack for about 30 minutes, or until the edges of the galette are a nice golden brown. Serve with plenty of plain yogurt.
Musical Pairings: Feist- The Reminder + Cabbage and Shitake Mushroom Galette
The word "galette" is an exotic word in my mind. So this cabbage and shitake mushroom galette has a sort of exotic ring to it. Nonetheless, it doesn't taste exotic. Instead it has a somewhat refined rustic quality. It is unique, complex and flavorful, but still familiar and warming. In this regard, Leslie Feist's record The Reminder serves as a great musical analogy for this recipe. The Reminder is familiar, but unique; in addition to being a warm, complex, fun and sonically rich album. Although many readers will have reached a saturation point with songs such as "My Moon My Man" and "1 2 3 4," the entire album is fantastic, and if you haven't checked it out yet – I'd highly recommend giving it a chance. Head over to our Musical Pairings home to read the rest of the review. –Matthew