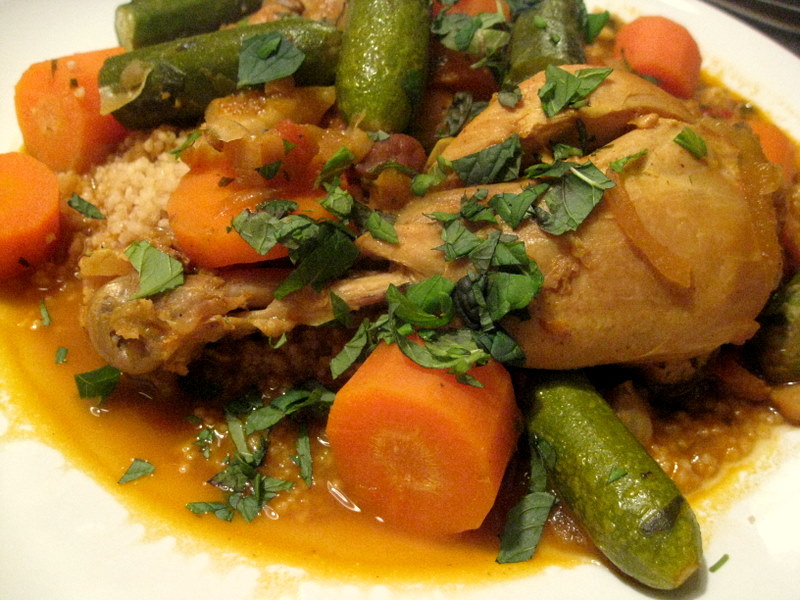 Traditional tagines are often made with meat (lamb, chicken), and take advantage of a wide range of aromatic ingredients (from preserved lemons to apricots, mint to lemon and almonds). A tagine is essentially a slow-cooked Moroccan braise that is prepared in a heavy ceramic clay pot with a triangular top (a Dutch oven, of sorts). I don't own a tagine, but fared pretty well with a large soup pot that simmered on my stove and filled my entire house with smells of cinnamon, paprika, coriander and lemon.
Tagines for me evoke memories of grand travels and large, loud gatherings. Like big iron skillets of paella, and simmering, saffron-scented bowls of risotto, tagines make me want to throw a big red tablecloth over my dining room table, bust out some mint tea, turn down the lights and invite my closest friends over for an intimate dinner.
A tagine takes advantage of key pantry staples like paprika, cayenne powder and cinnamon, dried fruits and nuts, canned beans and whatever vegetables you have on hand. While the original recipe called for green beans, I subbed baby zucchini and also used fresh tomatoes versus canned. Some tagines are sweeter, some saltier (for example, those that use olives and preserved lemons), and some are spicier than others. I doubled nearly every spice (save the paprika) from the original recipe–and was quite happy I did so. I'd argue that depending on how spicy you like your food, you could easily up the amount of cayenne pepper in this.
One of the best things about this dish is that the simmering time of all of the various ingredients creates a heavenly, thick base that is perfectly paired with grains like couscous and rice. Any grain that will soak up the liquid is great here.
We ate this for dinner on two consecutive nights and both times, I thought to myself: "I. made. this.!!!" I was torn between two recipes: one I found in a great blog called A Good Appetite, and the other in Epicurious. Ultimately, I bookmarked the former, and ran with the latter. I love ethnically diverse dishes and been of late experimenting with cardamom, sesame oil, rice vinegar and tahini. In a way, cooking is just another form of travel–the tastes, smells and atmosphere you set with your meal can instantly transport you to another place. More, you can find yourself in Morocco one night–and France the next. Here we go.
Chicken Tagine with Chickpeas and Mint
*serves 4
adapted from a recipe in Bon Appetit

1 tablespoon of olive oil
1 yellow onion, thinly sliced
6 garlic cloves, minced
1 tablespoon of minced, peeled fresh ginger
1 1/2 tablespoons of paprika
1 1/2 teaspoons of turmeric
1 teaspoon of ground coriander
1 teaspoon of ground cumin
1 teaspoon of cayenne pepper
1/4 teaspoon of ground cinnamon
2 cups of water
2 cups of drained canned garbanzo beans
3-4 tomatoes, diced (the original recipe calls for 1/2 cup of diced tomatoes from a can)
1/2 cup of chopped cilantro
1 lemon, cut into quarters, then thinly sliced
2 tablespoons of lemon juice (from another lemon)
4 chicken thigh pieces, skin removed
2-3 chicken drumsticks, skin removed
1 chicken breast half on the bone, skin removed
3 medium carrots, peeled and cut into 2-inch pieces
1.5 cups of baby zucchini, sliced in half (or several large zucchini, sliced into 2 inch rounds)
freshly chopped mint, to taste
salt and pepper, to taste
1/2 cup of couscous (cooked according to package instructions)
1. Heat the olive oil in a large soup pot, over medium heat.
2. Add in the sliced onion, minced garlic, and ginger and cook these ingredients together for approximately 10 minutes. Stir every so often and wait until the onion is soft.
3. Add in all of the spices (on the recommendation of many Epicurious reviewers, I doubled the spice amounts). Stir to mix and then pour in 2 cups of water, the garbanzo beans , tomatoes, lemon, cilantro and the lemon juice. Stir to combine. Bring everything to a boil, then reduce the heat and simmer for about 10 minutes, covered.
4. Meanwhile, prepare the chicken: sprinkle with salt and pepper and make sure to remove all skin.
5. Add the chicken parts to the pot, cover, lower heat and simmer for 30 minutes.
6. Add the veggies to the pot and simmer for another 15 minutes (until the carrots and zucchini are tender).
7. Make the couscous according to the package. Spoon the couscous onto a plate and use a soup spoon to scoop the chicken, veggies and tagine juices over it. Sprinkle with freshly chopped mint.
Musical Pairings: Beirut and Chicken Tagine

So I'll start with a disclaimer: although Kasey's Chicken Tagine is clearly inspired by Moroccan cuisine, I am not trying to imply there is anything Moroccan about the band Beirut. Nonetheless, both Kasey's Tagine and Beirut's music are inspired by cultures that are in my mind "exotic," and for this reason I think that Beirut is an excellent pairing for this dish.
Beirut's first release, Gulag Orkestar, and the subsequent Lon Gisland EP are two of my favorite albums of the past decade. I've used the last verse of the phenomenally beautiful track "Postcards of Italy" from Gulag Orkestar as my dedicated ringtone for Kasey ever since shortly after we started dating (now that we are engaged, it seems especially fitting since the lyrics to this verse are: "and I will love to see that day / that day is mine / when she will marry me outside with the willow trees / and we'll sing the songs we made"). For the uninitiated, Beirut is led by 23 year-old Zach
Condon, who blends traditional Eastern European folk music with Western-style indie pop to create unique music with electrifying results.
Here is a video I recorded of Beirut – Postcards From Italy live at the Great American Music Hall in San Francisco back in October 2006; and here is another video from that show of Beirut – Ederlezi (Goran Bregovic cover).
The official band site features a free download of Beirut – A Sunday Smile. –Matthew