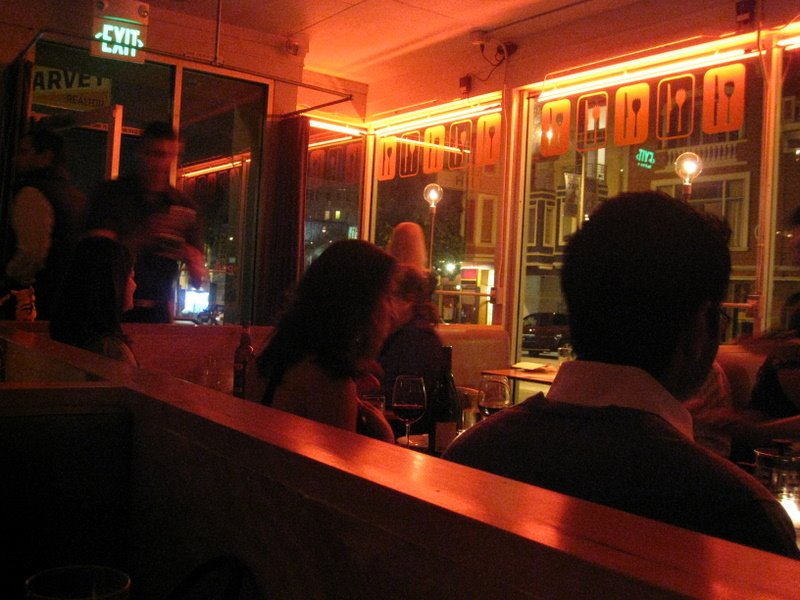 I promised to revisit my visit to Spork with a review, so here it is. I originally made a reservation for 8:15 but somehow managed to lose that reservation. Thus, ensued a mad rush to try to get it back. Luckily, I persevered and we were promptly seated at a cozy little booth at 8:00 p.m, no less. Spork not only sounds fun, but looks it, too.
It's housed in a building that used to be a KFC and they definitely play up the fact that the place took over a fast food joint. But, that's where the similarities end. With tangerine-colored lighting, funky alien statues, little fans, huge prints of hands and big glass lamps elevated to resemble streetlamps, Spork is a neat little joint in the Mission District of San Francisco.
Tasty Steak–really tasty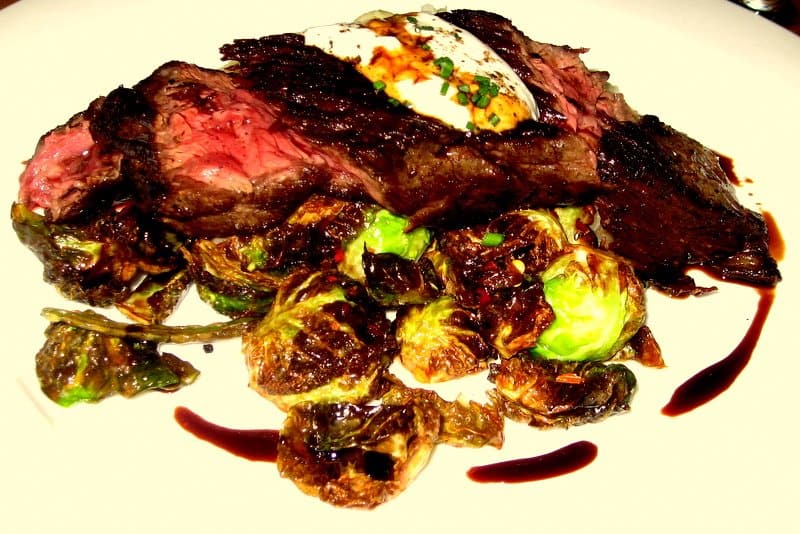 I've been eyeing this place for some time and was excited to bring my weekend guests here. For some reason, I just had this feeling (don't know why) that my friends would appreciate the Mussels and Pork with a Spork and the appropriately-named 'Inside-Out-Burger'–two patties with bread in between. I had a craving for steak and brussel sprouts, oddly, so went with the Tasty Steak while my companions ordered two burgers and the mussels/pork. That is, after getting cozy with German, Belgian beers and a glass of Russian River Pinot Noir for me. Oh and the housemade pull apart rolls. With honey whipped butter. Yes, you heard it. It's like dessert before dinner. Spoil my appetite with some bread? If it's Spork's original recipe rolls, it's definitely a do.
Oddly, there was something vacation-y about eating at Spork for me. Like being in Vegas or…Lisbon. The place brought back memories of quirky, cozy bars and restaurants in Lisbon's hipster region and I felt a tinge of nostalgia (in a good way) for discovering something new.
Usually, you take out of towners to places that are tried-and-true. And for the most part, I did. But Spork proved to be an adventure for not only my guests, but for me. One friend exclaimed that Spork's burger was nearly a transcendent experience–'the best restaurant, ever.' The burger really was something. But my steak was something else. So much so, that the only thing left on my plate at the end of my meal was a sad, tiny little pile of mashed potato. The crispy brussel sprouts in aged balsamic were zesty and perfectly offset the tender steak and mashed potatoes, topped with a slightly-bitter horseradish sauce.
Of course, we can't forget dessert. Strawberry and huckleberry crisp a la mode? Check. Some sort of peanut buttery goodness with a cheeky name like Elvis Has Left the Building? Check. Times two. All in all, Spork's got character. And good food to back it up.
I'm off to the East Coast for a few days here, to visit my friend Lauren, finally check out Boston, take in her life in New Haven and experience the New England Fall foliage. I won't be posting for a few days, but shall return next week. Have a great week/weekend everyone!
Burger 'cookies' with our bill