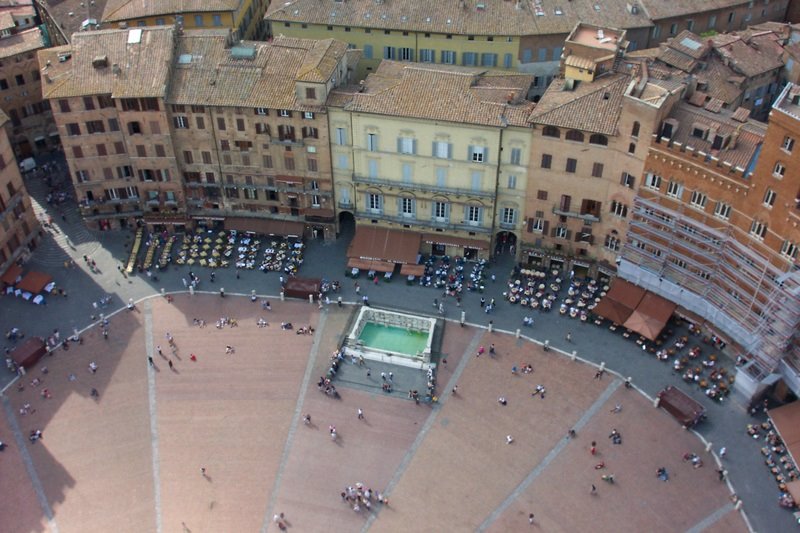 Over at FoodGal.com, Carolyn recently blogged about gelato. Her post inspired me to do some reminiscing–after all, once upon a time I was a gelato expert. By once upon a time, I mean the glorious three-and-a-half months I spent living in Siena, Italy, indulging in gelato, two, sometimes three, times a day. My favorite gelato in all of Italy (and it's fair to accuse me of being biased) was right smack in the Campo–the central square of medieval Siena. Most of the time, I insist on never, ever eating anything in a big tourist square. This place is amazing, though. If you're facing the tower head on, it'll be at your back.
At the time (2003), 2 flavors of gelato in a cone were 1.50 Euros. When you'd order your cup, all you had to remember was to say, "Una cinquanta da…" I tried a variety of flavors of gelato while traveling around and living in Italy (2-3 times a day is a good sample size, I'd say). Rice gelato in Rome was definitely a treat. In Cinque Terre's Vernazza, I had the most amazing lemon gelato. After a several hour hike, I spread out alongside a rock and licked each drop as it melted down my arm. Like lemonade on a balmy day–only better.
At my favorite gelateria in Siena, though, I had accumulated a selection of go-to flavors. Siena is a pretty small city so, trust, I tried several gelaterias. But, my Campo spot remained my favorite. From the Bacio (chocolate, hazelnut) to kiwi, pink grapefruit, Nutella & mascarpone, fragola (strawberry), Nocciola (hazelnut) to Tiramisu…It was always difficult to nail down just. two. flavors. Gelato here was airy, like freshly whipped cream. The richness of each flavor always overpowered the actual cream content, so nothing ever tasted milky. On hot days, I always made a point to get a fruit flavor as a side to something chocolaty.
I still have dreams about that place (and about Siena in general). There's a great gelato place in my neighborhood. There are a few spread out throughout the city. But nothing ever, ever compares to my simply-named Il Gelato.
*The above photo was actually taken by my friend Danny, one of my apartment-mates in Siena. Il Gelato is to the left of the fountain.