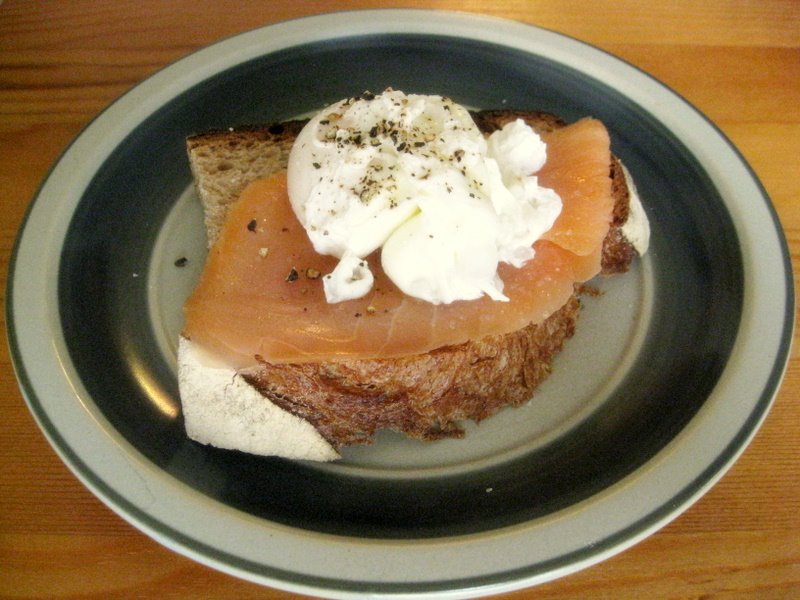 Weekends mean eggs for me. I must admit that I am a creature of habit and one of my favorite rituals is breakfast. It's no wonder it's considered the most important meal of the day. What you eat for breakfast (in my opinion) sets you up for the day. Weekday breakfast for me is usually some variation of: yogurt with granola and fruit/berries, oatmeal with honey and raisins or cereal with fruit. I never get sick of one of these 3 options, especially since they typically involve whatever fruit happens to be in season. On the weekends, though, I tend to have a less scheduled eating routine, so breakfast tends to last me a lot longer than lunchtime.
About a year ago, I discovered poached eggs and I have to admit: I'm in love. Poaching an egg, once you master it, is the easiest and fastest way to prepare an egg. Smitten Kitchen has a great overview of the technique involved in poaching an egg. What's amazing about poached eggs is, they don't only bring breakfast to a new level. They can top salads and serve as a dressing. Top a hearty bowl of lentils, sit over a bed of warm ratatouille. The possibilities are endless.
This morning, after a long (and excellent!) night of dancing last night in the Mission, I wanted something light but satisfying. I had some smoked salmon in the fridge (another awesome ingredient for so many dishes!) and thought that this would serve as my welcome to the weekend. It's not really much of a recipe, but delicious nonetheless. The best part about this dish is the cutting of the poached egg. Be sure to cut through the egg, the salmon and the bread (I like Trader Joe's demi levain), so you can soak up the extra yolk with your fork.
Poached Egg Open Faced Sandwich with Smoked Salmon
**serves 1
1 slice of crusty, wheat bread (try levain)–slightly toasted
1 poached egg
1-2 slices of smoked salmon
1 tablespoon vinegar
sea salt and fresh pepper to taste
To poach an egg (you may want to check out Smitten's awesome pictures for this), fill a skillet with about an inch of water. Add some salt and a tablespoon of vinegar and wait until the water boils. Make sure your egg is set out for a few minutes before cooking. Once the water boils, crack your egg and drop it in the water, making sure to gently nudge any whites that spread and dis attach the egg from the bottom, if it sticks. Cook for about 1-2 minutes, depending on how runny you like your egg. Once you've poached your egg, set it in a slotted spoon over a paper towel to soak up excess liquid. Be careful as you handle the egg.
Toast a slice of bread and cover it with salmon. Set the poached egg on top of the salmon and sprinkle with salt and pepper.