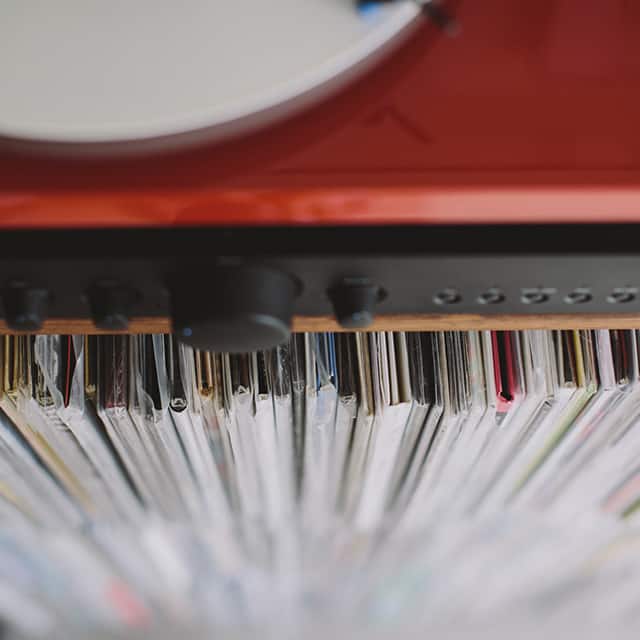 01. Gramovox's Floating Record™ Vertical Turntable ($399)
It's a beautiful turntable with built-in full range speakers that's ready to play right out of the box. Oh, and it just happens to spin your records vertically so you can appreciate those fancy colored vinyl records you've been collecting. Select a walnut or maple finish.
02. Curated Coffee and Music Pairings ($25 a month)
Artisan coffee and exclusive, limited edition vinyl records delivered straight to your door courtesy of Turntable Kitchen and Sightglass Coffee. What could be better? Available as 1-month, 3-month, and 6-month gift orders. Order a subscription for the coffee and vinyl aficionado in your life by clicking here.
03. Tom Petty – Wildflowers & All The Rest Deluxe Edition (7xLP)($152.47)
I think there's an argument to be made that Wildflowers was Tom Petty at his creative peak. At the very least, it's one of his strongest albums and a true classic. This deluxe box set includes the 15 track original album (remastered on two LPs), the album All The Rest (10 songs from the original Wildflower ssessions), a double LP of 15 solo demos recorded by Petty at his home studio, and an additional double LP of 14 live versions of Wildflowers songs recorded from 1995 – 2017. In my mind, this is worth it for the home demos of the tracks "Wildflowers" and "You Don't Know How It Feels" alone. You can order it here.
04. Hunger Makes Me A Modern Girl: A Memoir by Carrie Brownstein ($17)
This captivating memoir by Sleater Kinney's Carrie Brownstein is a great read for any music fan. You can find it here.
05. Apple AirPods Pro ($199)
It almost feels like Apple AirPods have been the gift of the season this year. And why not? They are stylish, they sound great, and they've never been offered at a better price. Get them here.
06. U-Turn Orbit Special  ($549)
Our readers know we take our record players very seriously and we've tried pretty much every major record player on the market. We even have four different turntables by four different companies currently set up in our home. After years of testing (and living with) our U-Turn Orbit Special – it's proven to be our favorite. Our go to. We love the version in walnut.
07. PSB M4U 1 Headphones ($249)
These are our favorite over-ear headphones on the market. Beautiful bass response with clear sounding music reproduction. These are the headphones I use for reviewing albums and I highly recommend them. You can get a pair here.
08. Wooden Record Dividers by Kate Koeppel ($150)
Beautiful and stylish, these beautiful wooden record dividers are the perfect way to organize your growing vinyl collection. You can pick up a set here.
09. Ghostly Distressed Bento Box ($20)
Home to Tycho, Shigeto, Matthew Dear and more, Ghostly International is one of our favorite record labels – and these bento boxes are a stylish pickup for any like minded music lovers. Get them here.
10. SOUNDS DELICIOUS gift subscription ($25)
We're might proud of our SOUNDS DELICIOUS vinyl series which features exclusive albums not available anywhere else. New subscriptions begin with Fruit Bats' full album cover of Smashing Pumpkins' Siamese Dream (which has been described as "the rare cover album that feels essential") and Quivers' critically acclaimed cover of R.E.M.'s Out of Time. Order them from the TK Market here.
Photo by Rachelle Derouin.