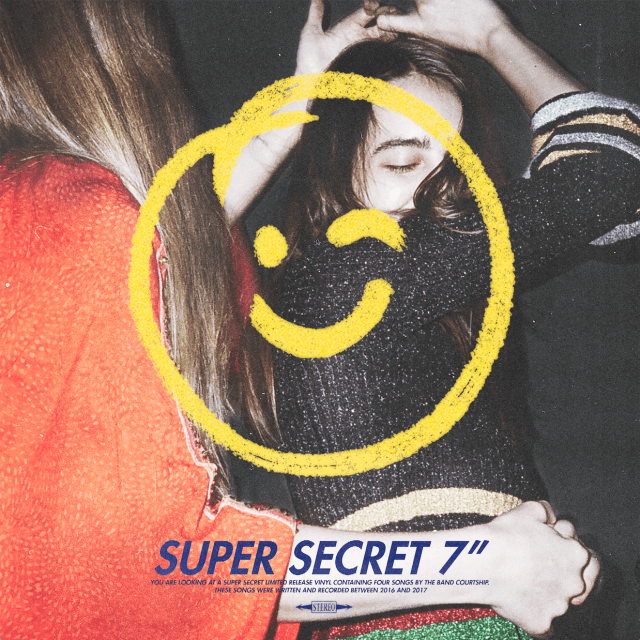 If you're looking for some BIG new pop to knock you off your feet, you'll find what you're looking for on this month's most excellent new vinyl featuring Los Angeles based courtship. The project of Eli Hirsch and Micah Gordon, courtship. pen the type of sunny pop songs that are guaranteed to get you on your feet.
An unlikely combo, Gordon is a trained jazz pianist who previously worked with Tobias Jesso Jr. while Micah played in indie rock bands including DREAMERS. But, happily, it's working. In fact, they've already been featured in an ad for Snapchat while simultaneously receiving acclaim from Billboard, NME, and DIY magazine – not to mention raving reviews from music blogs including Wonky Sensitive, Hilly Dilly, and Going Solo.
Let there be no doubt: you won't find bigger, sunnier new indie pop anywhere. These guys are absolutely crushing it.
Take, for example, side a of this month's featured vinyl. It kicks off with the ebullient and booming hit "Perfect People." It's as slick and polished as they come with a whistled send off, soaring synth, handclap-punctuated rhythms, and one hell of a catchy hook. It's followed up with the glistening and buoyant "Sunroof" (the track used in that Snapchat campaign). It's absolutely irresistible.
The flipside, meanwhile, opens up with their debut single "Stop For Nothing." It's a punchy, glimmering groove that glides open with a smooth vibe before lifting off into the stratosphere for a bright, booming chorus. Naturally, they tie the whole package together with some steamy sax before the tune rolls to a close. Naturally.
Finally, the collection wraps up with an updated reinvention of KC and the Sunshine Band's earworm "That's The Way (I Like It)." It's not a track you'd expect to have a hot new indie pop duo tackle and yet it totally works. It's neon-lit roller derby disco with a massive beat and a funky rhythm.
This is the duo's first time on wax and we couldn't be more excited to share it with you. We hope you enjoy!
We've pressed 350 standard copies on neon yellow vinyl alongside a special edition of 175 copies on milky clear with gold and black splatter vinyl exclusively for gold club members. To get one you just have to subscribe to either the Pairings Box or our coffee and vinyl subscription service.