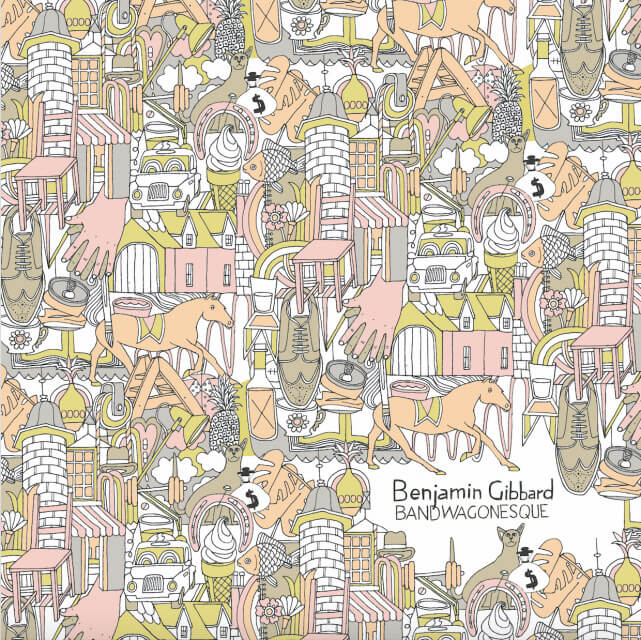 Benjamin Gibbard, the frontman for Death Cab For Cutie and The Postal Service, has announced the release of Bandwagonesque, a full-length cover version of Teenage Fanclub's classic 1991 album. It's the latest release in our SOUNDS DELICIOUS series.
As an added treat, we're also excited to include an exclusive bonus 7″ vinyl with each LP including covers of Alex Chilton's "Free Again" and Beat Happenings' "Bad Seeds," both of which were covered by Teenage Fanclub on a 7" vinyl released shortly after their release of Bandwagonesque in 1992.
"Turntable Kitchen approached me last summer about being part of their Sounds Delicious Vinyl series and I was excited about the idea of covering an album in its entirety. Bandwagonesque is my favorite record by my favorite band of all time. It came along at a pivotal time in my musical life and I've loved it for over 25 years. It's been such a blast taking these songs apart to see how they work and then putting them back together again," says Gibbard.
"I was thrilled and extremely flattered when I heard that Ben Gibbard had decided to cover Bandwagonesque in its entirety. Needless to say that the reimagining of the album by this very talented fella is both inventive and deftly executed. Thanks Ben," says Norman Blake, founding member of Teenage Fanclub.
This is only available on wax by subscribing to SOUNDS DELICIOUS. In addition to a deluxe edition for our Kickstarter supporters, it's available on super limited bone colored vinyl for recurring subscribers and gift orders of 6-months or more (while supplies last) and on black vinyl for all other orders. As always, all versions are limited edition and are expected to sell out quickly.