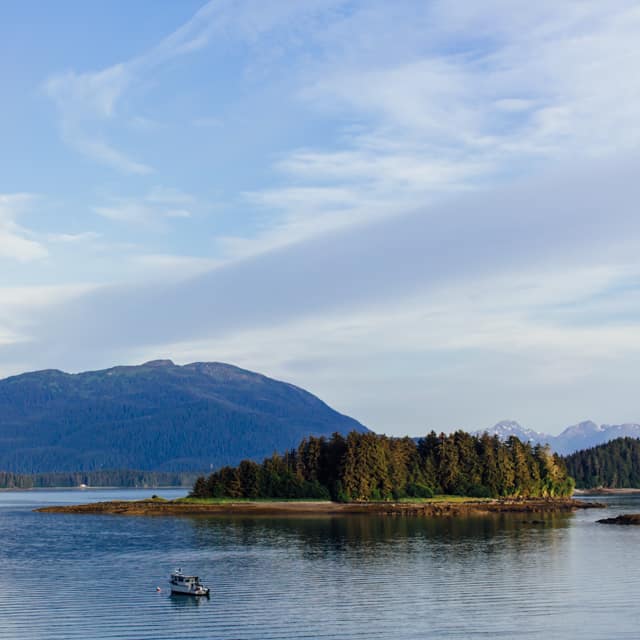 Today you're in for a major treat. Our friends Alex and Sonja of the gorgeous blog A Couple Cooks are stopping by to share their city guide to Juneau, Alaska. From breathtaking nature to locally-roasted brews, coffee, and fish, Juneau has more to offer than we even imagined.  Thank you, Alex and Sonja, for sharing this amazing adventure with us and our readers! xo
It's inaccessible by road, has rain or snow two­-thirds of the year, and is the 1,122nd largest city in the country. Not the most attractive stats, but surprisingly these aren't reasons to avoid Alaska's capital, they're reasons to make Juneau your next relaxing getaway.
Admittedly, we didn't know much about our future brother­-in-­law's home town when we departed for a week-­long Alaskan adventure with Sonja's family this summer. Sonja's sister literally LOL'd when we asked if we needed dress clothes to go out to dinner. From the moment we stepped off of the plane, we realized why: the Juneau dress code is a flannel shirt and waterproof boots. Throw in a rain jacket and a fishing pole, and your packing list is complete.
Fun Fact #1: Juneau's sits in a temperate rain forest. In the summer, the weather is closer to Seattle than what you might imagine Alaska to be (Juneau is way down in Southeast Alaska near Canada).
Juneau ropes along a highway that travels a couple of dozen miles up­ and­ down the coastline. An army of cruise boats dock in the main "downtown" area of Juneau. By all accounts, cruises offer an accessible way to see many of the great views of Alaska, but you have to fight past the gimmicky tourist traps and expensive excursions to get a real taste. Instead of a cruise, our family opted to rent two different houses in the Juneau area during our week­long stay. The first had an incredible full view of Juneau's famous Mendenhall Glacier.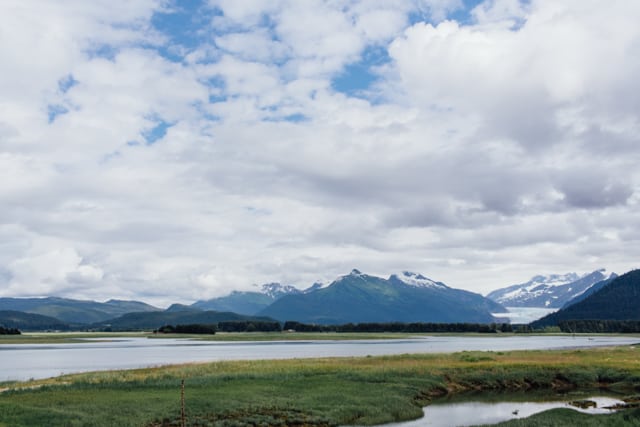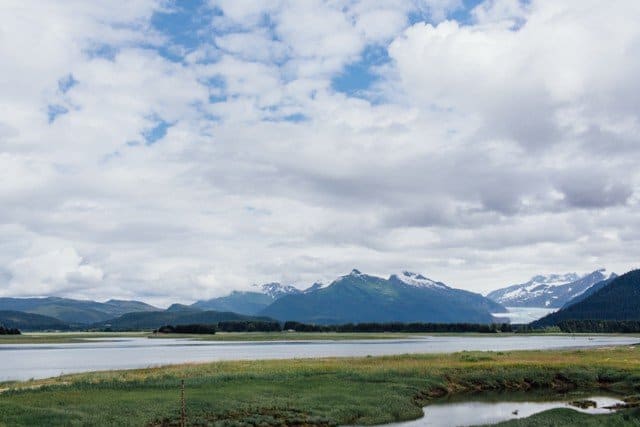 It's hard to describe the sheer beauty and remoteness of Alaska. The little neighborhood we stayed in felt more 'wild' than many national parks that we have visited. Each hour of daylight (about 20 of them!) offered something new out the living room window: watching a tidal basin go from mud flat to lake in a just a few minutes, sipping coffee with dozens of bald eagles screeching overhead, and waking up to wonder where the glacier had disappeared to (turns out the fog has just obscured it). This was my favorite part of Alaska. The chance to live, even for just a few days, dangling on the edge of wilderness.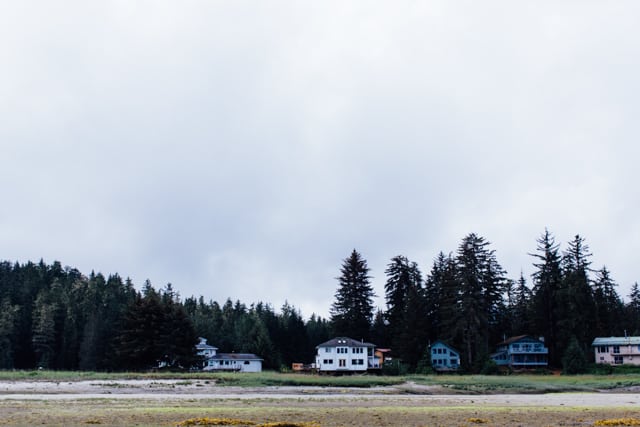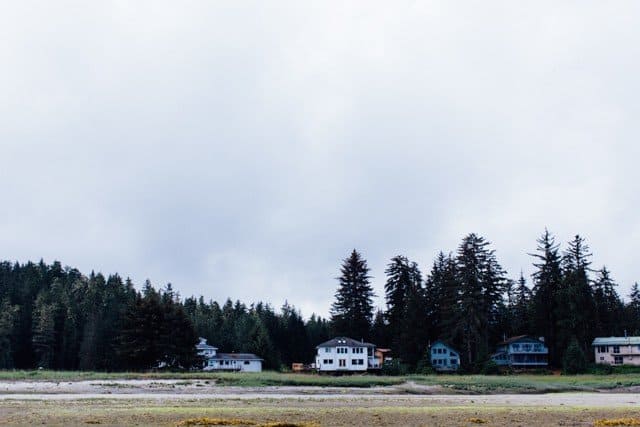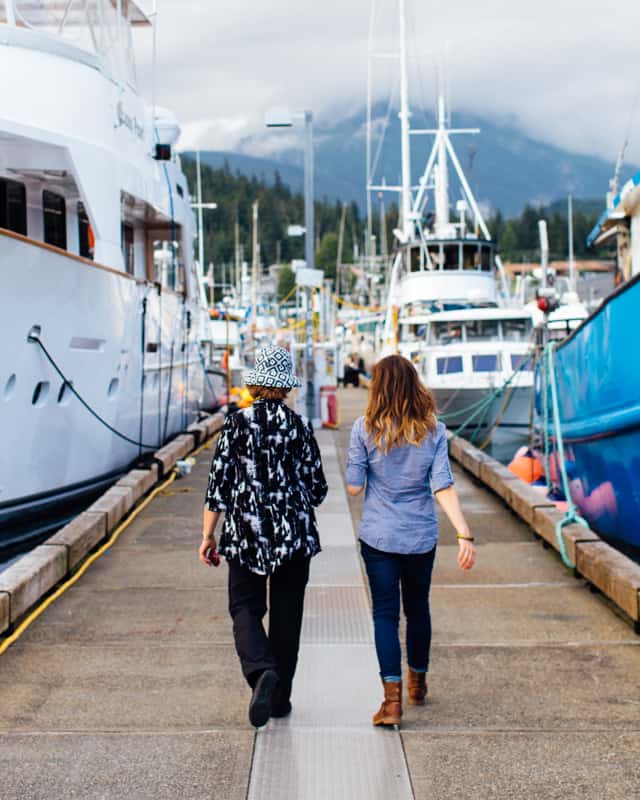 Downtown Juneau is just a few blocks wide. You'll want to avoid the touristy shops right along the harbor front, but the further you move away from the ship docks, the better it gets. We had an incredible meal at a cafe called the Rookery ­­ it's a tiny place, so call ahead for reservations. Everything was made from scratch and featured a few local ingredients (don't skip dessert!) We also had a nice meal at SALT (with a more upscale vibe), and heard good things about Hangar for straight ­up fish and chips. Make sure to stop by the Heritage Coffee company for locally ­roasted beans.
Fun Fact #2: There are at least 5 types of wild salmon caught in the waters around Juneau. Make sure to try king salmon at least once ­­ its rich, meaty texture is unlike most salmon you'll find in the lower 48!
You can't let the rain and fog get you down when visiting Southeast Alaska. We missed a flight for a day ­trip due to weather, so we headed downtown for an incredible hike. The downtown streets narrow and climb into the mountains as you head away from the water and past the unassuming statehouse. The road ends at the trailhead for Perseverance Trail. We did a few miles of the trail and saw dancing waterfalls, ate wild fruit, and breathed in the incredible mountain air.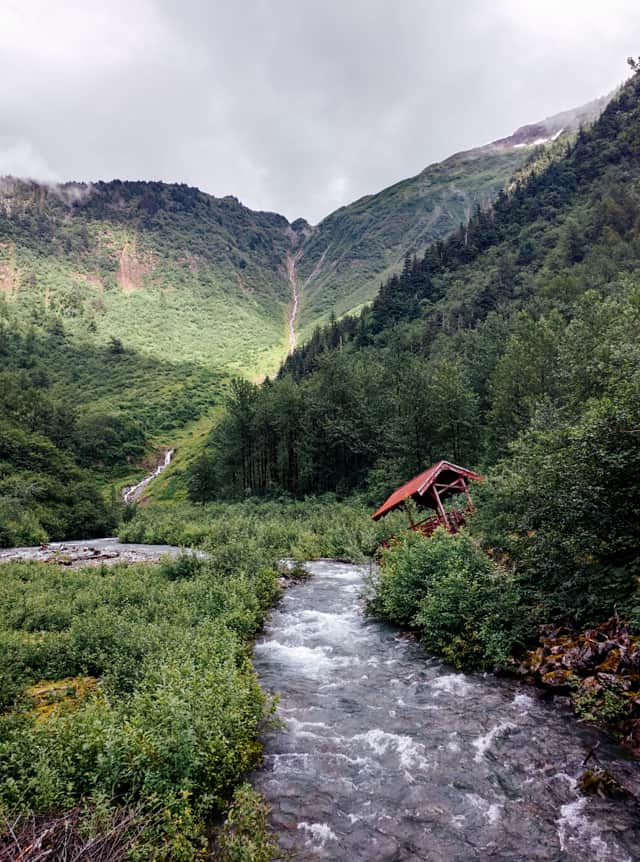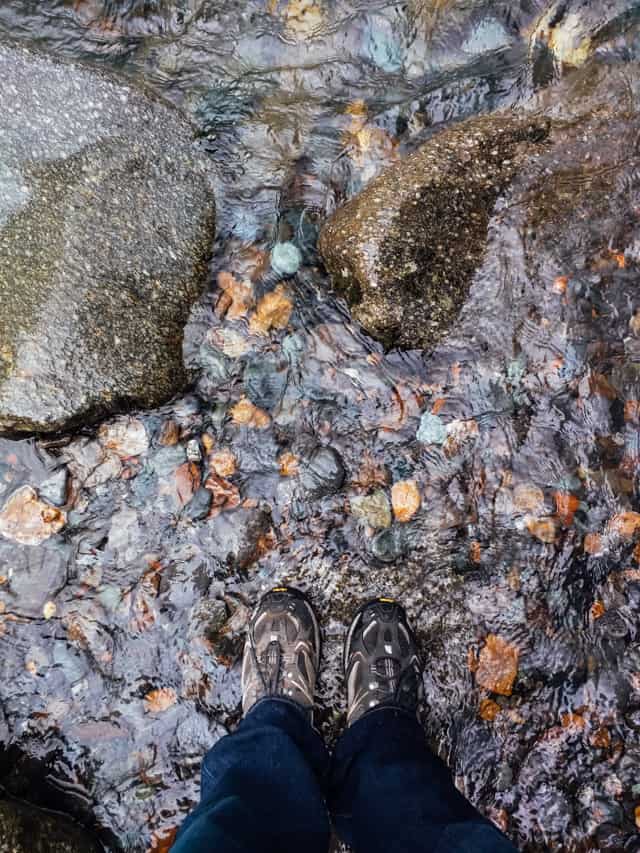 There are several excursions you can take using Juneau as a home base. We went both to Glacier Bay National Park and a little mining town named Skagway. If we had to pick just one, we'd say Glacier Bay can't be missed. Both are accessible by ferry, but we took the quicker, more adventurous way: by propellor plane.
There are a few local airlines (Wings of Alaska and Alaska Seaplanes) that fly tiny 5 and 8­ seat Cessnas all around Southeast Alaska. If you have a chance, take one! Sure, they're slightly frightening, but they're fast and the views just can't be beat! All ­in­ all, we got up in the air five times, including one of our most memorable experiences: a majestic flight over the ice fields. For a trip to Skagway, our pilot accepted a simple request to fly over the top of the Juneau Ice Field, an area where where several different glaciers combine into one massive ice sheet. We were all completely stunned by the beauty (even our local tour guides!). We soared just barely above the mountains, watching the jagged peaks at eye level outside our window, before gently coasting down into Skagway. It was quite the opposite of our white­ knuckled return trip in turbulence over the sea!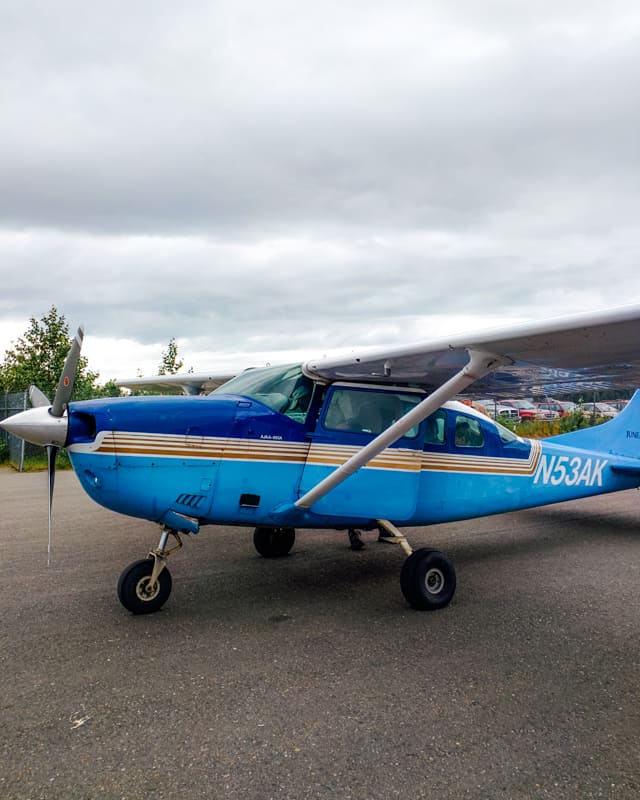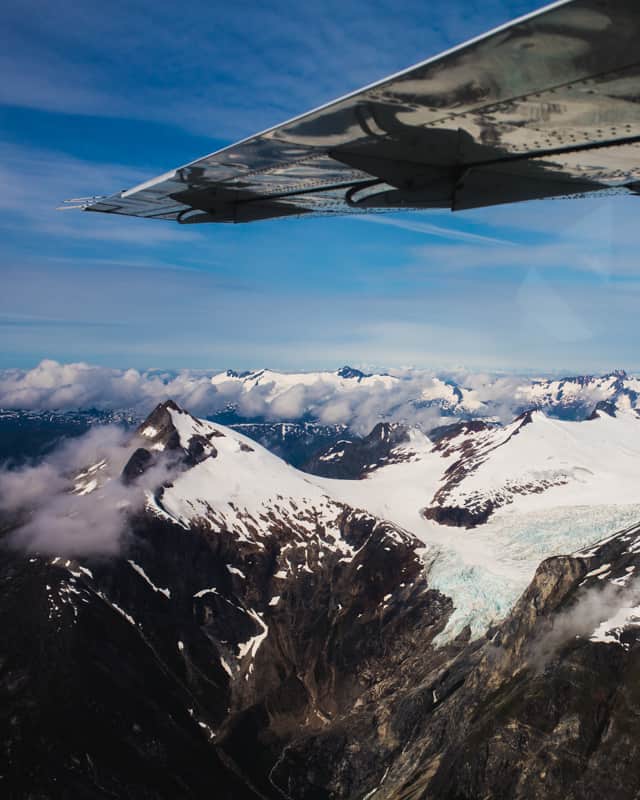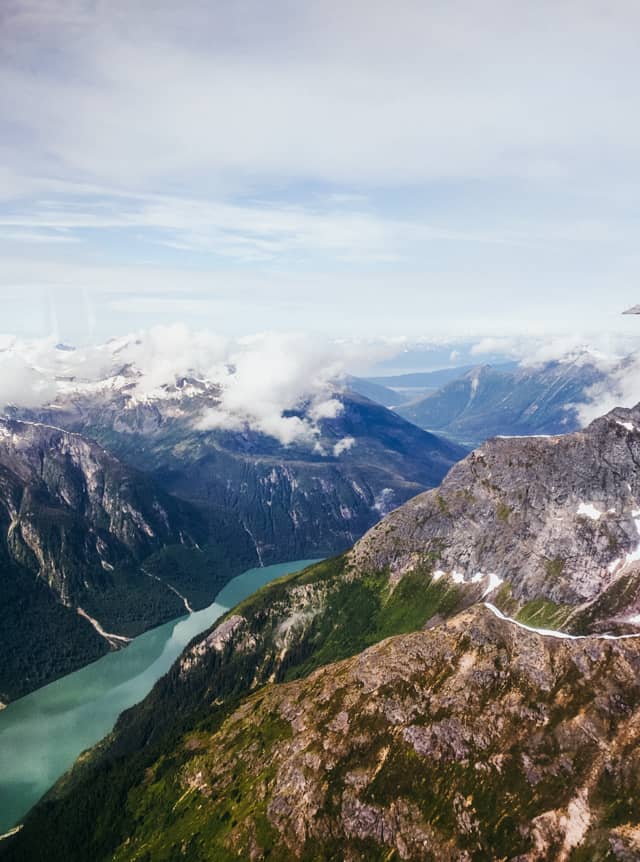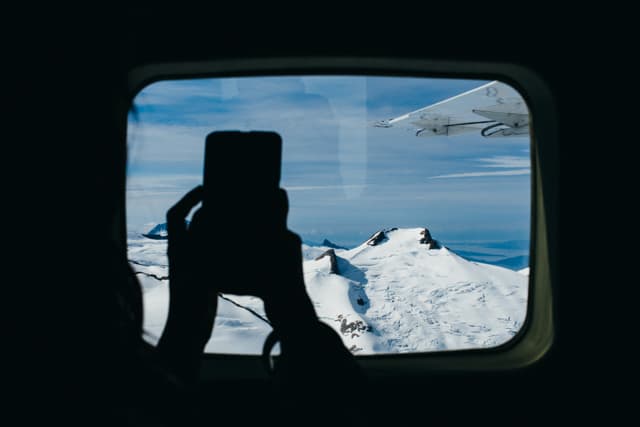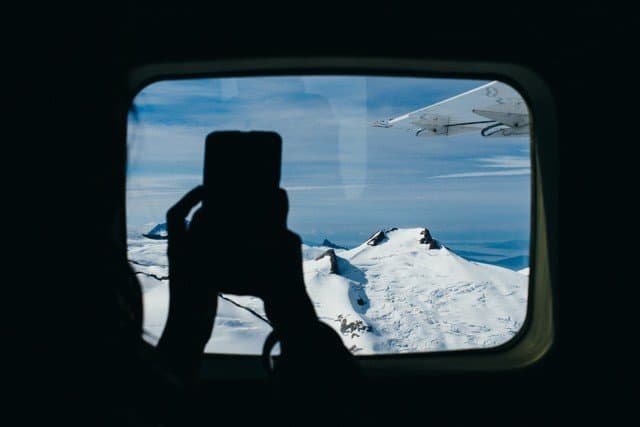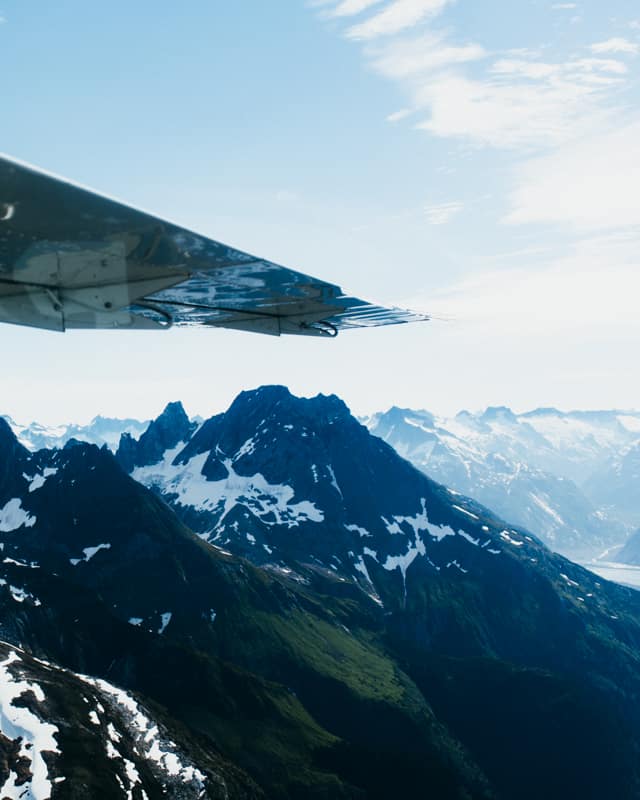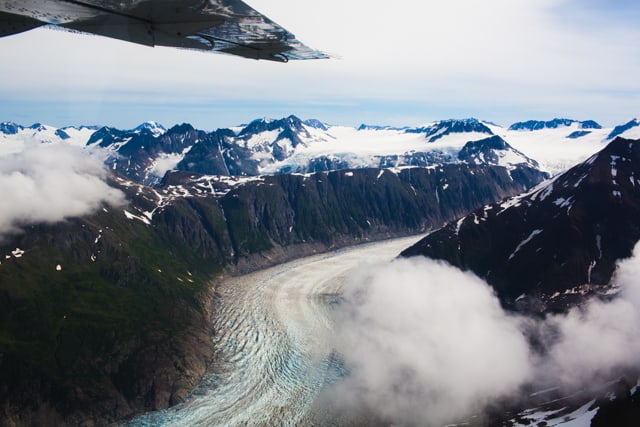 But! Back to Glacier Bay. This national park can only be viewed on a day trip tour boat. Led by extremely knowledgeable park rangers and a representative of the local native American tribe, the trip included live explanations of the history of the park,wildlife, and surrounding glaciers.
Fun Fact #3: Each year, humpback whales go from Southeast Alaska in the summer to Hawaii in the winter! It's a 6,000 mile trip, but they know all the best places to visit 🙂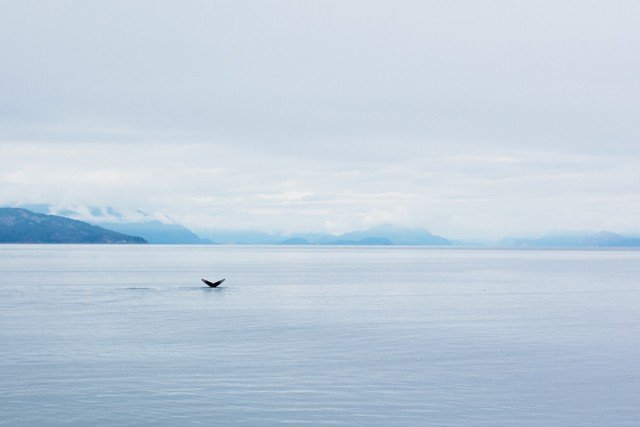 No more than 5 minutes into the boat ride, a ranger came over the microphone to shout WHALE! STARBOARD! All of the passengers rushed to one side of the boat for a glimpse. Throughout the day we saw humpback whales, orcas, seals, otters, mountain goats, birds of all types, and even a grizzly. We knew we were coming for glaciers, but were surprised to learn about the rich wildlife in the park as well.
Again, the sheer scale was just staggering. Mile­wide glaciers calving and falling into the sea. Groups of whales weighing in at 30 tons each. Mountains that made massive cruise ships pale in comparison. Everything made you feel really small, in a really good way. We made the round trip to the park from Juneau in just a day, but we heard great things about the Gustavus Lodge if you're looking to a get a bit more quality time.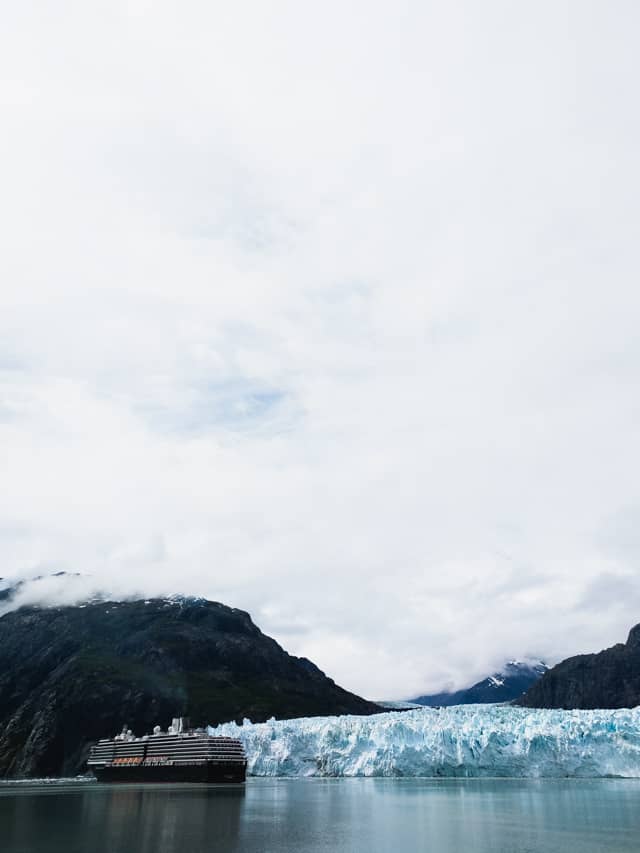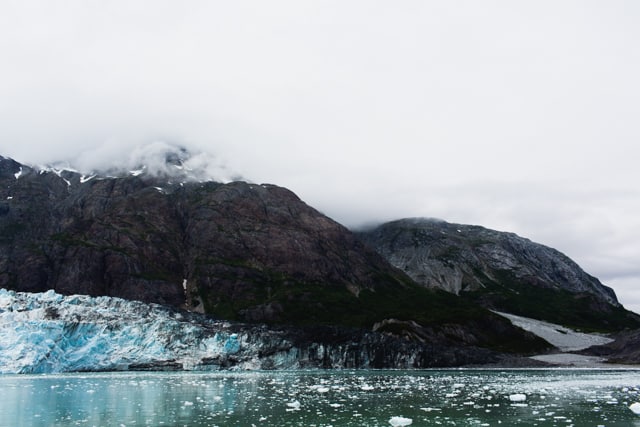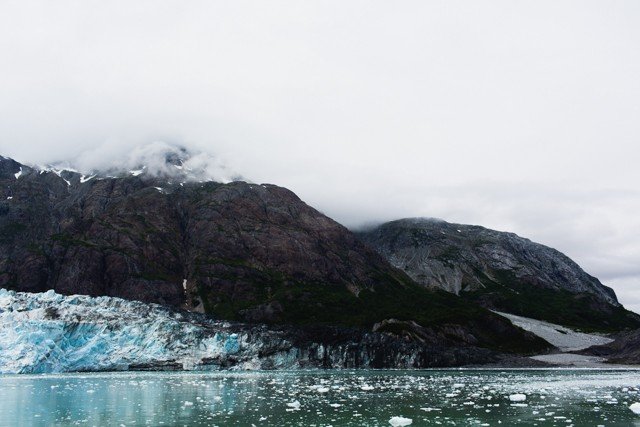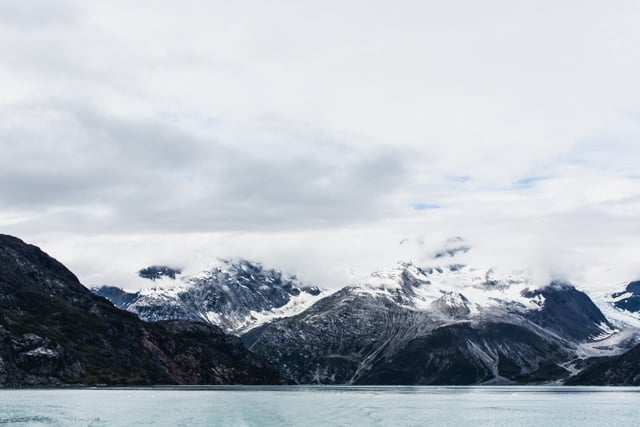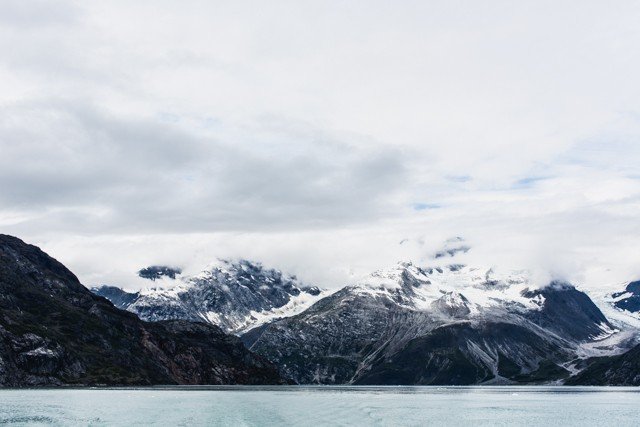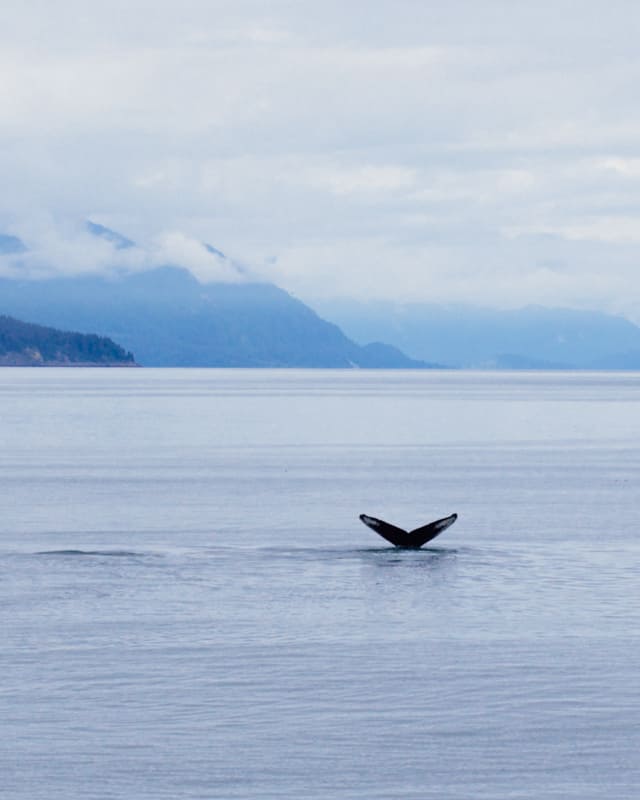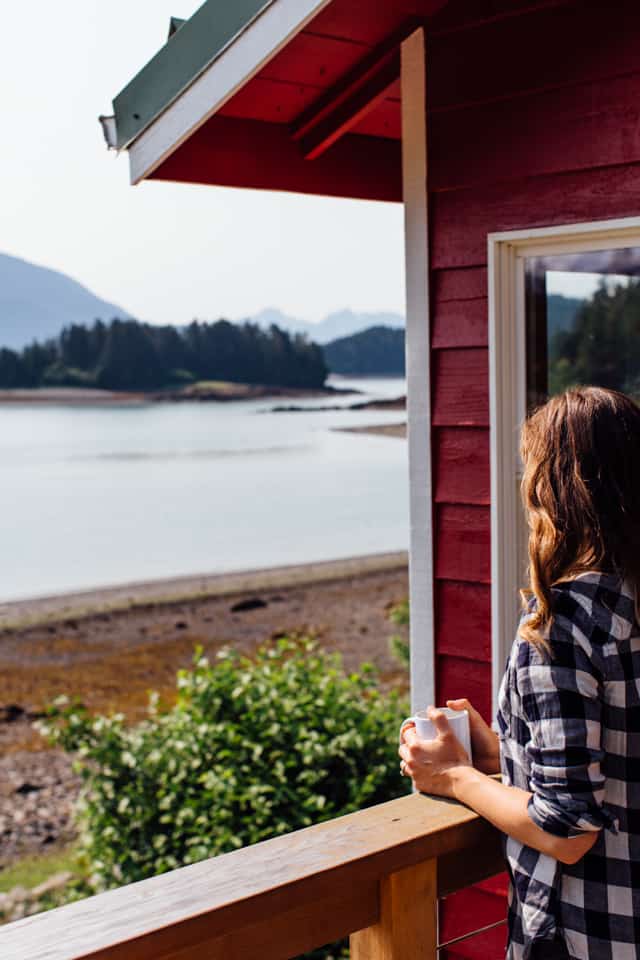 Our home for the last half of the trip was a quaint red cottage overhanging a small cove. Again, the wildlife did not disappoint, as porpoises danced in the waves outside our window. The house was located what the locals call "out the road"; the more quiet end of Juneau. We enjoyed drinking coffee, catching a fish, and walking along all of the fishermen returning from sea.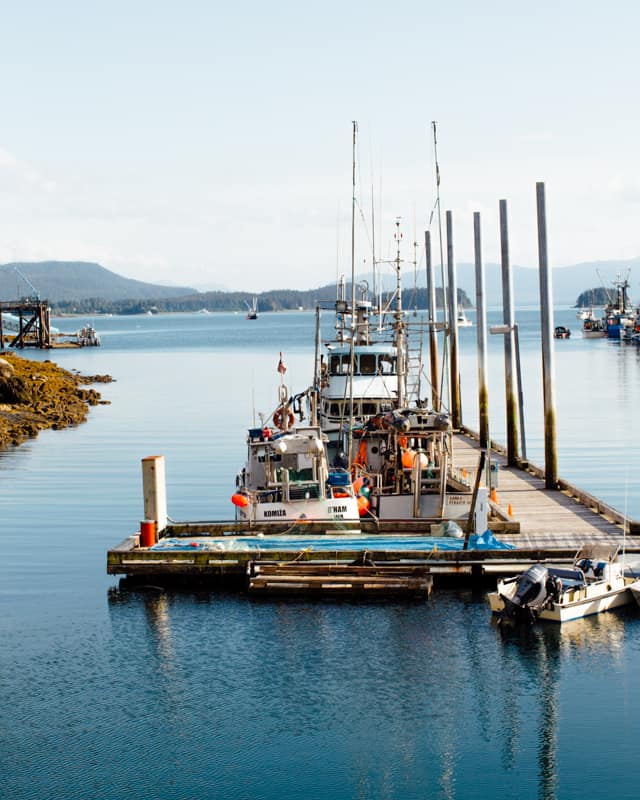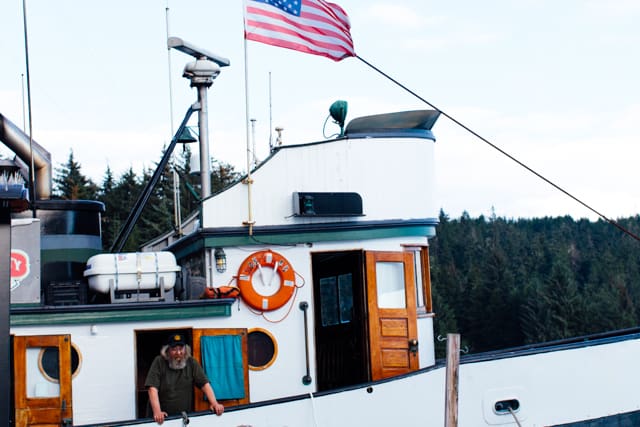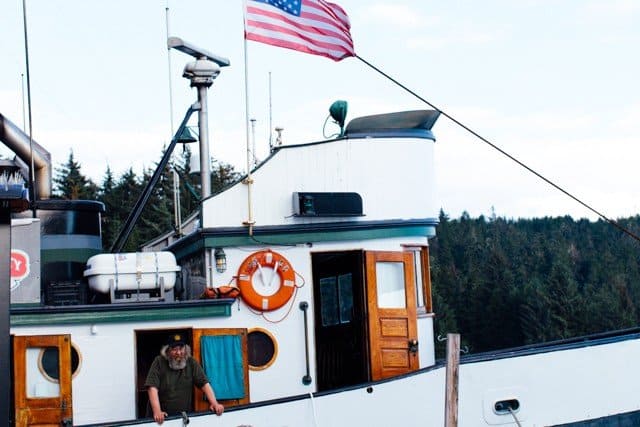 You can't go to Juneau without getting up­ close to the Mendenhall glacier. After soaking in the views from the visitor center, head behind it on the East Glacier Loop trail for an easy fair tale hike in the lush rain forest!
(Not so) Fun Fact #4: See that glacier below? Just 60 years ago it filled in nearly that entire valley. Climate change feels a bit more real when you see it up close.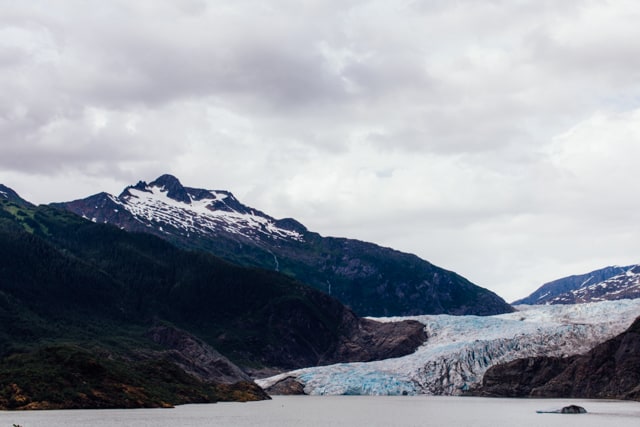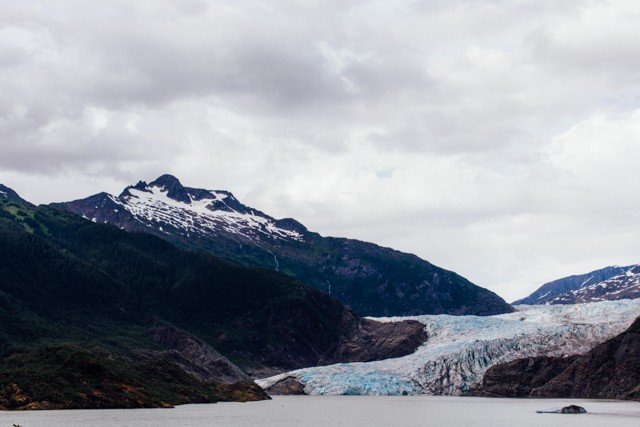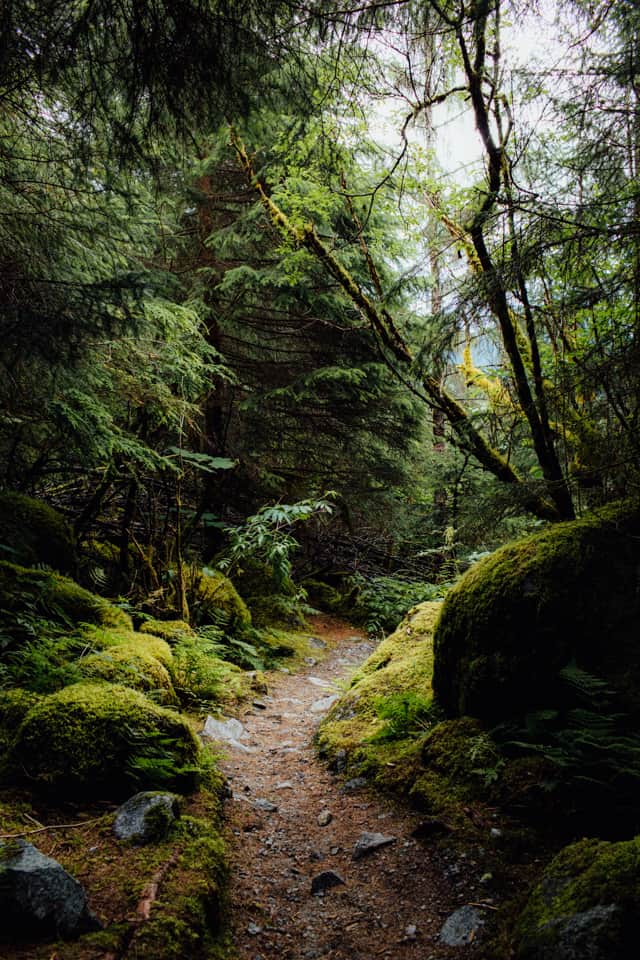 On the way out from the glacier, don't miss a tour at Alaskan Brewery, and make sure to pick up some fresh smoked fish from Jerry's Meats and Seafood. Most importantly though, the best way to do Juneau is at glacial pace. While there's tons to do, the most important opportunity is to just stop relax, and enjoy the wild.