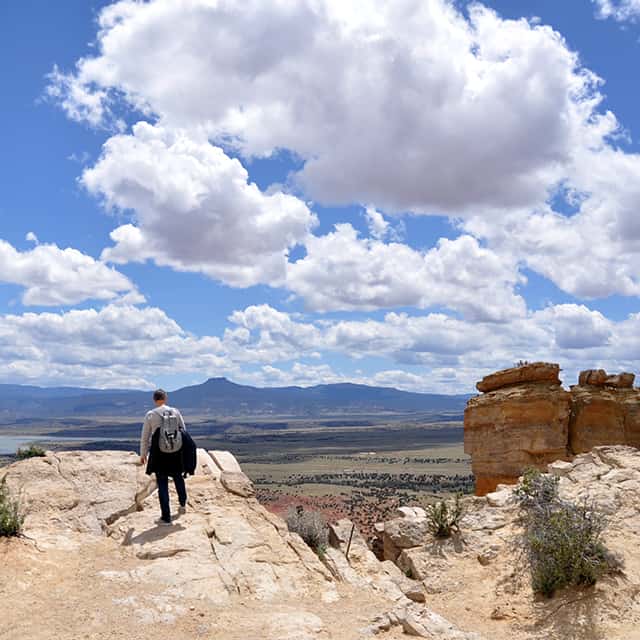 Santa Fe, New Mexico has long been a place that I've daydreamed about. Perhaps because I've always admired the life and work of Georgia O'Keefe or because I've lately come to really love mountains and deserts. I told myself we'd make it there someday and once we found out about the twins, the clock feels like it's been ticking. So we planned a short and last minute getaway in early May.
We had a rough itinerary: to take in the city at a leisurely pace, eat as much New Mexican food as possible, pretend to be locals at the Saturday farmer's market, and to use our rental car to explore some of the surrounding areas.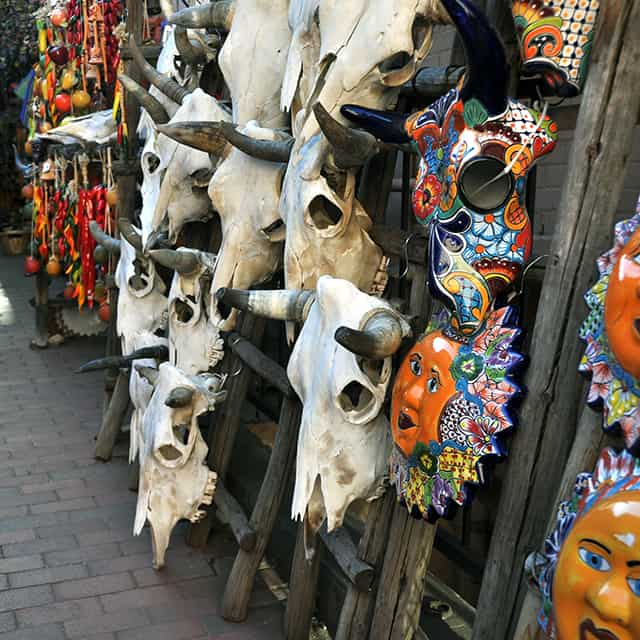 When I started planning the trip, I was surprised that there weren't that many guides to Santa Fe — even the Saveur guide to Santa Fe was several years old (one of the recommended restaurants doesn't even exist anymore!). I did stumble upon this wonderful post, which, hat tip to Alicia, helped me discover one of my favorite spots in the city (more on that later). I realize that Santa Fe may be a bit 'off the radar' — it's no Tulum or Kauai when it comes to travel destinations, but it's a relatively easy spot to get to (a short flight from the Bay Area, a reasonable drive from Denver and parts of Texas). I was quite taken by just how different it felt being there.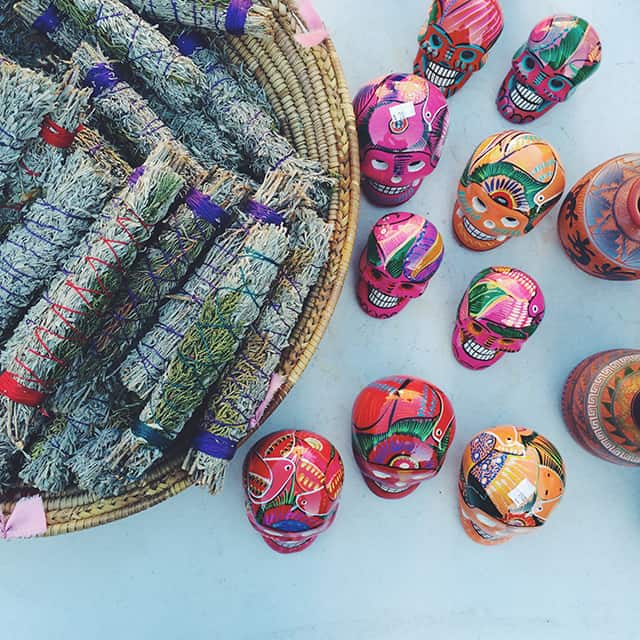 One of my first discoveries upon landing in New Mexico was that it is not hot all the time. Arguably we lucked out with the weather as there were some thunderstorms in the forecast but most of our trip was freezing (it was 45 degrees Fahrenheit one day!). It turns out that Santa Fe is 7,000 feet above sea level — higher than Denver — and it's not uncommon for some visitors to experience altitude sickness. Thankfully, neither Matt or I seemed to be affected by it, but we sure were glad we brought our coats. The locals told us it was unseasonably cold — Spring is usually an excellent time to visit as temperatures tend to be relatively mild though summer is quite warm.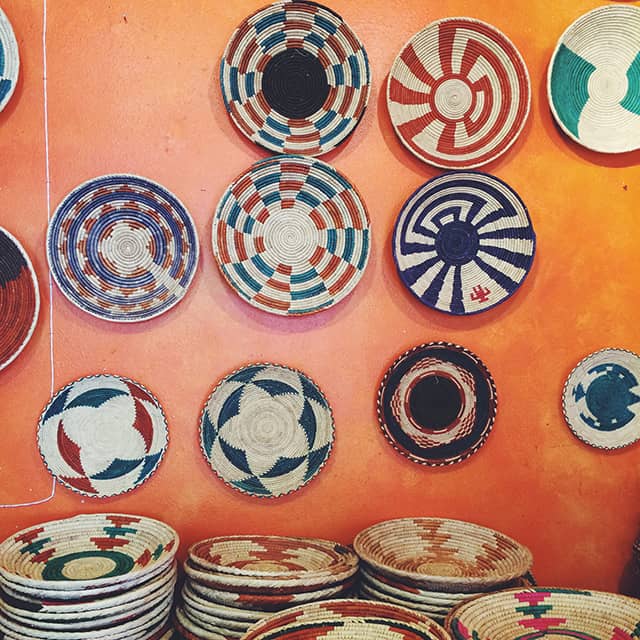 After renting a car from the Albuquerque airport, we decided to take the scenic route to Santa Fe — only about an hour's drive from Albuquerque. I'd read about the Turquoise Trail and enjoyed the pleasant drive; it was quite scenic! Along the way, we hit several little mining towns that we briefly stopped in before arriving in downtown Santa Fe and our centrally-located hotel, the La Fonda.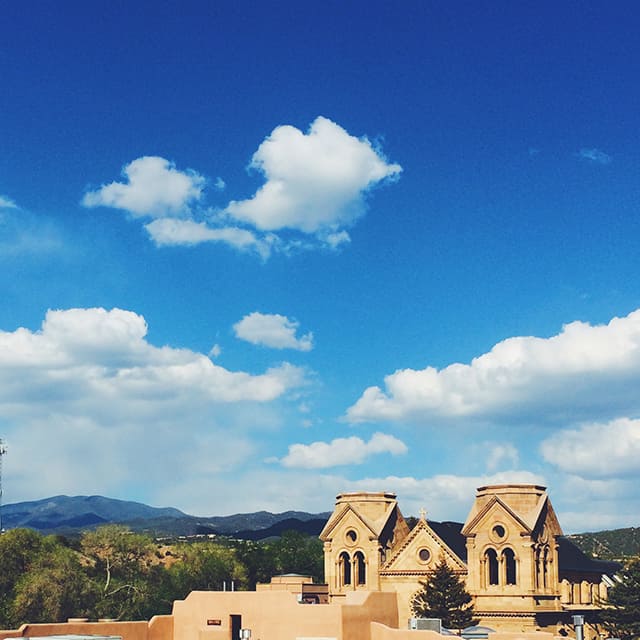 One thing about Santa Fe — and New Mexico in general — is that it's quite an old place as far as America goes. Our hotel has been in operation since the early 1900s and the old school charm ran deep. I particularly loved the black and white photograph of one of the first elevator operators at the hotel (a woman), hanging inside one of the elevators, and the stained glass around the grand dining room. We loved being able to walk everywhere in town from La Fonda and take breaks as needed (hey, a pregnant lady could use those!) without going super out of the way.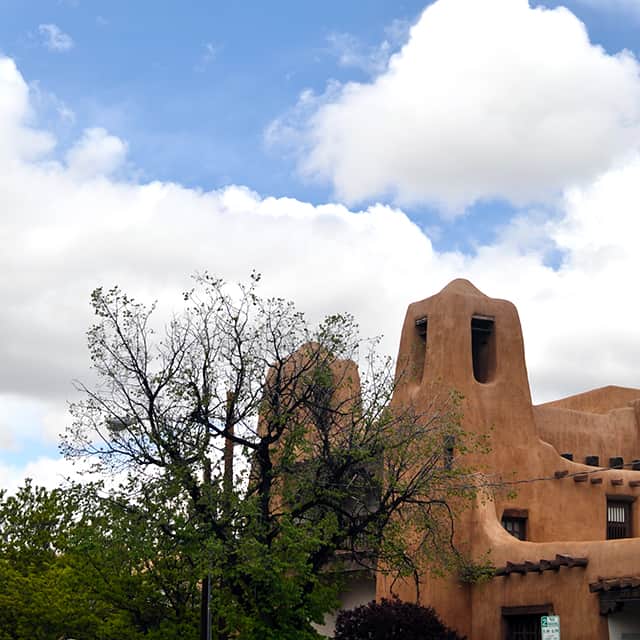 Driving through Santa Fe, it's clear that the architecture isn't just for show. Those salmon-colored, rounded buildings almost blend into the landscape, even in some of the more suburban-looking areas. I loved the dusty rose light that seemed to warmly envelope everything in Santa Fe.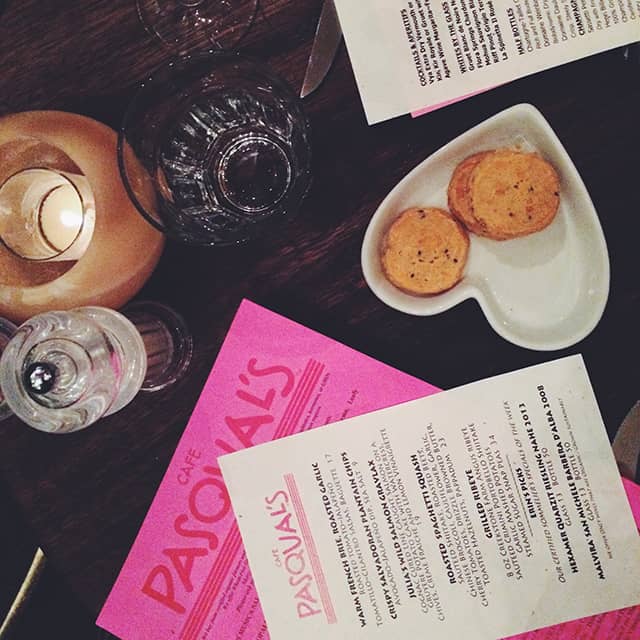 After spending several hours wandering the city on our first day and grabbing some nachos at the Coyote Cafe, we did dinner at Cafe Pasqual's, the restaurant that was most-recommended to us by friends and readers. We hadn't made reservations so we ended up having a pretty late dinner there, but it did not disappoint. The food felt both homey and elevated.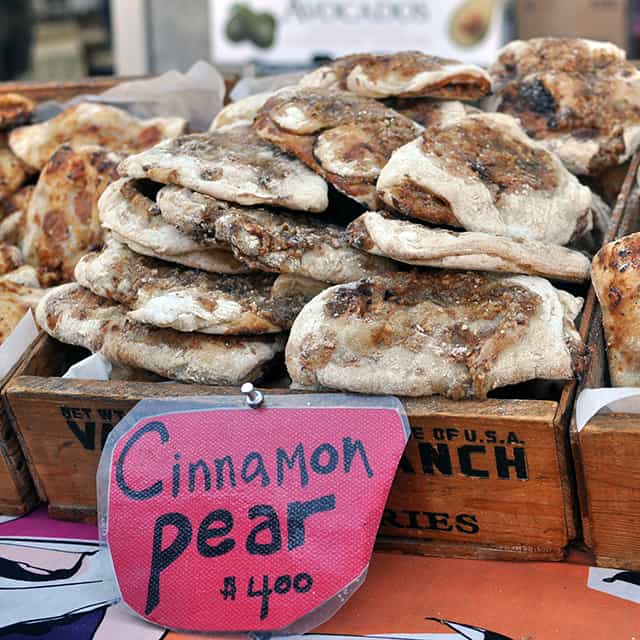 The next day, we made sure to stop by the Santa Fe farmer's market. If there's one piece of advice I'd give you before going there, it is to come hungry. In addition to a really impressive selection of produce (the season's first tomatoes here were delicious), there were plenty of stalls selling baked goods, homemade cheese, burritos, and even crawfish.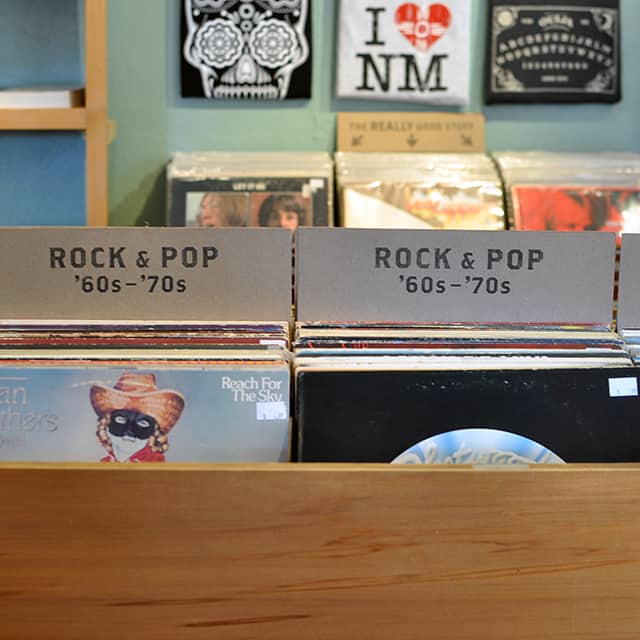 We spent quite a while just taking it in and sampling before slowly making our way to the Georgia O'Keefe Museum (with a stop at a local coffee + vinyl shop, of course!). We also enjoyed a lovely lunch at Luminaria at the Loretto Inn (this was the chilliest day we had in Santa Fe and everything about lunch felt warm and cozy — we especially appreciated chatting up with the friendly staff and the chef, who told us he's a big fan of Slanted Door in San Francisco).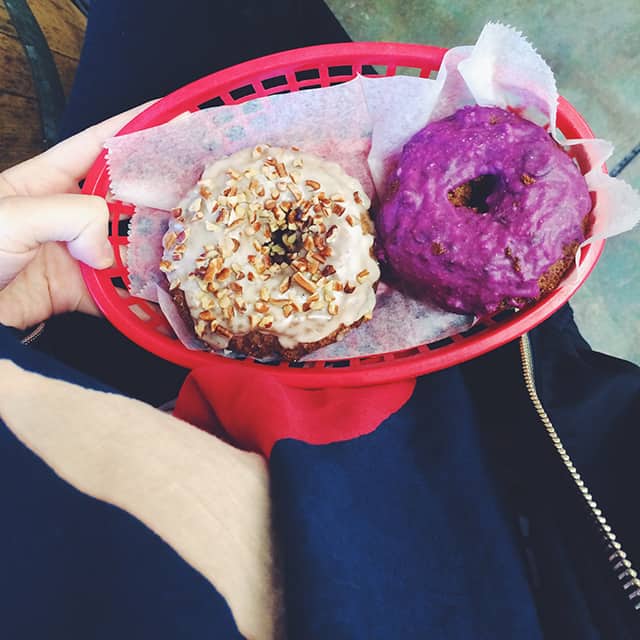 One of the best parts of our trip was frankly being able to do stuff we don't do much anymore with a toddler in tow: we spent quite a lot of time slowly wandering, popping into little shops and bookstores (this one was our favorite — they had pour over coffee, a juice bar, AND the best donuts from Whoo's Donuts). We walked out to Canyon Road and popped into some galleries — it is truly incredible just how much art lives in this relatively small city.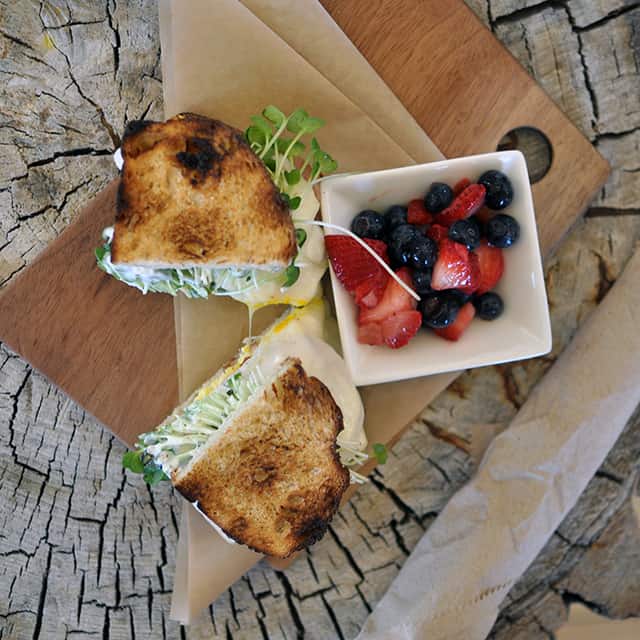 Although we had originally planned to do dinner at The Shed one night, we ended up not being able to get a reservation and went to La Choza instead and we LOVED it. Everything we ordered was hot, hot, hot except a sweet little basket of airy sopatillas to end our meal. We both really enjoyed our jalapeño margaritas (mine was virgin, of course). It was clearly the place to be.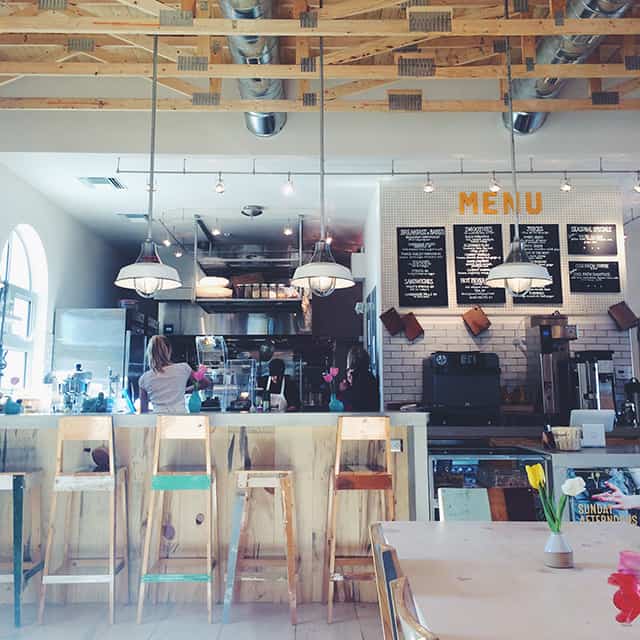 On our third day, we decided to pop by Modern General, a newly-opened shop and cafe that reminded me of Shed in Healdsburg. From the interior to the food and ambiance, everything was spot on here. We grabbed coffee and then headed to nearby Whoo's Donuts to get a couple of donuts for our drive to Ghost Ranch, where Georgia O'Keefe lived for a while. It was nice to hit the open road and see more parts of New Mexico — the rock formations and colors here were just stunning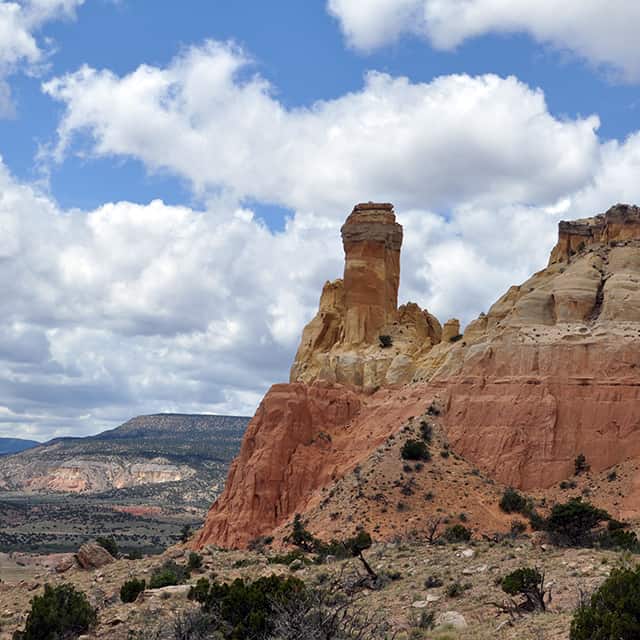 The only thing more stunning was Ghost Ranch itself. In a letter to a friend, Georgia O'Keefe described it as 'so beautiful' it was 'ridiculous,' and I couldn't agree more. We hiked up to Chimney Rock and were rewarded with insane views all around. I loved being able to see the landscape that inspired so many of my favorite paintings.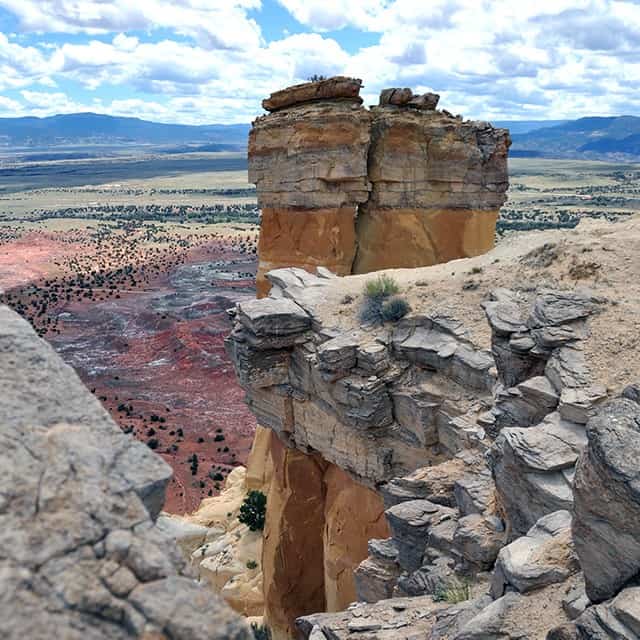 On our drive back, we popped into a small little town called Chimayo — which is little more than a lovely church — before continuing back to Santa Fe for dinner at the Tune-Up Cafe (the green chile burger is a must), an evening stroll, and relaxing up in the Bell Tower of our hotel.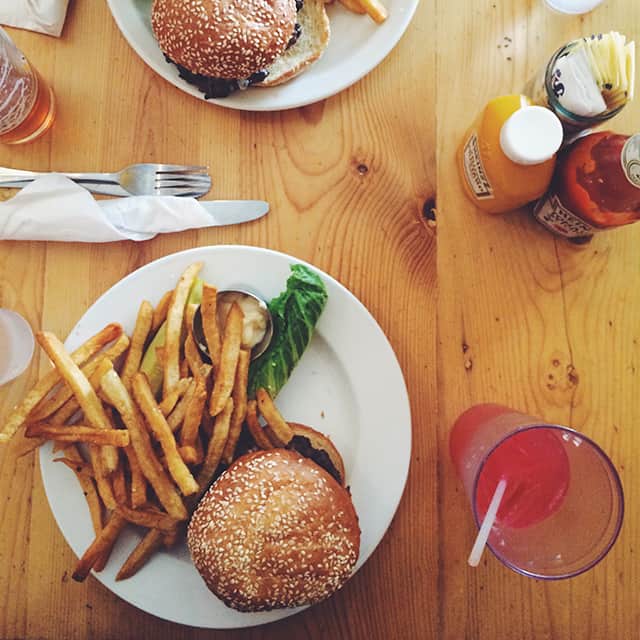 On our final day, we decided to treat ourselves to another trip to Whoo's Donuts for their 'Donut Mondays' — $1 donuts. I'm not usually that impressed by donuts but these were seriously SO good. Because it was Mother's Day, the woman working asked everyone a mother-related trivia question for a chance to win a free donut.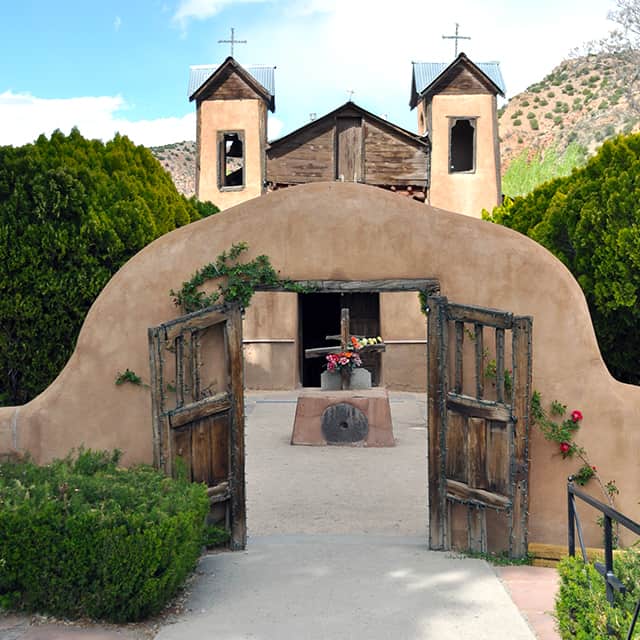 Also because it was Mother's Day and it was the only weekend we were able to leave Neko, I treated myself to an extra donut because I missed my monkey so much! We also dropped by Modern General for the last time to grab breakfast and smoothies and then hit the road to Tent Rocks.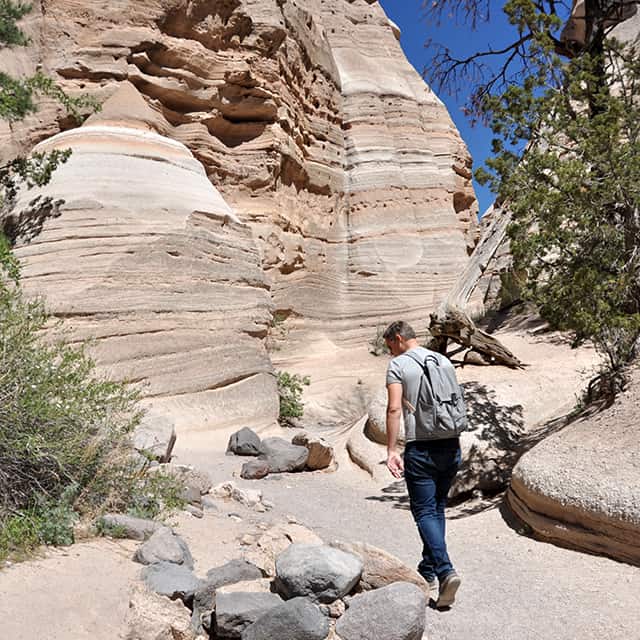 Prior to researching this trip, I had never heard of Tent Rocks but the visit was definitely a highlight. The National Monument is unlike anything I had ever seen before. The tent-like formations can only be found in New Mexico and Turkey and walking through the terrain, I felt like I was in outer space.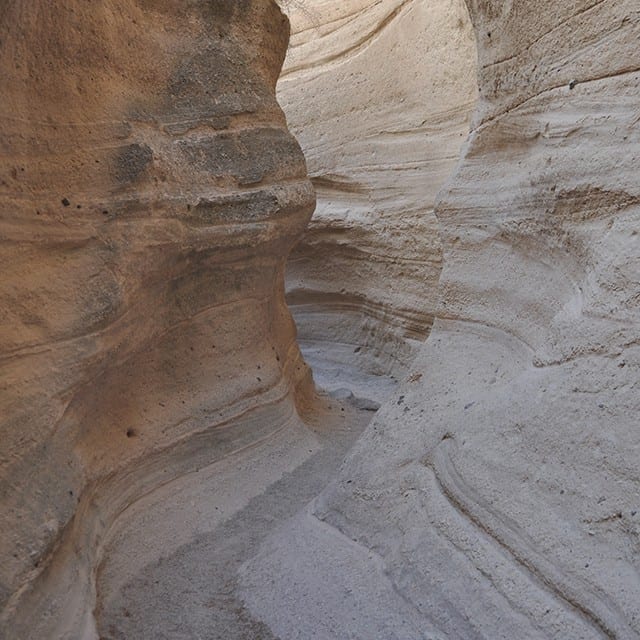 We opted to do the longer of the two hikes and there were periods where, I'm not going to lie, I got seriously nervous — there are some ridges and heights and uneven terrain — but it is absolutely breathtaking. We were finally rewarded with 70 degree, sunny weather and I could have hiked there all day but alas, it was time to return our rental car and head home to our little monkey.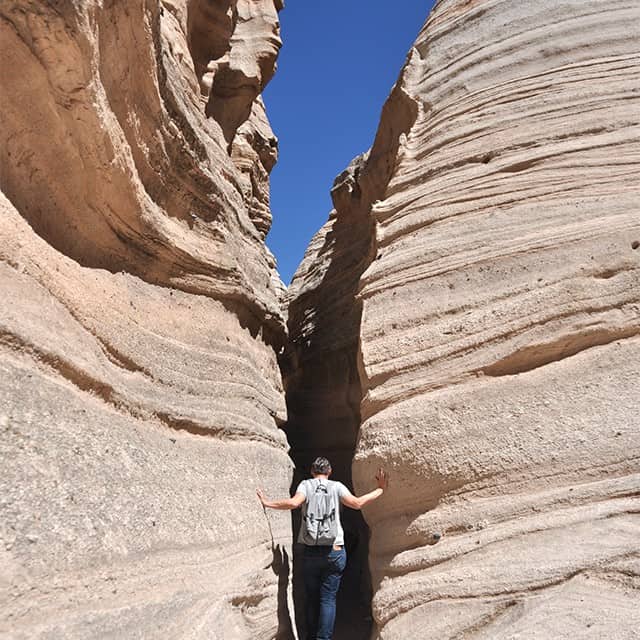 All in all, we had a fantastic time in Santa Fe and the surrounding areas. Had it been a bit warmer, we may have opted to check out some of the local mineral springs (like Ojo Caliente, which Adrianna wrote about in her recently-published guide to New Mexico). Of course if I wasn't pregnant, I would have probably enjoyed a lot more of those jalapeño margaritas at La Choza but I made up for that by eating plenty of Whoo's Donuts instead.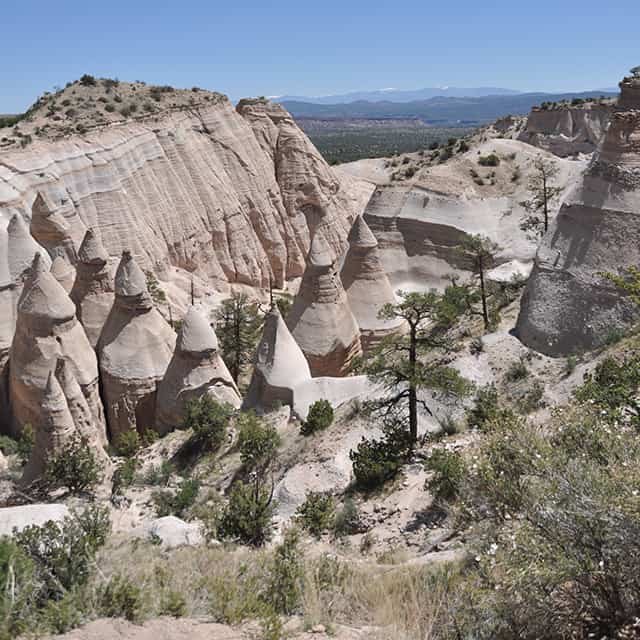 Below is a quick reference of all the places we visited, if you are thinking of planning a trip to Santa Fe.
To Stay
La Fonda on the Plaza
We've also heard great things about the Inn and Spa at Loretto
To Eat / Drink
Cafe Pasqual's
La Choza
Tune-Up Cafe
Modern General
The Shed (we didn't make it here, but it is highly recommended)
Whoo's Donuts (the chocolate shop next door is divine, too!)
Verde Juice (inside the Collected Works Bookstore and Coffeeshop)
Coyote Cafe (for happy hour)
To Explore
Georgia O'Keefe Museum
Ghost Ranch
Kasha-Katuwe Tent Rocks National Monument
Collected Works Bookstore and Coffeeshop
The Good Stuff (vinyl and coffee shop)
Santa Fe Farmer's Market (Saturdays and Tuesdays)
Thank you to the Santa Fe Tourism Board for helping us plan this trip, to La Fonda on the Plaza for graciously hosting us, and the Luminaria at the Loretto Inn for inviting us to lunch.