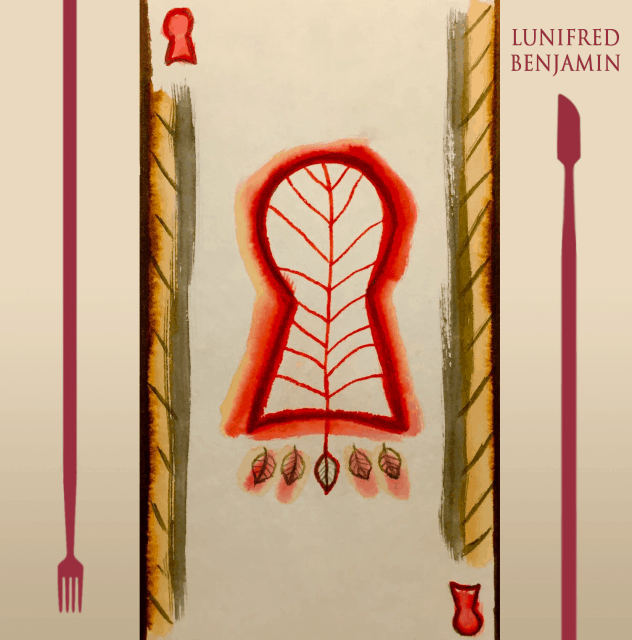 We've been super excited to share this one with you. Indeed, it's no exaggeration to say that this month we're featuring someone we consider to be one of the most unique and exciting songwriters we've stumbled upon in a long time. That said, you'd be forgiven if you're not already familiar with the music of Lunifred Benjamin even if you're a heavy consumer of new music. After all, much of the music blogosphere is currently fixated on synth pop, future pop, and electro pop (ok, anything with both synths and pop sensibilities) and it's safe to say that Benjamin is revolving in a very, very different orbit.
In fact, Benjamin's clearest inspirations are songwriters like Leonard Cohen, Arthur Russell, and Nick Drake. But it's also unsurprising that Benjamin cites impressionistic poets and writers such as Walt Whitman, Kurt Vonnegut and Hunter S. Thompson as his other muses. Weird, wild and poetic, this self-described "Internet porn era" songwriter is able to fuse together his influences to craft something intimate, engaging and unique.
We discovered him thanks to a post by our friend Mark at yvynyl who described himself as a "huge fan" of Benjamin and prefaced his post premiering the songwriter's latest single (the first track on our a-side) by stating: "Remember first listening to GIRLS back in, oh, 2011? Now play this. You're welcome." And, unsurprisingly, Mark was right. This one will definitely appeal to fans of GIRLS, Mutual Benefit, and so forth.
Impressively, the tracks collected here were all recorded in one night at the Ace Hotel in NYC where Benjamin was selected to record as an artist-in-residence in November of last year.
Opening with cold, swelling viola notes, "Brother Ray (Kingdom Came)" is a swirling psych-folk ballad that tumbles slowly along a melody of slowly shimmering guitar riffs, smoky jazz club saxophone, and Benjamin's raw, expressive vocals. Meanwhile, the exquisite and relatively concise "Wild Lily Whisper" is a subtly grand wisp of a song that progresses along a softly flowing vibe of gently plucked guitar and bird-light flute. Both are incredible tracks.
The b-side wraps up the collection with the stirring, string-accented "Men With No Mothers." It's a swaying tune that moves along an unconventional progression as Benjamin's poetry propels the tune forward, "I can't be cradled. But I once lived with a lover, who played me Chopin on the grand while I wept at her pedaling feet." If you're looking for something a little different, this is pretty much guaranteed to scratch that itch.
We've made 475 standard copies on oxblood red vinyl alongside a special edition exclusively for gold club members of 175 copies on half-and-half bone with beer colored vinyl with red splatter. The last couple of releases have sold out in a week or less. This one will too. It's exclusively available in the Pairings Box so subscribe today. Meanwhile, you can buy more jams from Lunifred Benjamin on Bandcamp.