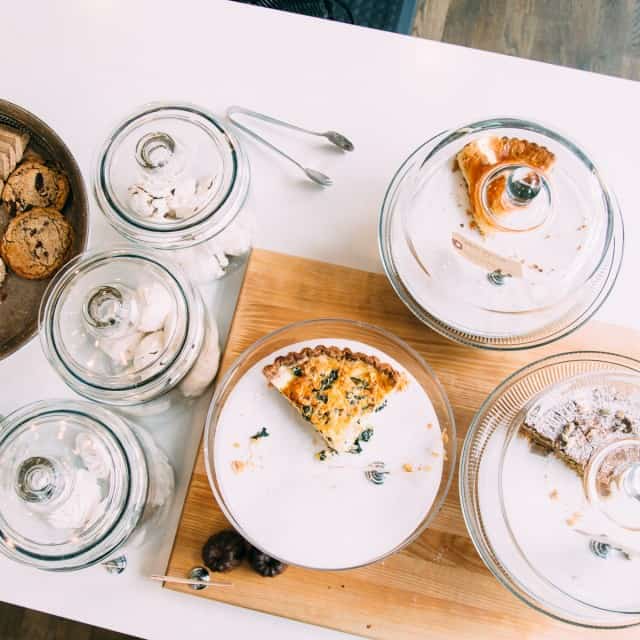 Seattle in many ways feels like a spirit place for us. I've been visiting friends there since college, and every time I go, my heart is happy. Sometimes I even wonder if maybe one day, we'll decide to call it home. It's kind of amazing that we've never done a Seattle City Guide on Turntable Kitchen, since it's a place we've visited on many occasions. When Seattle-based photographer Charles Redding reached out to us about doing a guest post about the city he lives in and a city I love, I was excited to share it! Thanks so much for this beautiful roundup and gorgeous photos! — Kasey
Pioneer Square is the essence of Seattle compressed into a few square blocks, so it seems fitting to offer a city guide specifically for this little nook of the city. It's densely packed with Seattle's history, current culture, an incredible cross-section of its people, the best of food and art and gorgeous views, but small enough to be walkable in one long afternoon. Jackpot.
Looming brick buildings covered with faded paint advertisements and crawling ivy are the backdrop for tiny art galleries and hip clothing stores, cafes, and lifestyle shops, and its cobblestone courtyards are social gathering spots for every type of person imaginable (fantastic for people-watching).
It's completely walkable, and provides a great home base for accessing other iconic neighborhoods. From the heart of Pioneer Square you can stroll north on 1st to Pike Place Market, our frenetic and most beloved landmark (home of the first Starbucks store), or south toward the slightly grungier, but super-gorgeous-in-a-sunset industrial district and stadiums. Looking East from almost any intersection in Pioneer Square you'll catch truly breathtaking views of the Puget Sound and the Olympic Mountains, ferry boats, and the piers. Even as a local, the beauty of the area and its views still inspire awe.
I'm clearly in love with this neighborhood. Here are some favorite discoveries made on our most recent trip:
The London Plane — Melt my heart! This place is incredible. I actually don't know how to describe to you how gorgeous their two shops are (one opened a year after the other, at opposite ends of the Occidental Plaza). One sells wine, the other is a florist, bakery, and restaurant. I'll let the photos speak my thousand words.
Magic Mouse Toys — We don't often take our two boys to Pioneer Square as it's not really a residential or kid-friendly neighborhood. But thankfully, Magic Mouse Toys is right in the heart of it all. The top floor was a little stressful with two crazies, but we spent a relaxing 45 minutes at the train table downstairs.
Drygoods Design — New to the neighborhood, Drygoods moved here after spending time in the back of a coffee shop not far away. If you're interested in sewing – or simply have a thing for adorable textiles – this lovely shop is a must-visit. (And if you really want to blow your home-made skirt up, they offer classes in their gorgeous Pioneer Square studio.)
Cone & Steiner General – Although located in a newer building, Cone & Steiner blends right in with the old Seattle style that defines the neighborhood. An upscale grocery/convenience store, it's a great place to stop in for some local beer, a house-made sandwich, or some bulk candy. Test your willpower in their home goods section before you head to their adjoining neighbor…
Velouria – A woman's boutique clothing store (menswear coming soon) with independently-designed jewelry, Velouria has a special place in its heart for clothing made in the good ol' U.S. of A. If you happen upon Velouria on the first Thursday of the month you can check out work by their featured local artist.
Rain Shadow Meats – A local butchery, sourcing all of their meat from farms in the area and curing in-house, the fine people of Rain Shadow Meats truly know their stuff. If you grab a quick snack from their in-house charcuterie you can sit and watch their team at work while enjoying the exposed brick and large windows (great for staring at people without being noticed).
Zeitgeist Coffee — We ended our adventures with some smooth and delicious coffee at Zeitgeist. Industrial, brick, plenty of seating and with enough background noise that the delightful chatter (yelling) of our children was almost unnoticeable. They also feature local art on the walls, which I commit to someday return and fully appreciate. When there's less screaming.
The designs of our darling offspring prevented us from visiting these final selections yesterday but I couldn't bear to leave you without mentioning them:
E. Smith Mercantile — An old-fashioned general store complete with pay-by-the-pound glass jars of candy behind the cashier. A great place to fashion the perfect lumbersexual outfit, or if like us you just need an iced coffee pick-me-up to sustain your city wanderings.
Il Corvo Pasta — Fresh pasta bowls, local ingredients, a minimalistic and striking interior make this tiny restaurant an absolute must. Only open from 11-3 p.m. so get it while it's hot.
As an essential aside, the Underground Tour isn't a hidden gem but it is totally where I'd start if I was new to Seattle. At $18 it might seem pricey but it is completely worth the money (I've done it three times). And it's hilarious. Seattle's unusual and sordid past begins in a city still preserved underground, right beneath the cobbled streets of Pioneer Square.
Photos by Charles Redding, written by his wife, Lacey.