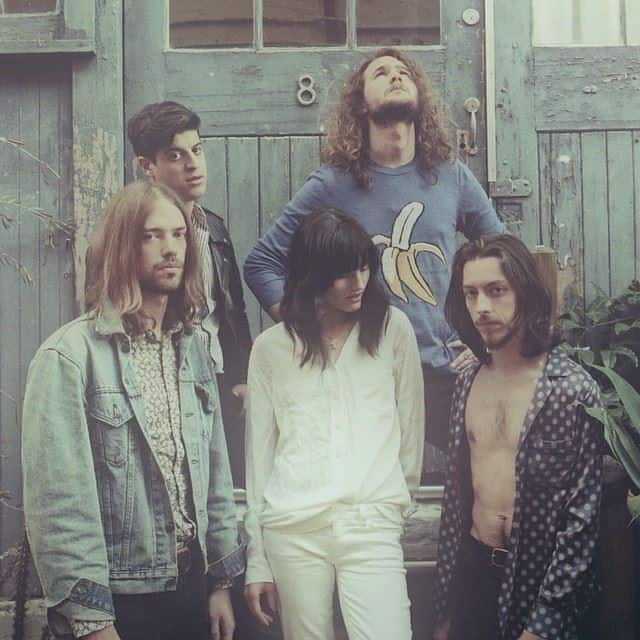 This fall, The Preatures released their first full-length album, Blue Planet Eyes. The Australian rock 'n' roll four-piece took to the road, completing their first U.S. tour before heading back to play several shows in their home country. On the final leg of their journey, guitarist Jack Moffitt took the time to chat with us about the new album, working with Jim Eno and the groundedness of Australian cuisine—it turns out that The Preatures love both music and food about as much as we do.
You're getting close to the end of your biggest tour to date: What are some of the best things about being on the road? What are some of the challenges?
We've been on tour for a while, it's definitely time for a break, we're done for a while. Touring has no pattern, everything outside the vacuum is constantly moving. Some of the best times are on stage, some of them are at dinner before the show, during the show, or afterward in the van on the way to the motel. The mornings are challenging, no one likes them. They would challenge anyone if you average 4 hours sleep a night for 9 months. Not whining (much).
Blue Planet Eyes marks a shift from the style of your EPs to a more pop-oriented sound. What drove the change, and what do you want listeners to take away from the record?
It's been a while coming. Izzi definitely drove the pop mentality through her judicious editing of her lyrics, not wanting to waste anything—we love the word "economy." We talked about Human Imitating Machine, an idea I came up with to describe a mentality to frame emotions. Mostly it was about the song and exploring what it is as it's most basic parts. We'll take that further on the next album, with more consideration, more honesty. We made this album to be concise, something that doesn't weigh on the air, something that you can find space in and gives you space.
What was it like working with Jim Eno? How did working with him influence the album?
I produced the record with Jim, and I chose him because of his personal levity, this thing I called "The Yes"—which a lot of Americans have, a great willingness to try new things out of hand. He let me chase a very specific vision that Iz and I were working for, and mostly we achieved it. His influence was really that, and the 3 weeks we spent at our studio in Sydney making the album work, we definitely tried to recall that. We made the record in 6 weeks, and we were touring the whole time—Iz and I were so drained, we looked like hell. Keeping up levity is not easy to do without encouragement.
I caught the Minneapolis show in October, and you've got an almost unprecedented amount of energy on stage. How do you refuel post-show?
Sometimes we need to eat dinner (again). Mostly we're wired—if the show was good, you can't sleep. When the show is tough we usually have a pretty quiet night. A lot of that has to do with the audience, how that energy is exchanged. Sometimes it's hard to read the room, Iz will be working so hard and getting little back, she comes off so wiped, and we're all flattened. That Minneapolis show was fun, I remember that.
If you could have dinner with any musician, alive or dead, who would it be?
Chrissy Amphlett from Divinyls and Doc Neeson from The Angels.
What food did you miss most from Australia while you were on the road?
Mostly simple things, like good bread and eating at a table with cutlery. And coffee, true espresso coffee… We all agree on this in the band. We come from a rich agricultural country, we export a lot of our produce—we ordered beef in LA, and it had come from Australia. We have the Lucky Country syndrome, we've grown up with honesty in our food, so it's a shock to see principles with a million ingredients and see companies holding patents on the genetics for crops as ubiquitous as a tomatoes and wheat. It's frightening, it should not be that way, it will ruin human kind.
Love it or leave it? (So we Americans know what to try): Violet Crumble; Jaffas; Tim Tam; Musk Sticks; Anzac biscuits; Lamingtons; Pavlova.
Violet Crumble: Awesome.
Jaffas: I would personally pass as I've watched my brother turn blue choking on one of these bastards. But they're good—chocolate with orange flavour in a hard red shell.
Tim Tam: Ought not to go without one in your life. With a cup of tea, bite off two opposite corners (length ways), and use the bites to suck up hot tea through the biscuit, and eat it, and you have a Tim Tam Slam or Tim Tam Explosion, which is close to an orgasm covered in chocolate. Annoyingly they come in packs of 11, which is always cause for argument.
Musk Sticks: Izzi, Tom and I used to love these as kids. They're sickly sweet, yet something about eating a candy that shares the name of a rodent killed for perfume is strange. You kinda wonder how the musk stick came to be…
Anzac biscuits: If you know the ANZAC history it makes sense that these are really lean, tough things that store well. And probably also came from New Zealand. They're great with a cup of tea, do not make them too thick, and go easy on the batter.
Lamington: Hit and miss the old lammy… A good one is hard to come by, and they're like a glorified twinky when they're bad. Funny thing about Lamingtons is that the chap they're named after apparently hated them, he thought they were "poofy woolly biscuits." Needless to say Gid loves a Lamington.
Pavlova: Is actually from New Zealand (again), and it's one of those things that's somehow consistently nicked for the greater glory of Australia… Like Crowded House, and Allpress coffee. It's good in spring. It makes sense at afternoon tea when you've had a shandy too many at lunch (and they're worth a look in, too).
Luke can't eat any of these because he can't eat dairy. So… he likes Liquorice and that's not strictly Australian, but we do make some seriously good stuff.
If you had to create a food pairing for your music, what would it be? Why?
Probably any kind of baking. There's probably a good roast to make to the album, (lamb shoulder and a fennel salad). It feels like an early-dinner record to me, Izzi feels it's a breakfast album (avocado on toast with tomato, black coffee). Mind you, we don't get to eat breakfast often. 😉
You can buy their debut Blue Planet Eyes on limited edition blue splatter vinyl directly from the band's website.