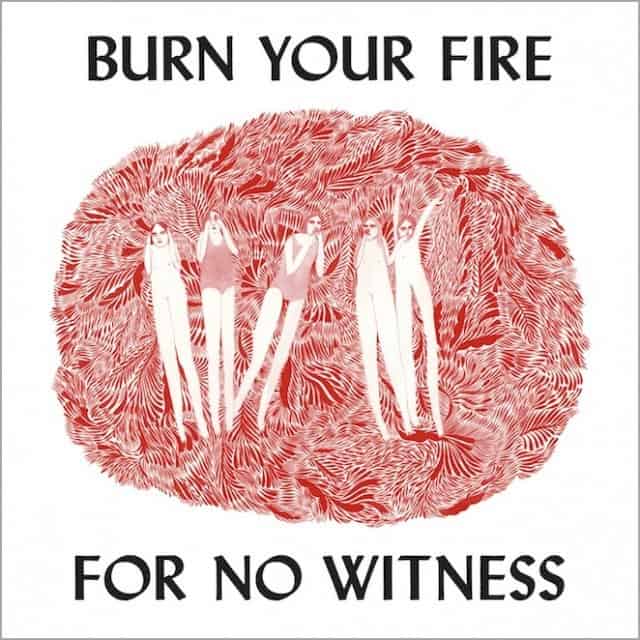 We think Angel Olsen's Burn Your Fire For No Witness has proven to be one of the year's best albums (maybe even the year's best). So it's entirely welcome news that it'll get the (digital only) deluxe edition treatment on November 18th via Jagjaguwar.
The deluxe edition of the album contains five bonus tracks including the newly released "All Right Now" (which you can stream below). It's spare and pastoral with reverb lit guitar riffs, Olsen's tender croon, and a subtle percussion. Two of the other tracks on the deluxe edition ("May As Well" and "Endless Road") were previously released as exclusives on the 7″ that was included with initial preorders of the album.
Alongside the announcement for the deluxe edition, she's also released a video for "High & Wild" (which you can also see below). Below you can also find the track-listing for the deluxe edition along with her remaining tour dates this year.
High & Wild from A.O. on Vimeo. High & Wild from A.O. on Vimeo. BURN YOUR FIRE FOR NO WITNESS TRACKLISTING: 01. Unfucktheworld 02. Forgiven/Forgotten 03. Hi-Five 04. White Fire 05. High & Wild 06. Lights Out 07. Stars 08. Iota 09. Dance Slow Decades 10. Enemy 11. Windows BONUS: 12. White Water 13. All Right Now 14. Only With You 15. May As Well 16. Endless Road ANGEL OLSEN TOUR DATES: Tue. Sep. 16 – Stockholm, SE @ Kagelbanan w/ Rodrigo Amarante Wed. Sep. 17 – Copenhagen, DK @ Lille Vega w/ Rodrigo Amarante Thu. Sep. 18 – Hamburg, DE @ Reeperbahnfestival Fri. Sep. 19 – Tilburg, NL @ Incubate Festival Sat. Sep. 20 – Utrecht, NL @ Ekko w/ Rodrigo Amarante Mon. Sep. 22 – Leeds, UK @ Brudenell Social Club w/ Rodrigo Amarante Tue. Sep. 23 – Manchester, UK @ Deaf Institute w/ Rodrigo Amarante & Ryley Walker Wed. Sep. 24 – Newcastle, UK @ The Cluny w/ Rodrigo Amarante Thu. Sep. 25 – London, UK @ Electric Ballroom w/ Rodrigo Amarante Fri. Sep. 26 – Rouen, FR @ Le 106 w/ Rodrigo Amarante Sat. Sep. 27 – Bordeaux, FR @ Krakatoa w/ Rodrigo Amarante Mon. Sep. 29 – Madrid, ES @ Charada Tue. Sep. 30 – Barcelona, ES @ La 2 Wed. Oct. 1 – Lyon, FR @ L'Epicerie Moderne w/ Rodrigo Amarante Thu. Oct. 2 – Milano, IT @ Biko w/ Rodrigo Amarante Fri. Oct. 3 – Bologna, IT @ Covo w/ Rodrigo Amarante Sat. Oct. 4 – Zuerich, CH @ Exil w/ Rodrigo Amarante Mon. Oct. 6 – Vienna, AT @ WUK w/ Rodrigo Amarante Tue. Oct. 7 – Munich, DE @ Feierwerk w/ Rodrigo Amarante Wed. Oct. 8 – Berlin, DE @ Bi Nuu w/ Rodrigo Amarante Thu. Oct. 9 – Frankfurt, DE @ Brotfabrik Fri. Oct. 10 – Brussels, BE @ AB Sat. Oct. 11 – Liege, BE @ Les Heures In-D Fri. Oct. 31 – Tallahassee, FL @ Club Downunder Sat. Nov. 1 – Jacksonville, FL @ Jack Rabbits Sun. Nov. 2 – Orlando, FL @ The Social Tue. Nov. 4 – New Orleans, LA @ One Eyed Jacks Wed. Nov. 5 – Houston, TX @ Fitzgerald's Upstairs Thu. Nov. 6 – McAllen, TX @ Cine El Rey Fri. Nov. 7 – Sun. Nov. 9 – Austin, TX @ Fun Fun Fun Fest Tue. Nov. 11 – Memphis, TN @ Hi-Tone Cafe Wed. Nov. 12 – Nashville, TN @ Mercy Lounge Sat. Nov. 29 – Chicago, IL @ Thalia Hall w/ Lionlimb Mon. Dec. 1 – San Francisco, CA @ Great American Music Hall w/ Kevin Morby Tue. Dec. 2 – San Francisco, CA @ The Chapel – SOLO SHOW w/ Meg BAird Wed. Dec. 3 – Los Angeles, CA @ Silent Movie Theatre (following AO-chosen screening of "Cleo from 5 to 7") – SOLO SHOW Thu. Dec. 4 – Los Angeles, CA @ El Rey Theatre w/ Kevin Morby Sat. Dec. 6 – Brooklyn, NY @ Roulette – SOLO SHOW w/ Jaye Bartell Mon. Dec. 8 – New York, NY @ Bowery Ballroom w/ Lionlimb Tue. Dec. 9 – New York, NY @ Bowery Ballroom w/ Lionlimb