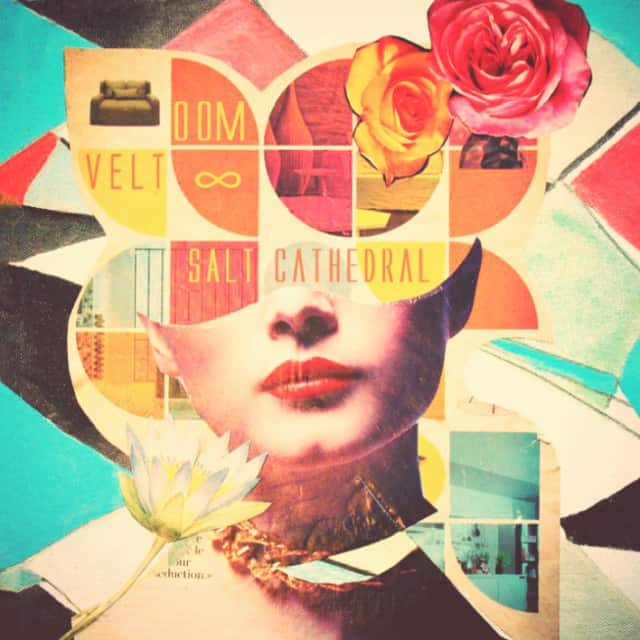 The story behind the sophomore EP, Oom Velt, from our friends in Brooklyn-via-Bogota's Salt Cathedral is the ongoing story of their search for their own identity as artists and their evolution as a band. Indeed, last year's self-titled debut EP was a collection of angular math rock and stuttering indie vibes. It was excellent and marked the band as one of our favorite up-and-coming acts. It wasn't, however, an album that reflected the vision of the band's core songwriting duo Nico Losada and Juli Ronderos.
As a result, for their follow-up Ronderos and Losada needed to make a few changes. First, Salt Cathedral has been streamlined from five members to three (Ronderos, Losada, and drummer Tommy Hartman). Second of all, they've pretty much jettisoned all guitars from their recordings – an undeniably drastic change for a band known for "angular math rock" guitar riffs. In their place, you'll find tapestries of intricately arranged samples, synths, and other means of electronically produced chimes and clicks.
The EP's eponymous opening track is a jazzy slice of twitching and rhythmic electronica. It's also the most unlike anything we've previously come to associate with Salt Cathedral. With almost Flying Lotus styled production, the densely layered, heavily textured instrumental is a mash of samples, skittering drum samples, swirling synths, and 8-bit video game like squeaks and chirps.
It's followed by the glitchy, high-energy groove "Tease." Bright chiming notes swirl in the melody's foreground amid a beat of wheezing, bubbling textures. Both solemn and lovely, Ronderos' vocals are both breathless and direct as she sings, "if you come back I will hold you and never let you go again."
"Holy Soul" is similarly lush, with a more understated rhythm but equally visceral textures and an equally thoughtful composition.
They've explained in recent interviews that the title Oom Velt is a phonetic reference to the German word umvelt which means "the experience of the world through a particular organism's environment." It's fitting then. These latest releases demonstrate a commitment to building intricately arranged, detail oriented sonic worlds filled with mystery, romance, and excitement.
In as much as the changes in dynamic and approach to songwriting reflect significant gambles for a band already receiving strong word-of-mouth and critical acclaim, it's a risk that appears to pay off. Oom Velt proves to be one of the most intriguing and satisfying releases we've heard this year. It's one we'll be obsessing over for months to come. It's highly recommended.
You can buy Oom Velt on limited edition cream vinyl directly from the band's Bandcamp. We've paired this one with Kasey's recipe for Herbed Parmesan Beans with Tomatoes and Figs. The mix of some of our favorite ingredients – including figs, tomatoes, white beans, and aleppo pepper – is, like the album, lovingly textured, flavorful and engaging.