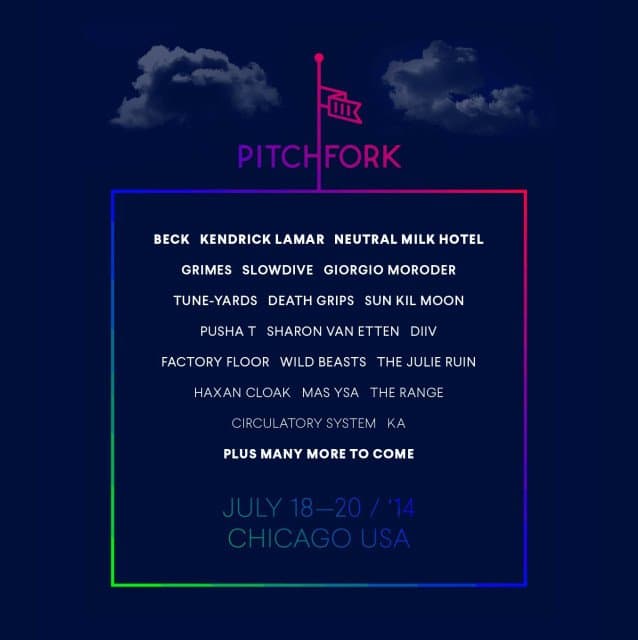 Will you be heading to Chicago for the annual Pitchfork Music Festival in Chicago this year? Our contributor Abby Yemm will be there as well and she's provided her top picks for the artists you won't want to miss. Read on!
Friday, July 18th:
Hundred Waters (3:30pm) – Pitchfork kicks off with this Gainesville-Florida-based folktronica 5-piece whose shimmering grooves, arching harmonies, will take you anywhere but the ground you stand on. If you like: the xx, James Blake, tUnE-yArDs
Factory Floor (4:30pm) – Minimalist tribal beats underlay psychedelic, disjointed vocals for this London trio. Post-industrial, hypnotic loops evoke tensions imaginable at an otherworldly rave. If you like: LCD Soundsystem, Laurel Halo, Forest Swords
Sun Kil Moon (6:25pm)- Folk heavyweight Mark Kozelek croons straightforward, stripped-down tales of ordinary folk over a steady acoustic guitar. An outgrowth of Red House Painters, his tales veer away from metaphor and pomp creating a mood felt intimately and as if you know the subjects. If you like: Red House Painters, Angel Olsen, Real Estate
Avey Tare's Slasher Flicks (7:15pm)- Animal Collective front man, Dave Portner, sets out again on his own to create what he does best – combining dystopian noise, driving dance rhythms, with imaginative, colorful lyrics that grind, enthrall, and delight. If you like: Animal Collective, Atlas Sound, Panda Bear
Giorgio Moroder (7:20pm) – 70s electronic dance pioneer Giorgio Moroder graces Pitchfork with electronic funk and groove to Chicago at dusk. Credited for working with such greats as Queen, Led Zepplin, and most recently Daft Punk, Moroder is sure to make you want to shake. If you like: Kraftwerk, Daft Punk, disco, happiness and love
Beck (8:30pm) – Headlining Friday is multi instrumentalist/stylist Beck. With a proven track record of transcending nearly every musical genre with grace, a Midas touch for beats and lyrics, he's as much at ease rapping as he is singing ballads about department store hotties. If you like: Flaming Lips, Beastie Boys, Wilco, Earthquake Weather
Saturday, July 19th:
Twin Peaks (1:00pm) – Hazy, overcast-pop rockers kick off Saturday. From Chicago, the young quartet captures the city's grit and life and puts it into at-times-melancholic, at-times-sing-songy inflections that will grip and leave you washed in their dishevelled, ebullient racket. If you like: Girls, Smith Westerns, Kurt Vile
tUnE-yArDs (5:15pm) – As patented on previous recordings, Merill Garbus layers loops of whatever bangs together to create tapestries of sonic brilliance. With a flooring vocal range and an arsenal of styles she'll fly you around like you're riding a blindfolded bird. If you like: St. Vincent, Sylvan Esso, Hundred Waters
Danny Brown (6:15pm) – Detroit-based, right incisor-less rapper Danny Brown will make you laugh and think. Often crafting sexually lewd lyrics twinned with social commentary about growing up poor and eager, DB's energy filled, crowd-moving performance is sure to be a highlight of the festival. If you like: Chance the Rapper, Earl Sweatshirt, 
St. Vincent (7:25pm) – Former Polyphonic Spree-er Annie Clark is evolving to sound ever more like herself. Emotionally-charged, intricate, and futuristic to start. Textured, high pop-rock-jazz infused in the middle, and finishes with just enough playfulness to manifest a well-rounded, polished performance. If you like: tUnE-yArDs, Jenny Lewis, Joanna Newsom
FKA Twigs (7:30pm) – London-based songstress – soft, airy, sensual. Twigs' voice materializes here and there over light beats and organic-seeming synths as if you are seeing things in a dark wood. She plays well with negative space creating hypnotic, translucent sheets of sound. If you like: SZA, xxyyxx, sexy times 
Neutral Milk Hotel (8:30pm) – Whatever veil has kept NMH covered over the past several years has lifted, and the music community rejoices. Having formed a cultish following over a relatively short active period in the 90s NMH is back. NMH speaks directly to the soul. At once sad, happy, reflective, thoughtful, insightful, Jeff Mangum and crew will capture Union Park's favor post-dusk headlining Saturday night. If you like: The Olivia Tremor Control, Arcade Fire, Kings and Carrot Flowers
Sunday, July 20th:
Mutual Benefit (1:00pm) – Sunday starts off strong with Mutual Benefit. Deep, reflective, dreamy characterize this one-man project. Jordan Lee knits fantastical landscapes, wind chimes, and passing thoughts as if its a train-rider's consciousness you hear in his soft lilt. If you like: Lucius, Washed Out, wind chimes
Earl Sweatshirt (3:20pm) – A while ago no one knew where Earl was. From the LA rap collective, Odd Future, Earl is best known for his languorous tone and self-reflective delivery. If you like: Chance the Rapper, Danny Brown, Schoolboy Q
Real Estate (5:15pm) – Hazy, mellow, sometimes fuzzy guitar rifts (that are so well wrought they sound simple) characterize this New Jersey quintet. Real Estate's last release, Atlas, is a joy from start to finish. If you like: Mac DeMarco, Parquet Courts, Cloud Nothings
Grimes (7:25pm) – …to achieve something that is nothing short of pure, unadulterated dance-pop bliss.