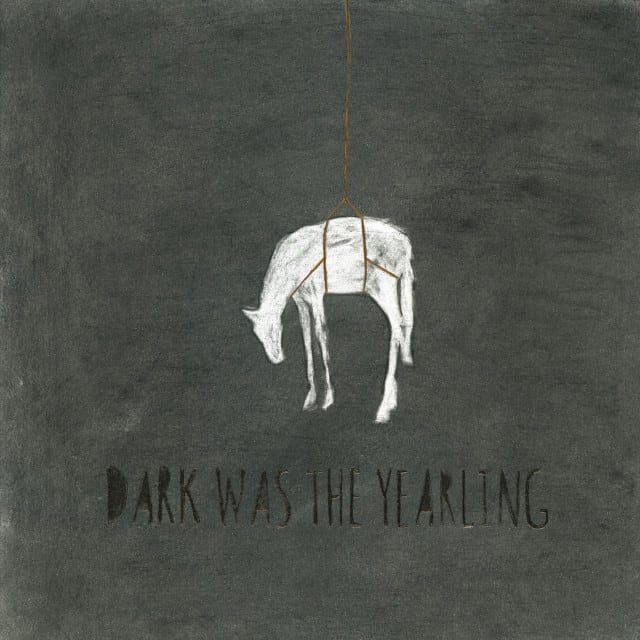 A strong cup of black coffee. Not stale diner coffee  — unfussy, small batch, brewed-with-love coffee. That's what comes to my mind when I listen to the debut LP from The Bones of J.R. Jones. It's bold, dark and energetic with a rustic, whiskey-tinted swagger. In other words, it'll light you up while simultaneously filling you with a comforting warmth.
Indeed, Jonathon Linaberry, the man behind The Bones of J.R. Jones, has always penned music that's sure to invoke a reaction. And that remains true on his rootsy, rhythmic Dark Was The Yearling. As with his excellent The Wildness EP, it alternates between bluesy stompers and haunting, sparse ballads.
It opens with "Dreams To Tell" — which had previously appeared in demo form on a Pairings Box single we released nearly a year and a half ago. The demo was a stripped down and sparse ballad with little more than Linaberry's voice and a banjo. He'd confessed at the time that the tune was evolving in unexpected ways, and he wasn't kidding. The rendition which opens Dark Was The Yearling stands in stark contrast to the previously released demo – it's rousing and rhythmic, packed from the ceiling to the floorboards with handclaps, knee slaps, and a churning melody.
It's followed with the loose and frenetic floorboard-stomping single "Good Friend of Mine." The rhythm builds like an approaching train barreling down the tracks as Linaberry wails darkly amid wild riffs and thumping beats, "Oh you know you've done me wrong / And I am going to put you in your grave."
Meanwhile, other highlights like the ghostly, humming ballad "Ticket Home" and the rustic and bright groove "St. James' Bed" are more moderate in their approach, but just as enrapturing. Similarly, the gorgeous "Hearts Racing" is beautiful, in part, because of it's clean and upbeat simplicity. Romantic and optimistic, it's the song your coolest friends will play at their wedding, "Don't you want to see what this love can do? / Don't you want to see what trouble we can get into?"
The tracks I mentioned also happen to be, in order, the first five cuts on the record. Everything that follows is just as good as what you find up front. In fact, it's one of the best records I've picked up this year. Highly recommended.
Like a cup of hot and freshly-brewed coffee, this pairs perfectly with Kasey's recipe for Homemade Bagels. It sets a fun and rustic ambiance that'll wake you up and set you on course for the rest of the day. You can buy Dark Was The Yearling from Bandcamp.