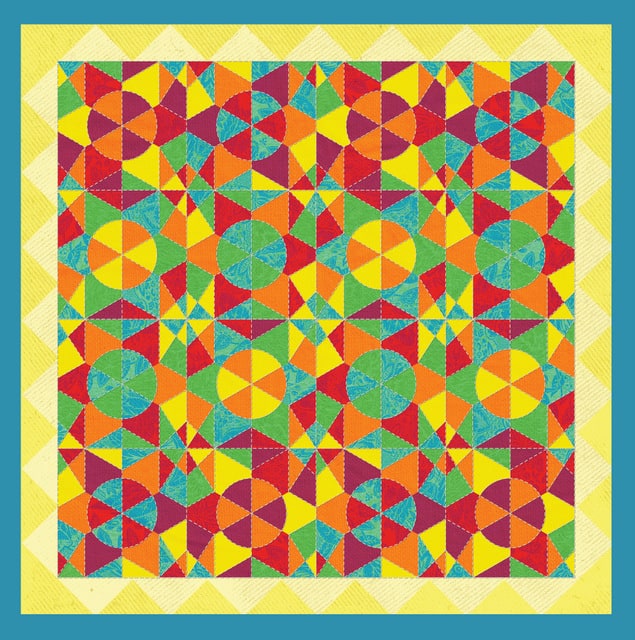 It's safe to say that synths are having a moment. In the past couple of years they've become more common than the electric guitar in the indie music realm. Although I have no problem with that, I have been craving just a little more guitar in my diet. Thankfully, San Francisco-based A Million Billion Dying Suns bring more than enough snarling, psychedelic guitar flare to melt a hole though a small moon.
AMBDS (as they're also known) is primarily the project of guitarist, vocalist, and songwriter Nate Mercereau. He mostly recorded the tracks on this single solo, but when performing live he's backed by guitarist Steve Wyreman, bassist Josh Lippi, drummer Derek Taylor, and Ben Schwier on keys. Whether or not those names ring a bell, it'd be hard to find a band with a more impressive resume. Members of the band (including Mercereau) have previously toured and recorded with Lauryn Hill, Chaka Khan, and Richard Ashcroft. Two of the band's members, Mercereau and Taylor, currently perform as the backing band for BANKS.
Meanwhile, A Million Billion Dying Suns itself has been red hot, receiving accolades from all of the right sources. Brooklyn Vegan described them as "totally epic." Consequence of Sound described their music as an amalgamation of "sounds fusing together in the heat of a supernova, rocketing forth on a blaze of guitar solos." And, of course, we raved about them here on Turntable Kitchen comparing their fuzzy psych rock to Tame Impala and The Flaming Lips. We think these guys are ready to make some big moves this year and we're honored to premiere two of their most impressive cuts to date.
On the a-side we're serving the shuffling and upbeat track "The Garden." Scorched, grungy guitars, a sharp, punchy bassline, and a handclap-framed rhythm propel the jam forward with all the kinetic energy of a projectile hurtling through space. Mercereau describes the song as a reminder to let go of anxiety stemming from those things you can't control, concluding on the chorus, "You better let go / You better let go." Combining a catchy, upbeat melody with seared guitar fuzz, it represents the very best type of post modern psych rock.
On the flip, AMBDS offer a contemporary update to Journey's 1979 fantasy space rocker "Daydream." Here, Mercereau and Co. trade the studio sheen and vocal pageantry of the Steve Perry original for a grittier, psychedelic ambiance while pulling a wall of scorching guitar fuzz into the track's foreground. The fiery and spiraling soundscape is an exceptionally appropriate pairing for the song's imaginative lyrics: "Shining in the silver moon, crystal ships are sailing to the sea." It serves as the perfect soundtrack for both a joyride across the burning rainbow bridge to Valhalla and an excellent counterpoint to the single's a-side.
We've produced 350 copies on "orange crush" vinyl and 160 special edition copies on "orange crush with kelly green splatter" vinyl for our gold club members. We're down to under 50 copies already and this will go fast. Subscribe now.