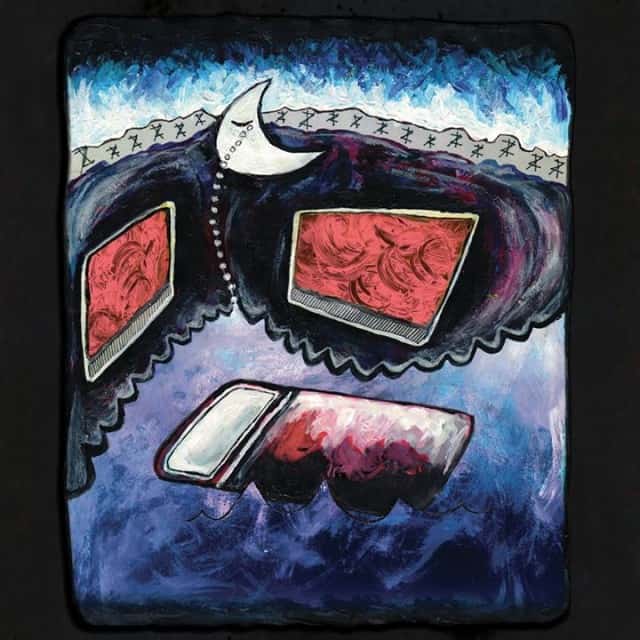 Ornate, well-crafted and subtle, it's easy to find a lot to like on Hundred Waters' latest album The Moon Rang Like A Bell. Vocalist/lyricist Nicole Miglis' poetry and vocal delivery alone are mesmerizing. But the fact that they are delivered alongside gradual, beautifully composed tunes (courtesy of Miglis, multi-instrumentalist Trayer Tryon, multi-instrumentalist Paul Giese, and drummer Zach Tetreault) makes it one of the best albums we'll hear this year.
The most convenient comparisons here are Bjork, Portishead and Beach House. Those are rough comparisons though. The Moon Rang Like A Bell is a unique work. Nonetheless, like Vespertine, Dummy or Bloom, it's dark, layered and mysterious with a complexity that inspires the imagination (and obsessive listening).
Indeed, The Moon Rang Like A Bell is a dense and enigmatic album both thematically and lyrically. The band has even gone as far as to suggest that the "language of meaning" is unknowable for the listener. For example, based on the music alone, the listener has little way of knowing that the album closing cut "No Sound" was partially written by Miglis "without a plan" as she was "singing into her laptop mic standing in the pitch black garage of her childhood home." Similarly, the album opener was recorded from the rooftop of the band's building on Skid Row at 3:30 in the morning. For the band, those settings are emotionally charged and have a significance that are inseparable from the songs' meanings – but which cannot be fully conveyed through the music itself.
And yet, despite that admitted inability to fully articulate their meaning, The Moon Rang Like A Bell never sounds inexplicable or detached. If anything, thanks to Miglis' hushed and steady-gazed delivery, there's an air of intimacy throughout the record. Along those same lines, the lyrics – perhaps especially when they are ambiguous – provide plenty of opportunities for a listener to connect with the music on their own terms. For example, opener "Show Me Love" is a solemn mantra that is easy to relate to: "Don't let me show cruelty though I may make mistakes. Don't let me show ugliness though I know I can hate. And don't let me show evil though it might be all I take."
In addition to the potency of Miglis vocals, the album also succeeds because it offers an impressive range in terms of both composition and arrangement. For example, the album's elegant first single "Down From The Rafters" is a lush and atmospheric. It's built around a gradually rise of string, synth, and sparse percussion. However, it's followed by the viscerally textured and punchy "[Animal]" which almost serves as an electronic counterpoint to "Rafters" with it's marriage of 70's science documentary-esque synths and glitchy dancehall beats. They're very different type of songs, but both are highlights.
It's still a new record and one that I intend to spend a lot more time with. Nonetheless, it's already proving to be a rich and rewarding album that'll only grow with repeated listens. You can stream the whole thing below.
We've paired this one with the Berry Cobbler with Oat Dumplings from Naturally Ella's new cookbook. The recipe, like the album, is inventive yet familiar. It's lovingly textured and incredibly satisfying. The album has been on repeat and we've been enjoying that cobbler for the past few nights in a row. And I see a connection between the darkness of the berry filling and the ambiance of The Moon Rang Like A Bell. You can score a copy of the album on vinyl from Insound.