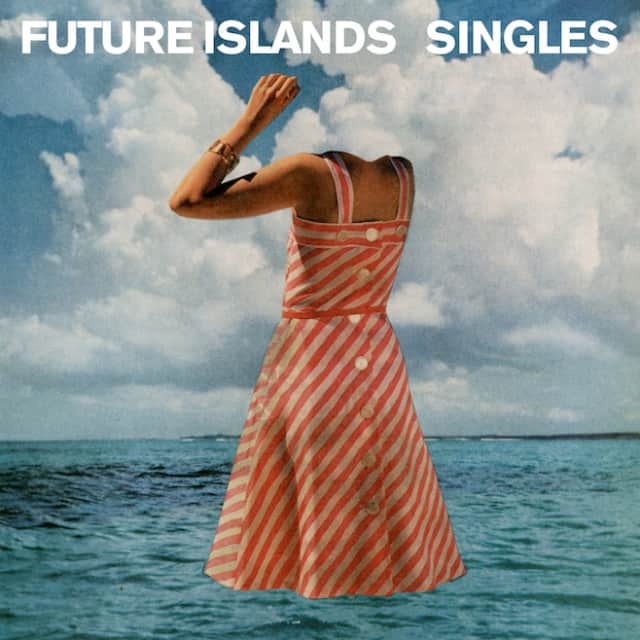 Samuel T. Herring was sitting alone backstage at the Hype Hotel at SXSW shirtless and, unsurprisingly, drenched in an impressive amount of sweat. Less than a minute earlier the Future Islands frontman had been dressed in his trademark tight-fitting black shirt and khakis vamping across the stage in a manner that simultaneously called to mind the over-the-top theatrics of William Shatner and the gut-wrenching, fist-clenching energy of Glen Danzig.
I'd never met Herring before. Nonetheless, when I popped my head in to tell him how much I enjoyed the set (via a single f-bomb) he laughed loudly and beckoned me in saying, "I'd hug you but…" But he was covered in sweat, so we high-fived instead. I've found that many bands are tired and in no mood to chat after a set. Herring, though, was victorious and eager to share the moment with anyone who entered his orbit.
And why not? Future Islands are undeniably at the highest point to date of their 10+ year career. Only shortly before that, their performance on Letterman became one of the most watched in the show's history (it's already racked up over a million and a half views on YouTube). They'd recently signed to 4AD (home to The National, St. Vincent, Pixies, Grimes, etc.). And the band was poised for the release of the biggest album yet.
Singles was a gamble for the band. They'd already developed a cult following but had struggled to capture a larger audience. They were ready to hit the next level. So, for this one, they recorded the album on their own dime and brought in producer Chris Coady (who'd previously worked with TV on the Radio and the Yeah Yeah Yeahs). More importantly, they'd written a collection of songs that they believed were some of their best yet. They wanted each song to stand on it's own as a potential single.
And although the honor of being the album's lead single fell to opener "Seasons (Waiting On You)", it's true that many of the tracks on the LP could have done the job just as well. It's an incredibly solid collection.
The catchy and upbeat "Doves" stands as a synth-pop take on Motown soul. It's built upon a funky baseline and sparkling crystalline keys to accompany Herring as he sings, "We were built for making love and not for war." Similarly, the synth-shined and laser cut jam "Spirit" is both enigmatic and engaging with it's twisted melody and bright-eyed lyrics, "For dreams come to those who let them in their guarded room."
Meanwhile, the atmospheric album closer "Dreams Of You & Me" is built from flashes of cascading keys, a driving rhythm, and washes of synth. Each of those tunes could sell the album on their own. In fact, if you've only heard "Seasons (Waiting On You)" then now is a great time to check out the rest of the album. After all, I suspect you're going to see Singles on a lot of year end lists.
You can buy this one from Insound. We're pairing this one with Kasey's recipe for Crispy Salt and Vinegar Potatoes. The album, like the recipe, is surprising yet straightforward. It's savory and complex. And it focuses on the basics, it's unfussy, and it's an album that will impress. Enjoy!