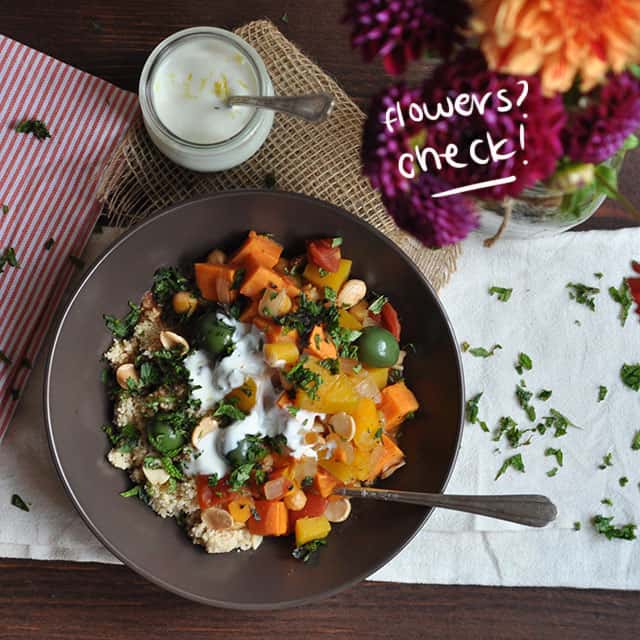 With Valentine's Day around the corner, I thought I'd share some thoughts on what it means to ask someone to dinner. I've been married for almost five years so it's rare for anyone to ask me to dinner but I've been on the receiving end of a lot of single gal stories about dudes who just don't know what is up.
I realize that not everyone is a romantic, but I think we can all agree that we like it when people do and say nice things. Nice things we may not expect. Asking someone to dinner is one of those things.
When I was a freshman in college, asking someone out to dinner often happened at a party, in a rather awkward fashion. The years post-college were similar. Usually, you went to a rather mediocre Italian restaurant, a large national chain, or a pre-dinner drink. At least in my day, no one really invited people over for a home-cooked meal. I hope (and think) that's changing.
I think there are a few key rules to asking someone over to your home for dinner:
1. Unless your date is a group potluck, don't ask for contributions. If he/ she asks, offer to let them bring a glass of wine, or maybe some cheese, as a starter.
2. Make it a gesture, depending on your comfort level. Don't send a text message. Don't do it over email. Don't make it sound like something other than a dinner invitation ("hang out" or "have some beers" doesn't count).
3. Set a day and time. Don't ask people to commit to things in the future. Let's say: Thursday, 8 pm, my house. If that doesn't work for you, let me know a time that will.
4. Don't make it feel bigger than it is. It's dinner. You'll have over 300 more this year alone.
On the day of the dinner date, I recommend:
1. Setting the table ahead of time. Get your place settings right, have some fresh flowers on hand in a small bud vase or mason jar (less intimidating than candles), and put out some napkins.
2. Starting the cooking process before your date gets there, but leaving some of it unfinished so he / she can feel like they're able to participate.
3. Having some snacks and drinks ready so you can chat in the kitchen as you finish cooking.
4. Not tackling a super time-consuming recipe you've never tried. If you have a signature dish, make it. Otherwise, go for low-fuss cooking and low-mess eating. The other option is to go all-in with the mess (cooking crab, lobster, or hand-rolling pasta together). Gauge how much your date wants a hands-on activity vs. dinner and conversation.
Here are a few of my favorite 'date night' recipes:
Miso Salmon with Sesame Salt
Meatballs with Mint and Parsley in Tomato Sauce
Weeknight Roast Chicken and Potatoes
Lavender-Sea Salt Shortbread (make ahead!)
Muddled Blackberry Mint Julep
Cafe Du Monde Coffee Ice Cream with Chocolate 'Freckles' (make ahead!)
*The lead photo is actually of a Pairings Box recipe from last year (the Harvest Tagine with Lemony Yogurt).
P.S. If you happen to live in San Francisco, check out this awesome flower delivery service I recently discovered called BloomThat. Personally, I'd love it if someone asked me on a date by sending me some hand-delivered flowers. Bonus: it's totally affordable! And you can even send succulents, if you're feeling a bit more reserved…