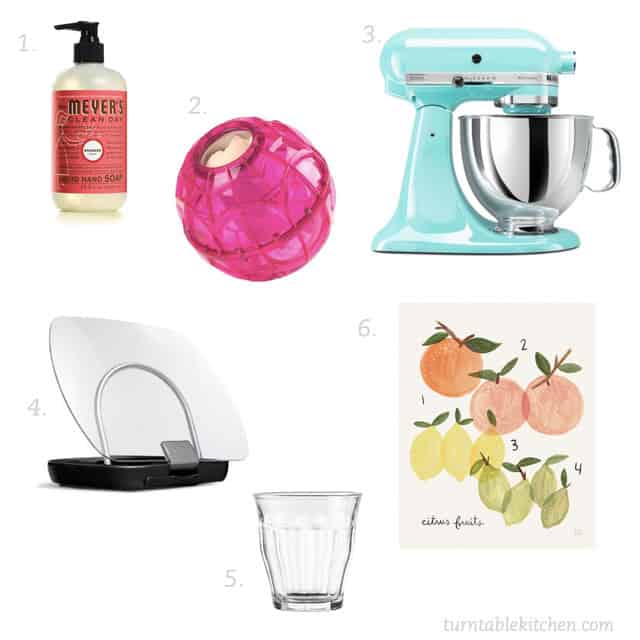 Summer is in full swing here in San Francisco which means plenty of fog, jean jackets, sweaters thrown over breezy dresses, and outdoor tables. It's my favorite time to cook and eat, so I thought I'd share a few of my favorite summertime kitchen essentials with you today.
1. Mrs. Meyer's Clean Day Liquid Hand Soap in Rhubarb. I'm a little obsessed with this scent right now; I find myself washing my hands more than usual just to get a whiff. Other scents I love are basil and honeysuckle.
2. YayLabs Play and Freeze Ice Cream Ball Ice Cream Maker. I'll admit that I haven't used this ice cream maker (I have this one, which I love), but I can't help but wonder how fun it would be to make ice cream this way. If Neko was a little older, I would definitely get her involved.
3. KitchenAid Artisan 5-Quart Stand Mixer. There is never a wrong time to buy yourself a KitchenAid Stand Mixer. Ours gets more use than many other kitchen appliances and this baby blue one makes me think of lazy days on the beach.
4. Prepara Chef's Center Cookbook/iPad Holder, Piano Black. I like that this cookbook stand doubles as an iPad/eReader holder and features a rotating base.
5. Duralex Picardie Clear Tumblers. I have been seeing these little glasses everywhere. They add a bit of chic to any table — indoor or out.
6. Rifle Paper Co. Citrus Print. My friend Tracy got me this gorgeous print from Rifle Paper Co. and I am just waiting to find the perfect frame for it. Wouldn't it make a lovely addition to your kitchen or dining room?
What are your summer kitchen essentials?