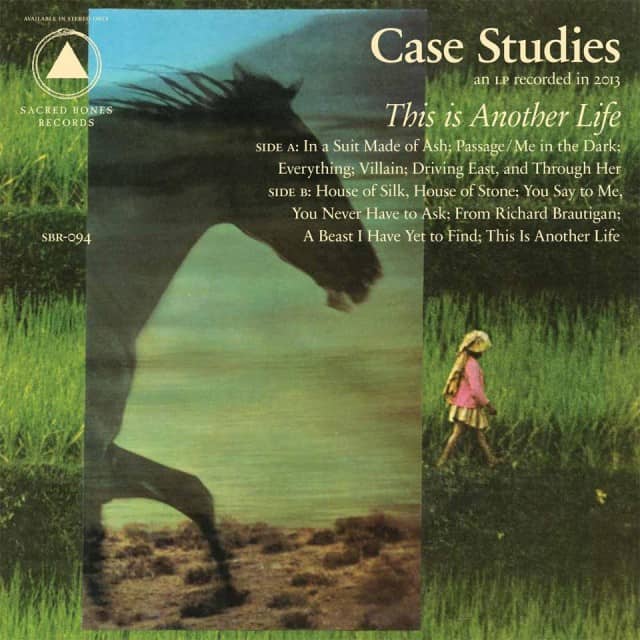 Case Studies is the is the project of Seattle-songwriter Jesse Lortz (formerly from the band The Dutchess and the Duke). This Is Another Life is his second release as Case Studies via Sacred Bones Records. As was true with his debut solo LP, This Is Another Life is an album of dusty, plaintive folk-rock. Dark but easy melodies flow in waves formed from slow-rolling piano, sparkling acoustic guitar riffs and clean, shuffling rhythms to accompany smartly poetic, narrative lyrics. It's a clean, engaging LP.
Although Lortz recorded the album with a full band, it's an incredibly personal record for the songwriter. Indeed, he's previously described the songs on the record as fitting into one of two categories: "There are the songs that are about the time right before I got divorced – and those are the songs that told me 'Get divorced. You can't be in this situation anymore.' And the rest of them are about what happened after." If that sounds melancholy, that's because the album is dark. However, it's not depressingly so.
Indeed, although filled with regret and a sadness for what could have been, there's always a recognition within his lyrics that there is a light at the end of the tunnel. Even at it's darkest, Lortz's songwriting exudes hopefulness and the recognition that things will eventually get better. For example, on the track "Everything" (one of the album's highlights), Lortz sings about the end of his marriage and the loss of everything that's been part of his life, yet he nonetheless concludes, "when we lost everything we got everything."
With a few exceptions, each song on the album is built from little more than piano, acoustic guitar, and a simple rhythm section. Occasionally violin, cello or an electric guitar make an appearance. Marissa Nadler provides guest vocals on "Villain." With those exceptions, the album is musically straightforward and uncluttered. There can be little doubt that Lortz's poetic lyrics are intended to be the focus of the songs. For good reason too, as his writing ranks amongst some of the best I've read in some time. Indeed, in my mind you can't fully appreciate the album unless you closely follow the lyrics (which are surprisingly not included with the record). Nonetheless, with that in mind, what makes This Is Another Life a strong release is that it is perfectly enjoyable playing quietly in the background.
It pairs well with Kasey's Cherry and Prosciutto Salad with Creamy Mustard Dressing. The album, like the recipe, is seasonal, leafy, and rustic in a farm-to-table sort of way. It sets a folksy, laid-back atmosphere which is perfect for an evening dining with friends. We previously shared the album's first single "Everything" in a Single Serving a few month's back.
Head to the Kitchen to read Kasey's recipe for Cherry and Prosciutto Salad with Creamy Mustard Dressing. This Is Another Life is available on vinyl in a limited-edition run of 200 copies in a silk-screened and wax-sealed wrap-around sleeve only from Sacred Bones Records website. It's also available in a standard edition from other sites, but the limited-edition version includes the album's demos. I'm a proud owner of the limited edition version.