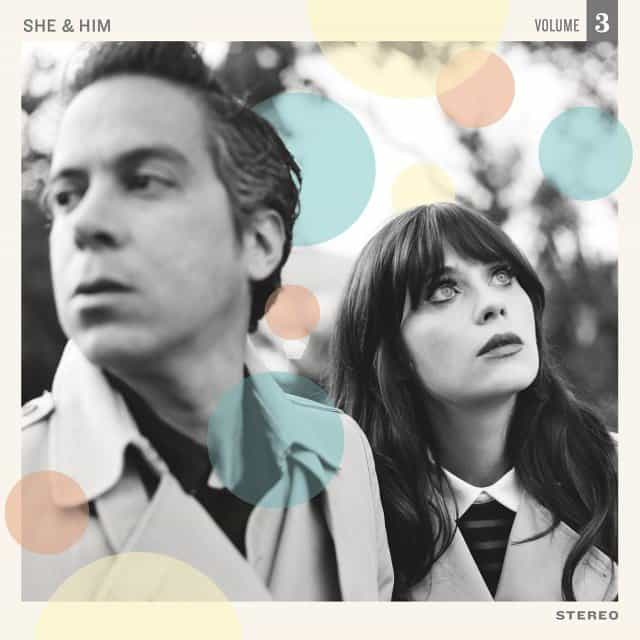 How you feel about She & Him almost certainly hinges, at least in part, on how you feel about Zooey Deschanel. After all, Volume 3, Deschanel's third album working with folk-pop's M. Ward is, for all intents and purposes, both stylistically and thematically a mirror image of the persona she presents to the public. In other words, it's sunny; it's quirky; it's clever; and it's cute. Thus, if you can't stand Deschanel's character in the TV show New Girl, then the music she records with M. Ward for She & Him is almost certainly not for you. For everyone else, there's plenty here to enjoy.
In fact, Volume 3 makes the strongest case yet for Deschanel as a strong pop-music songwriter. She penned and composed all but three of the album's fourteen tracks and pretty much every one of those tunes is catchy, warm, and a lot of fun. In fact, those three covers, although enjoyable, are definitely not the album's strongest moments. That honor goes to Deschanel's original tunes. Indeed, She & Him succeed, in large part, because they keep it simple and stick to their strengths. Specifically, the compositions are uniformly straight-forward (it's pretty much all verse-chorus-verse-type stuff) with an emphasis on clean, irresistible '60s power pop hooks and bubbly, sepia-hued melodies.
The album opens with huge Beach Boys-esque harmonies and a snappy, tambourine-studded groove on the sun-drenched and coyly smiling "I've Got Your Number, Son." With it's syrupy melody and blissful vibes, it's a perfect slice of nostalgi-pop that sounds almost custom built for cozy Sunday mornings and idyllic picnics in the park. It's followed by the equally infectious "I Never Wanted Your Love." The track is built around a string-accented, swirling groove and Deschanel's folksy croon as she earnestly insists, "all I know is that I'm tired of being clever, everyone'e clever these days."
In fact, even when Volume 3 veers away from all of the rainbows and sunshine, as it does on the lyrically melancholy tracks "I Could've Been Your Girl" and "Turn To White," Deschanel and Ward still sound as if they're swimming with their heads in the clouds. The former is a bubbly, bouncing tune, while the latter is a twinkling, ukulele-led beach ballad.
It's a great musical pairing for Kasey's Berry-Ricotta Pancakes. The album, like these pancakes, can transport you to another place, somewhere less complicated, cozy, and warmly idyllic. Together they're a perfect weekend brunch pairing.
You can pick up She & Him's Volume 3 on vinyl here. Then head back to the Kitchen to read Kasey's recipe for Berry-Ricotta Pancakes.