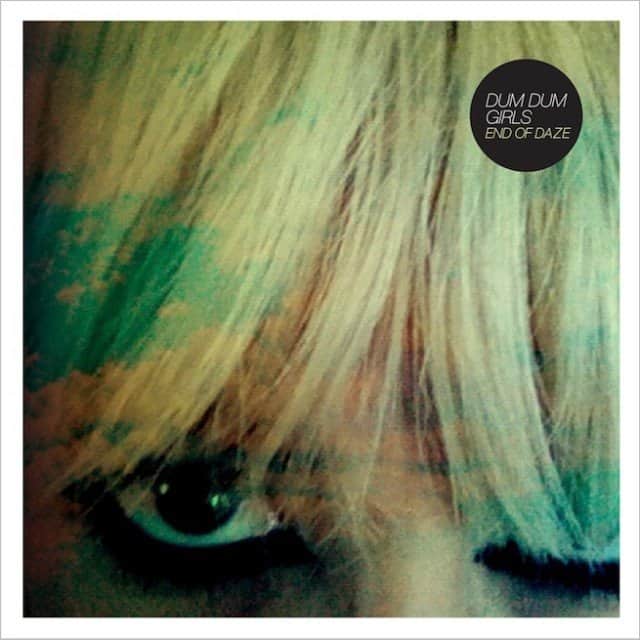 As the title implies, End of Daze documents Los Angeles' Dum Dum Girls at moment of change in their career and front-woman Dee Dee at a turning point in her life. Indeed, it's notable that of the five tracks on Dum Dum Girls' End of Daze EP, three are leftovers recorded following the sessions for their 2011 LP Only In Dreams. Specifically, for those of us listening to the record on vinyl, the tracks on side-a ("Mine Tonight", "I Got Nothing", and "Tress and Flowers") were all recorded for their prior album, and the pair of tracks on side-b ("Lord Knows" and "Season In Hell") were recorded fresh for this EP.
More specifically, the tracks on side-a were originally planned as b-sides to accompany Only In Dreams. Dee Dee explained that they instead were shelved because she felt that "their nature was too different, of another beast entirely, and so I set them aside for a future, more atmospheric release." You don't need to hear it from Dee Dee, though, to guess that this specific trio was recorded as part of the same recording session. They share a distinct sonic signature: dark and somber grooves built upon hazy, reverb-washed guitars and abruptly-building melodies. "Mine Tonight" is a smoky, smoldering cut drenched in bleak lyricism: "The state I'm in / I can't recognize / The face that wears / These vacant eyes."
Of the tracks from that initial session, "I Got Nothing" is the most brightly-lit, shrouded in more lively and upbeat instrumentation. Nonetheless, when coupled with Dee Dee's vocals, these soft rhythms prove bittersweet, a sentiment betrayed by the chorus: "Oh I feel nothing / I feel nothing." Similarly, the cover of Strawberry Switchblade's "Trees and Flowers" proves the most gothic, atmospheric and melancholy tune in the lineup (perhaps even in the band's entire catalog to date).
Meanwhile, the songs on the b-side were recorded a year later, and its clear that time has begun to lift the fog that had so thoroughly enveloped Dee Dee. The lyrics are more positive and full of hope, and the songs themselves are far more upbeat. On "Lord Knows" Dee Dee sings of the pain of knowing she has hurt the one she loved. But she's not pleading for him to take her back. Instead, she's accepted that it's over and she is ready to move on. She's ready to put past mistakes behind her and on the songs very first line she sings: "I want to live a pure life / I'd say that it's about time."  She's even more explicit on the EP's closing track "Season In Hell" which features a strong, pulsing rhythm and relatively clean instrumentation. The haze is gone and the melody is positively bursting with hope and an eagerness to see what lays ahead. She sings excitedly of walking "the path to be redeemed," even taking a moment to appreciate her surroundings as she sings: "But doesn't the dawn look divine? / Yes doesn't the dawn look divine? / Lift your gaze / It's the end of daze."
The album pairs well with Kasey's recipe for Chile Spiked Shrimp and Beans with Basil and Pistachio. It's a strong, visceral recipe with a somewhat stew-like consistency. It's hearty and warming. And, for those reasons, it pairs beautifully with End of Daze.
Dum Dum Girls – Lord Only Knows
Then head back to the Kitchen to read Kasey's recipe for Chile-Spiked Shrimp and Beans with Basil and Pistachios.