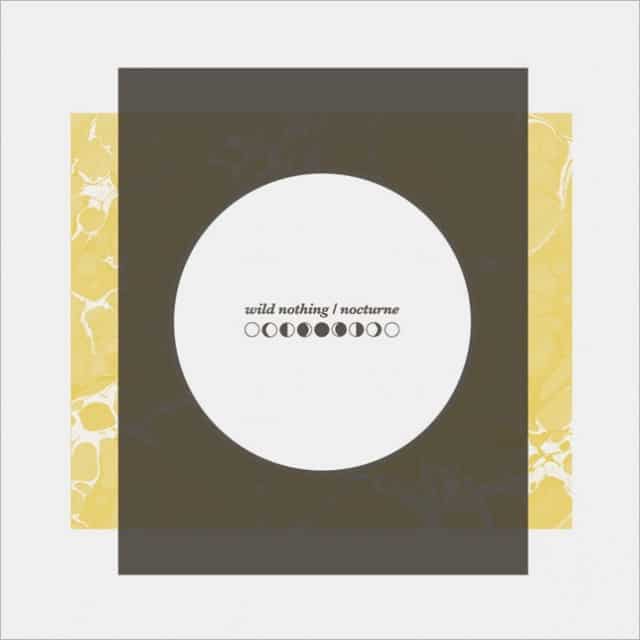 Wild Nothing's latest album, Nocturne, features some pretty awesome packaging. The limited-edition version sports a letterpress sleeve, blue vinyl, a lunar calendar poster, and a sort of "choose your own adventure" style album cover. The album's lyrics are printed, approximately two per card, above a series of six separate psychedelic designs which can be swapped into a die-cut hole on the cover. It's not just pretty packaging, though, as it's also an incredibly fitting representation of the album as a whole. The unique designs would appear to have been borrowed from the inner covers of dusty old books that Wild Nothing's frontman Jack Tatum found at the NYC Public Library.
On an initial level, the psychedelic, book-appropriated artwork is appropriate because Tatum recorded the album with producer Nicolas Vernhes at Brooklyn's Rare Book Studios (thus, the "old books" connection). More symbolically, though, Tatum's lyrics ooze with dusty romance and noir mystery much like an old novel. Indeed, like any good story, each tune on Nocturne isn't what it first appears to be.
For example, on first listen, the track "Only Heather" would appear to be the album's most straight-forward love song as Tatum sings: "She has got something that I've never known. I couldn't explain it. I won't even try. She is so lovely. She makes me feel high. Cause I'm with Heather. Yeah, only Heather." But later, as the melody progresses, Tatum reveals he's far less wide-eyed and infatuated than he initially appears as he sings: "It's better to fake than to love her for real."
Similarly, on the album's title track, Tatum sings to his would-be-lover "You can have me" throughout the chorus. Yet, despite the "all in" sentiment, "Nocturne" proves to be romantically jaded. Instead of cooing sweet nothings, Tatum taunts his companion: "Am I twisted? What can I say? Your days are empty, my tongue's decayed."
It quickly becomes clear that, like a tale from an old Russian novel (or the lyrics to a Cure song), to the degree that Tatum is peddling love through his lyrics, it's often passionate and fiery, yet also hopeless and cynical. Indeed, the lovers in Tatum's lyrics are often absent, heartbroken, or willingly delusional. On the album's first single and catchiest tune, "Paradise," he sings: "Say anything you'd like. Crush me with a lie. But tell me once or twice that love is a paradise. Love is a paradise."
Musically, Nocturne is lush and rich in detail. Live drumming (absent from Wild Nothing's debut album) and Vernhes' production combine to offer Tatum's songwriting a powerful boost and added energy. Album opener "Shadow" is bright, bouncing, and almost orchestral at times owing to its rich string-filled accents. Nonetheless, Tatum retains the relaxed, new wave melodies that made his debut album so much fun. But now, Tatum's pop tunes are smoother, brighter, and more complex than ever before.
Silky, smooth, and irresistible, Nocturne is my choice for a Musical Pairing with Kasey's Duck Fat Roasted Potatoes with Bonito Flakes. This is a lush, rich recipe that feels big without requiring a lot of effort. Pair it up with a good protein for a meal that feels celebratory but easy going.
Buy Nocturne on Insound and then head back to the Kitchen to read Kasey's recipe for Duck Fat Roasted Potatoes with Bonito Flakes.